Mexico On My Plate: Grilled Corn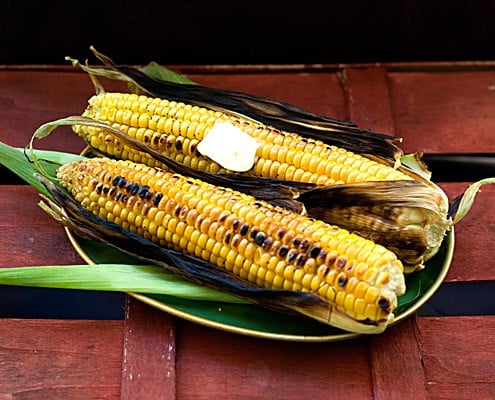 In Mexico grilled corn on the cob is a popular snack. It can be bought just grilled and eaten so or it can also be eaten topped with any of or combination of salt, cream, cheese, lime and chile.
By Nancy Lopez-McHugh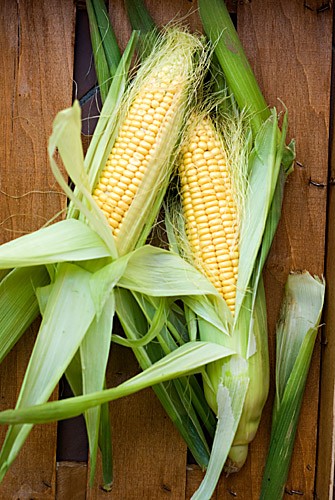 One summer while vacationing in Mexico I tagged along with one of my Tia, or aunt, on a visit to her in-law's farm. It was the first and only time I have ever visited a working farm. That was a while ago but two things have stayed ingrained in my memory from that trip. The first was the smells of the farm's chicken coops, not pleasant to say the least. But the best thing I remember about that visit is the fresh grilled corn.
Outside of the farmhouse in the front field was a homemade gallon drum grill. Early in the day the lady placed a bunch of fresh corn on the cob, most likely picked from their farm, inside of the drum grill. It was closed up and just left for what seemed like an eternity. I remember asking my Tia over and over when will the corn be ready? She laughed and joked about my (lack of) patience. It wasn't until late in the evening that we finally got to dig into the corn. If you've ever had fresh picked corn that is slow cooked on a grill you know how heavenly the taste is. The eternal wait was very much worth it. The corn was soft with charred marks here and there, the taste slightly sweet and yet creamy. That night we sat under the star covered night sky eating the corn right off the cob, nothing else needed.
In Mexico grilled corn on the cob is a popular snack. In fact you will see many vendors through out the cities or towns selling the corn. It can be bought just grilled and eaten so or it can also be eaten topped with any of or combination of salt, cream, cheese, lime and chile. Really it's up to you.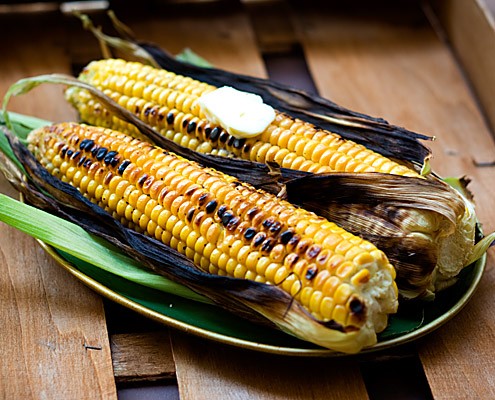 Many years later one night while entertaining some friends I was preparing some corn to grill alongside our steaks. Our friend watched me in shock as I peeled off the husk and hair from the corn cob. "What are you doing?" she exclaimed, "Cleaning the corn" I said. I then went on to explain that I remove everything so I could wrap the corn in aluminum foil to place on the grill. She informed me that I was doing it all wrong. Okay. She went on to explain that in Texas they remove the corn hairs/silk but leave the husk on and grill the corn that way to add more flavor to the it. Aha! I had completely forgotten that starry night from my childhood. Of course you leave the husk on. From that day forward whenever I buy fresh corn on the cob I remember that there is only one way of grilling it, with the husk enveloping the sweet kernels.
Nowadays I do not own a charcoal grill so I've developed this new way of stove top grilled corn but of course you can also use this method for charcoal grilling.

Mexico On My Plate: How To Grill Corn
How To Grill Corn
Author:
Nancy Lopez-McHugh
Instructions
Preheat the grill pan or charcoal grill.
Gently pull down the corn husk folding down but not ripping off. Remove all of the corn hairs and throughly rinse the corn.
For simple grilled corn rub the whole corn on the cob with butter, sprinkle some salt and ground black pepper. You can also add any other spices you like. Wrap the corn cob with a few layers of the husk making sure it is covered on all sides. If need be use one of the husks to tie around and hold the enclosing husks around the corn. If choosing the Mexican optional toppings just clean and wrap the corn back up, the spices and toppings will be added at the end.
Place the wrapped corn on a hot grill pan or charcoal grill. Grill/cook for 30 minutes or until the corn is soft. Turn the corn now and then to equally char on all sides.
Once corn is soft peel back and discard the husk. Now you can season or spice as you like.
Notes
Optional toppings: butter salt pepper ground chile powder limes queso fresco or substitute with Feta Mexican sour cream or creme fraiche Grill pan or charcoal grill
As you can see this time around I've only grilled the corn to serve with some butter, salt and pepper. Fresh corn is in season now so perhaps next time we will have it served Mexican snack style. Do you remember this recipe "
Calabacitas con Mais or Zucchini with Corn
"? It would be perfect to switch out the frozen corn for the fresh kernels. Also if you want to dry and save the corn husk they can then be used for tamales.
Nancy Lopez-McHugh
Nancy Lopez-McHugh is a food blogger, photographer and published author. Most recently she has published "Yummy Pics: A Food Blogger's Guide To Better Photos".