Agua frescas are non-alcoholic beverages made from fresh seasonal fruits like watermelon, cantaloupe, melon, cucumber, lime, strawberries, papaya, guava, tamarind and the list goes on.
By Nancy Lopez-McHugh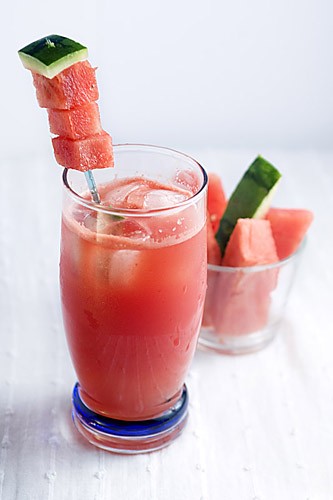 Now that summer is here, in the northern hemisphere, there is no better way than cooling off with an agua fresca. Agua frescas are non-alcoholic beverages made from fresh seasonal fruits like watermelon, cantaloupe, melon, cucumber, lime, strawberries, papaya, guava, tamarind and the list goes on. Nuts, seeds and grains can also be used like rice, almonds and barley. There is also one made with hibiscus flowers called agua de Jamaica, one of my favorites. The traditional recipes are very simple the fruits/grains are blended, water is added as well as sugar to sweeten the drinks.
Agua de Sandia in Spanish literally translates to watermelon water, the best descriptive translation I can offer you is watermelon lemonade. To me no fruit says summer more than watermelon. Those large, heavy, juicy fruits make the perfect agua fresca. Watermelon is naturally sweet, but not to the point of being sticky sweet. The water content is high which equals hydration in the summer heat. All of these qualities make it one of my favorite agua fresca, it was also the first flavor I recreated for myself.
Mexicans love agua frescas with our meals, they act as a cooling drink to compliment Mexican cuisine. They can also help tone down the burning in your mouth from the spiciness of the dishes, (that is what I've personally experienced). If you walk into a Mexican restaurant or go to Mexico you will see huge glass containers with a large variety of flavors available. No matter what flavor you choose it will  be a great way to cool off. They are not sweet like soft drinks and are mostly water content from the fruits so they will actually leave your body feeling refreshed and re-hydrated, unlike a sweet soft drink. These are also perfect for Vegans, Vegetarians and those following a raw diet. I should also mention that they will also be much lower in calories and full of vitamins and antioxidants than compared to soft drinks or other sugary drinks which are full of love-handle growing ingredients and preservatives (E numbers). I promise your children will also love agua frescas. So let them choose their favorite fruits and have some fun.
Print
Mexico On My Plate : Agua de Sandia
Keep cool and stay hydrated this summer with Agua de Sandia. Did I mention it's low in calories?
Author:

Nancy Lopez-McHugh

Prep Time:

10 mins

Total Time:

10 minutes

Yield:

6

1

x
1/4

fresh watermelon ( with rind weight 2.5 lb. or 1.13 kilo – without rind 1.1 lb. or

500 grams

)

3 cups

or

750

ml cold water
The juice from 2 large lime

3

Tbs. granulated white sugar (adjust to your taste)
Large Pitcher
blender
colander/strainer
ice cubes (optional)
Instructions
Remove the rind and cut watermelon into cubes. Taste the watermelon to see how sweet it is and to get an idea of how much sugar you will need. Place the watermelon in a blender with half the water (if you have a small blender you may need to do this in batches.) Blend the watermelon until it has completely broken down including the seeds if there are any. Or if you are concerned about the black seeds you can try to pick them out beforehand.
Pour the juice of 2 large limes and the sugar into the pitcher, then place the strainer on top. Gently pour the watermelon water into the pitcher passing it through the strainer. Then add the rest of the water to the pitcher and stir until all ingredients are well incorporated.
Notes
**Before you start taste the watermelon to see how sweet it is, this will give you a better idea of how much sugar will need to be added.**
It's best to allow the water to sit a bit before you serve it , so place inside the refrigerator or cover and leave on the counter for at least 30 minutes. When you are ready to server you can add a couple of ice cubes to each glass or just serve and enjoy. The Agua de Sandia will really only keep fresh for one day, it looses it taste and a bit of the color the next day. This recipe can be tweaked and adjusted as you like. By adjusting the sugar amount and even the water amount depending on how juicy the watermelon is.
I hope you try this Agua de Sandia or any other flavor from a local Mexican restaurant very soon. Buen Provecho!
Nancy Lopez-McHugh
Nancy Lopez-McHugh is a food blogger, photographer and published author. Most recently she has published "Yummy Pics: A Food Blogger's Guide To Better Photos".