After two decades of success chef restaurateur Josiah Citrin came to the realization that Mélisse, his once two Michelin-starred restaurant in Santa Monica needed a big change, and so did he. Since last year and with the help of Scottish chef prodigy Ian Scaramuzza, Josiah's love project has regained the past glory and enters a new era that so far promises to be its brightest one.
With 30 years of experience in the industry, Los Angeles chef and restaurateur Josiah Citrin has made his restaurant Mélisse an institution of the US West Coast culinary scene, and since last year he has welcomed Scottish Ian Scaramuzza to add on further magic to his project. Today Méllisse still has that French touch combined with Asian and modern twists that made it famous even a decade ago – now reinterpreted through the Highlander's vigorous point of view.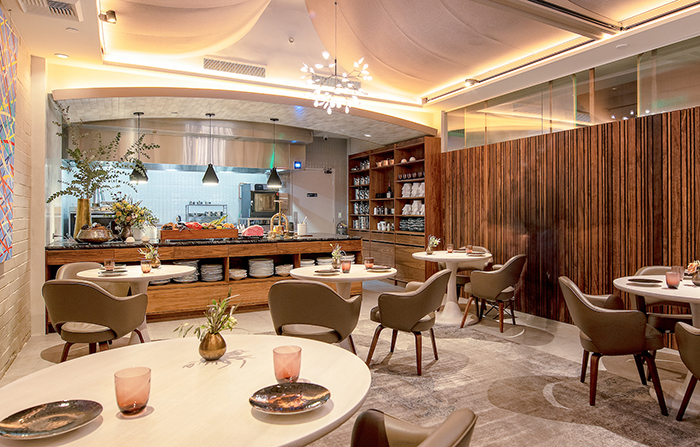 The Beginning
During the 80's, young Josiah Citrin had no idea of his future love for the kitchen. Even though he comes from a family where food was always important, his focus at the time could be simmered down to one thing: surfing. And it's not that he didn't love food. His mother was a caterer in Santa Monica and his grandmother was French and loved to cook for their family, so from a very young age he had a contact with the industry and with his French roots, but he simply wasn't one of the kids that wanted to be a chef since he was 10 years old.
But Josiah always had a great respect for cooking and when it came time to finish high school and decide his next step, he ended up leaning towards becoming a chef. In his case the method was to get a job and his first one was as a prep cook for a French chef. This path brought him to Paris where he worked for three years at Vivarois and La Poste, gaining an understanding of traditional French cooking.
In 1990 Josiah Citrin returned to America to continue his career in places like Chinois, Wolfgang Puck's celebrated restaurant. After a few more years of different fine dining work experiences, it was time to open his own place. Citrin partnered up with his friend and fellow chef Raphael Lunetta and opened JiRaffe in 1996 and after separating from that project, Citrin pursued his lifelong dream of opening his own place by opening Mélisse, a fine dining establishment with a big French influence and traditional style.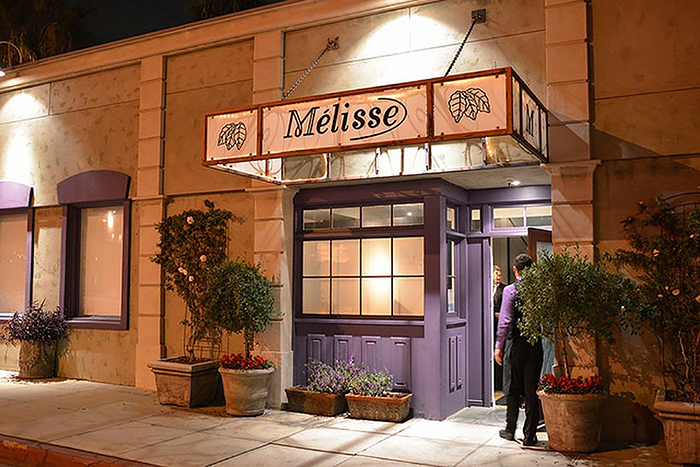 Stars Come And Go
There's always a lot of controversy surrounding Michelin, and when it comes to Los Angeles, like in a Hollywood movie, the drama gets even more intense. After almost a decade of success and turning Mélisse into a staple in the culinary landscape of the region, the little red guide arrived in the City of Angels with great news for Josiah Citrin: he got two stars!
Those same two stars were awarded to them again in 2009 and then, just like that, the famous guide decided to leave L.A. and stop reviewing restaurants in the region. "It was amazing when we finally got the call, after a lot of rumors, about our two stars. And although there was a lot of criticism against Michelin, the impact was great for us. Then in 2009 we got two stars again and then the recession hit and everything changed", says Citrin. 
"We did well with Mélisse because I'm a local, but L.A. was a place where fine dining was rejected at the time. People were highly against Michelin-starred restaurants. I think that it helped that we were ok to adapt to what our guests wanted while also making sure that although it might seem like a stuffy experience, we made it feel relaxed", he explains.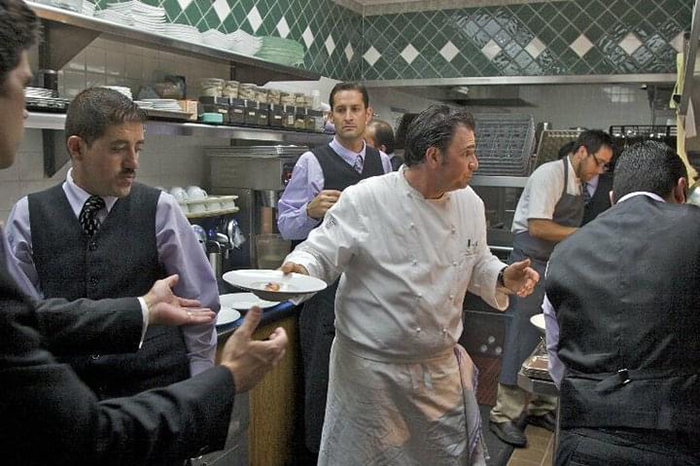 The Trajectory Of A Restaurant
In 2017 the restaurant was still open and doing great but Josiah Citrin was already thinking about the future. "I was worried about it. There's a trajectory for a restaurant. You can go for 30-40 years in Europe but not in the States. If you have to adapt you're too late. If you don't evolve continuously you'll never make it in the long run. If you're adapting you are just reacting to what everybody else is doing. You need to wake up every day and think of ways to move forward," Josiah Citrin explains.
In 2018, after a very long negotiation to renew the lease, he knew that he had to change things, that the rendition of Mélisse was over. His new idea would change everything. The new Mélisse was going to have only five tables. He was going to create two restaurants in one building, but not with the same kitchen. And that's how Citrin and the new Mélisse were born. Citrin being his more casual, more accessible yet still grand restaurant focused on Californian cuisine and Mélisse, a backstage fine dining room with a separate entrance, where you had to ring a doorbell, with a kitchen in front of the dining room where the chefs would deliver the food directly to only 14 guests.
The old Mélisse closed on March 3rd, 2019 to start construction for their new, ambitious project. Two days later, on March 5th, Michelin announced that they were coming back to Los Angeles. It was a shock for Josiah that he now in hindsight appreciates, recognizing that they would have probably regained their stars and that that would have made them stop the evolution into what they are today. Then, after delays on construction, the new Mélisse and Citrin opened in December 2019. It was going to be the beginning of a long life dream for Josiah Citrin and his chef partner Ken Takawama, who worked at Mélisse since 2001 and helped him build other successful projects before and during the renovations. Then another hit, a worldwide pandemic.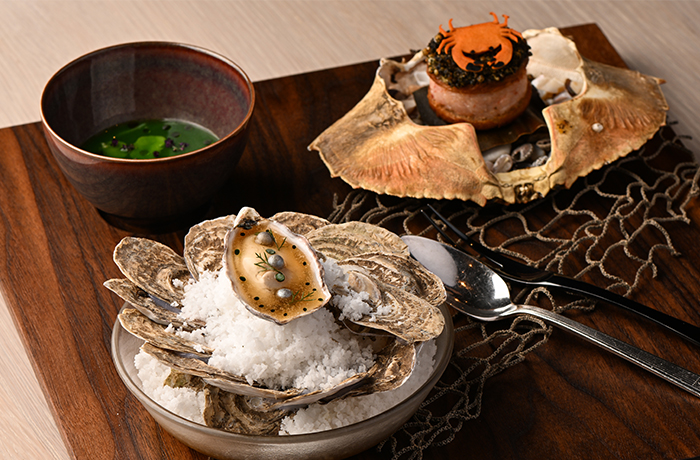 The New Mélisse
The new normal during COVID was something unknown for all of us. For the restaurant industry it was a fight for survival and that's precisely what Josiah and Ken did during those months. Takeout, terrace dining, fixed menus, a la carte, combining different restaurants in one space… They did it all, but with Mélisse's newly renovated dining room closed. At that point, in December of 2020 a family tragedy was the last sign for chef Josiah to realize that if he wanted his vision to come true for the new Mélisse so it finally could open, he needed to find a new chef. 
"I emailed everyone, Daniel Boulud, Thomas Keller, all my friends from the industry, and one of them said that he knew the perfect guy for the job. Ian Scaramuzza," Josiah says. The younger, yet very experienced Scottish chef who was previously at In Situ in the Museum of Modern Art in San Francisco was the chosen one. Josiah adds: "It's very hard to step down from the day to day operation of this project, and I am and will always be somehow involved in Mélisse, but I just couldn't keep going the same way and with Ian I feel like I even got more that I was ever looking for. He is a machine."
The job was clear: to make the new Mélisse shine at its brightest, to bring to life this idea of a new way of experiencing fine dining and to regain the stars, now that the Michelin guide was back in L.A. For that chef Ian was given a great but rare opportunity in this business: freedom.
And so, in June 2021 the new 5 table, open kitchen, no tablecloth dining room opened, with a tasting menu that gives new meaning to Californian Cuisine through the hands of Ian Scaramuzza. A kitchen with an evident French influence that works great to maintain the legacy of the establishment's history, but that now includes a great amount of the Asian culinary culture as another source of inspiration and produce. In September of 2021, Mélisse received two stars from the Guide Michelin.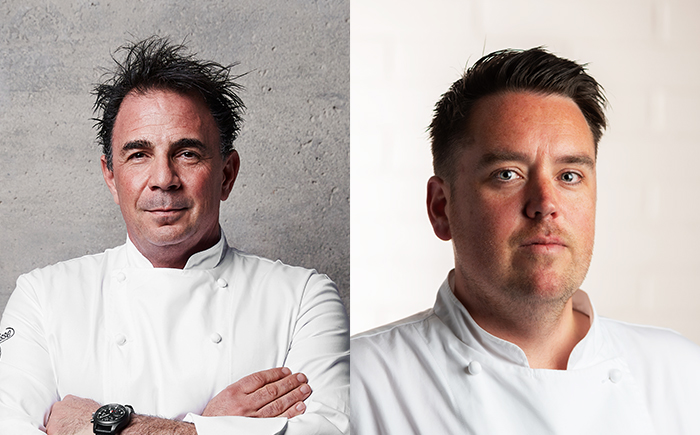 Californian Cuisine
Some countries have very famous gastronomic cultures. You can easily recognize an Italian, French, Spanish, Peruvian or Japanese dish, just to name a few. But what do we think of when we hear the term Californian Cuisine? Does a specific dish come to mind? Not really. But when you dive into the menu of the new Mélisse you start to understand the idea of this type of cuisine: produce based, fresh and light and with no shame in being the result of a mixture of influences from all over the world.
Ian Scaramuzza explains how his style and point of view of this Californian cuisine is what is making this new chapter of Mélisse a big hit: "When I say Californian Cuisine I mean food made with great local produce but that also is very influenced by our privilege to be able to get amazing, fresh produce from Japan every day, for example. My base is very French. I trained for like 10 solid years with great chefs with French kitchens. I worked at a two starred restaurant in Scotland, another two-star restaurant in London, both French restaurants. So I use a lot of classic bases and mix that with asian ingredients, coming from Japan, China, Korea. That's my little twist on this union between French, Asian and American culinary culture."
One of their signature dishes right now is a good example of all this mix of influences and cultures. The Hokkaido Scallop Carpaccio has become a guest favorite and is done with a sherry vinegar dressing made with a dashi base, a side of scallop "chicharrón" and a truffle gribiche. French influenced but with a mix of local and Japanese ingredients, fresh and powerful. A very interesting dish that's a great example of this style.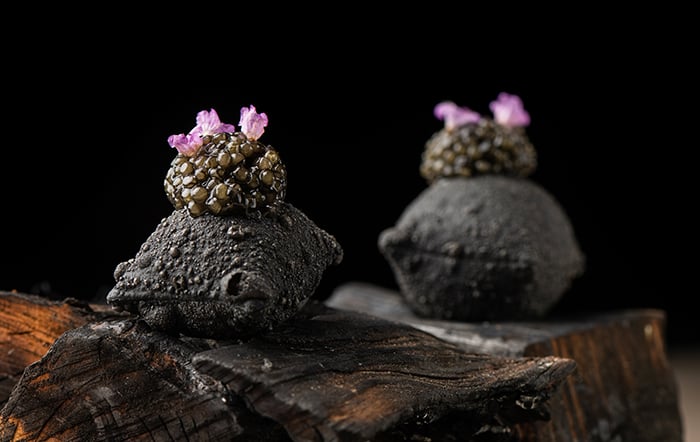 The Future of Mélisse
The pursuit of excellence is the mantra that Josiah Citrin, Ken Takayama and Ian Scaramuzza share on this project. But what is the intention? What does a perfect evening look like in the new Mélisse? Well, the idea is for guests to have amazing food, enjoy and not feel stuffy or as if they shouldn't be there. They want to make guests understand that great food done with impeccable technique and the best possible produce, served with an exquisite and quite peculiar wine pairing, can be done in a relaxed atmosphere and feel intimate.
You can have their Santa Barbara Box Crab "XO" Koshihikari Rice with Finger Lime, another dish that combines produce from Japan and Santa Barbara, while listening to a vinyl of Kanye West, The Rolling Stones or Oasis. All this while you enjoy two different wines as a pairing for one dish. This is the great surprise of this new era of the restaurant. That you can actually see, feel, hear and taste the evolution. That same evolution that Josiah Citrin was striving for when he first imagined this new chapter and that defines the present and future of this American culinary institution.
"When I first sat down with Josiah to figure out the new Mélisse, I already had a lot of ideas and a menu written. That menu included a chicken wing that we had on the menu not long ago. It was stuffed with truffle mousse and ham and had a beautiful beer glaze. There are not many restaurants at this level that are serving a chicken wing but why not? If you came to Mélisse before, you were probably going to get foie gras and creamy sauces, and there's nothing wrong with that, but I think that now our focus is on telling the story of the present and showing the evolution because now there's a new point of view," closes Ian.