Mediterranean Veggie Burgers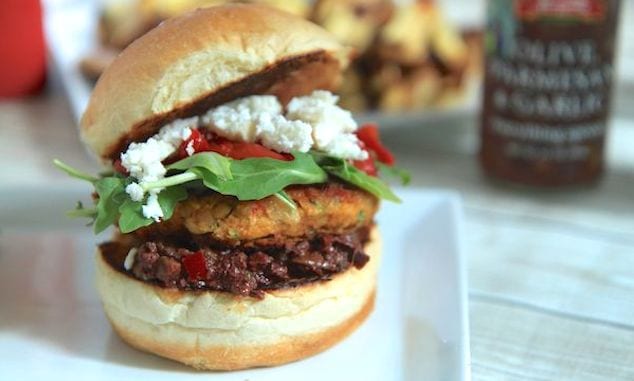 Not all veggie burgers are grill-able, but this one is ideal. Garbanzo beans are the base of this veggie burger, and are amped up in flavor from the Roasted Red Peppers and Caramelized Onions and a generous spoonful of the garlic. The combo flavor was awesome on a toasted bun and topped with feta cheese and more arugula.
By Taylor Kadlec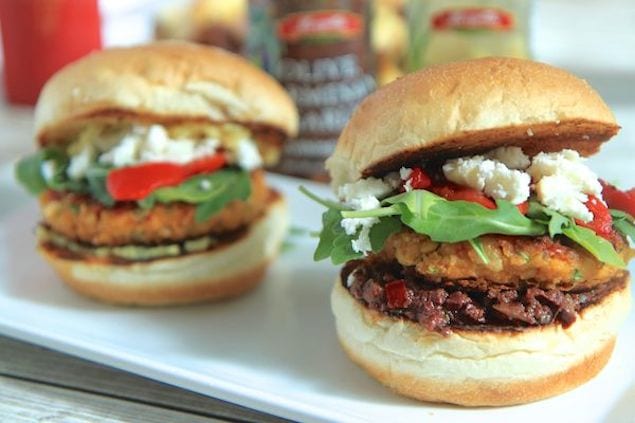 While I'm not a vegetarian (BACON!!) I can definitely appreciate a good veggie burger. In fact, when there's an option between a regular beef burger and a veggie burger, I almost always go for the veggie. I like the heartiness and flavor from veggie burgers, and all of the different things they can be made one.
How-ev-er…one thing that really bums me out about veggie burgers is that most of the homemade recipes I've made are not exactly grill-able. It seems that the combination of beans, grains, and veggies just can't mesh quite like good 'ol ground beef and it ends up a hot mess on the grill. Luckily I have found a SOLUTION! So now you can grill out in your backyard or have a picnic in the park (with a grill nearby) and enjoy your new favorite veggie burger without throwing in curse words at the grill. Picnics are much more enjoyable without the swearing, y'know.
The trick is pre-cooking the veggie burgers on the stovetop. You don't have to cook them completely, since you'll be throwing them on the grill later, but you want to get that nice crust to form on the outside so you have no problem handling it on the grill. Then you can keep them in the refrigerator or even the freezer for when you are ready to throw them on the grill. Works like a charm, I'm telling ya!
See Also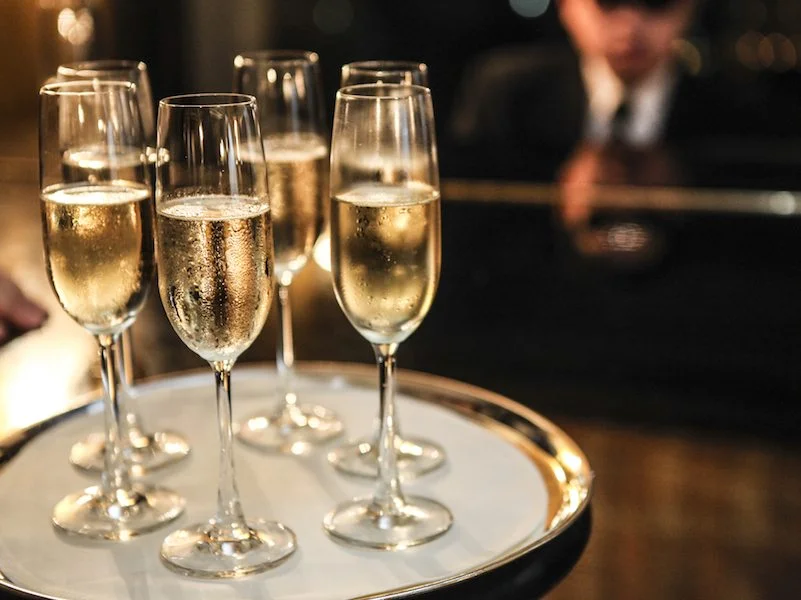 Garbanzo beans are the base of this veggie burger, and are amped up in flavor from the Roasted Red Peppers and Caramelized Onions and a generous spoonful of the Savory Garlic Spread. I also threw in some breadcrumbs and an egg for binding it all together and a handful of arugula arugula for some greens. The combo flavor was awesome along with a nice lathering of the Olive Parmesan and Garlic Everything Spread on a toasted bun and topped with feta cheese and more arugula.

Mediterranean Veggie Burgers
Not all veggie burgers are grill-able, but this one is. Chickpeas are the base and amped in flavor from roasted peppers and caramelized onions.
Ingredients
2 cans garbanzo beans, drained and rinsed
12 oz jar Mezzetta Roasted Red Peppers and Caramelized Onions
1 tbsp Mezzetta Savory Garlic Everything Spread
½ tsp salt
1 cup baby arugula
½ cup breadcrumbs
1 egg
2-4 tbsp canola oil
feta cheese, for topping
buns
arugula, for topping
Instructions
Combine garbanzo beans, red peppers and caramelized onions, garlic spread, salt, and arugula in large food processor and pulse until finely chopped and almost paste-like.
Transfer to a large bowl and add breadcrumbs. Stir well to combine.
Add egg and mix in well.
Using ⅓ or ½ cup measuring cup (depending on how large you want your patties), scoop out burger mixture and form into patties. You want them to be an even thickness from edge to middle.
In large skillet, heat 2 tbsp canola oil over medium-high heat.
Add veggie burgers, working in batches of 2-3 at a time depending on how large your skillet is.
Cook 5 minutes on each side, until they are golden brown.
If you are cooking them to grill for later, let them cool completely and store in airtight container in the refrigerator. To grill: place on oiled grill and cook ~3 minutes on each side, just so they are warm throughout. You can also toast your buns on the grill while you are grilling the burgers.
If you are cooking them to eat now, toast your buns in the oven or on stovetop while you are cooking them.
Spread buns with Olive, Parmesan, and Garlic Everything Spread, then top with burgers, arugula, and feta.
Taylor Kadlec
Taylor Kadlec is a lover of all things food including baking, cooking, and of course, eating. She is a self-taught baker and cook, and she shares her kitchen adventures on her blog Greens & Chocolate, where healthy cooking meets sinful indulgence.