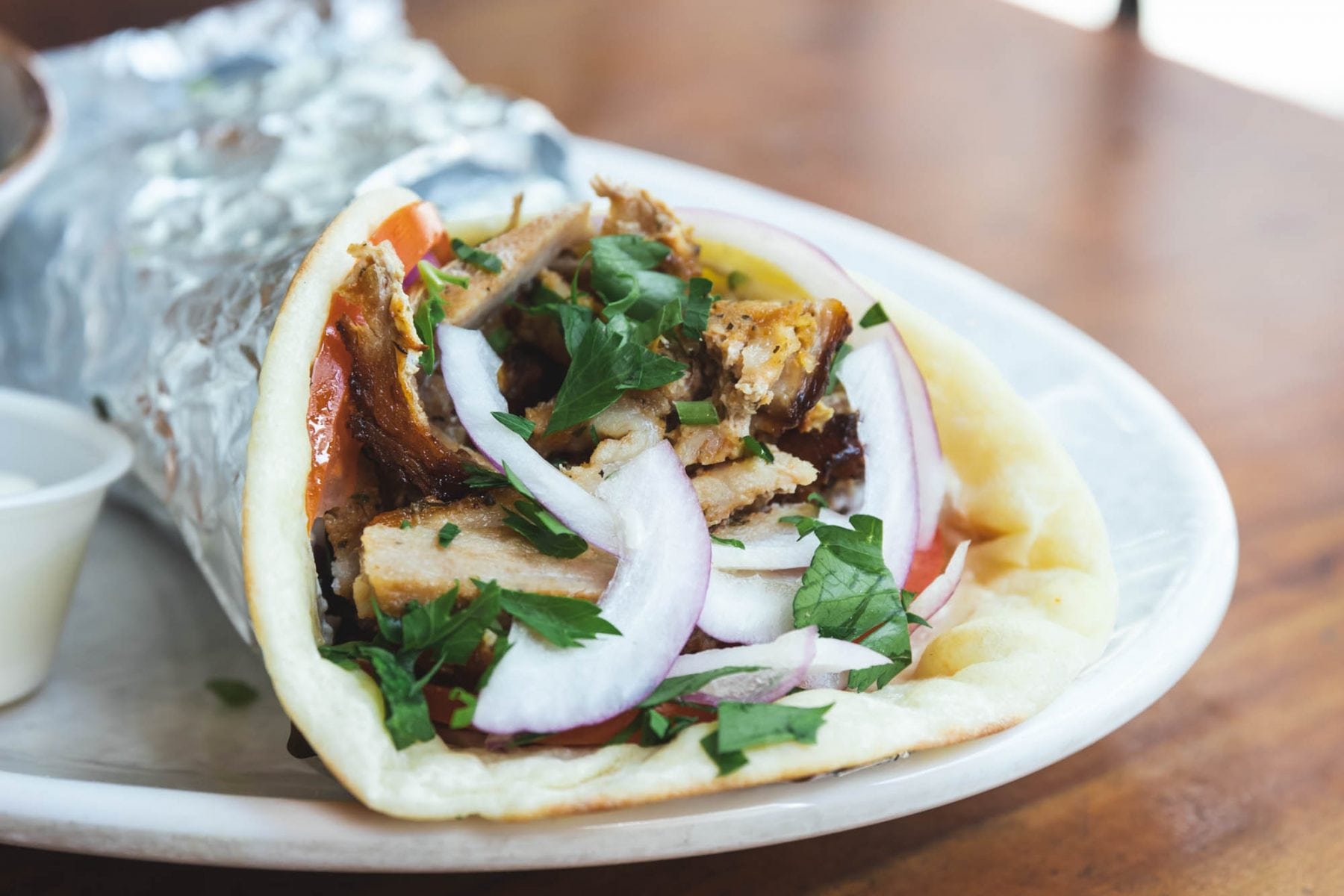 Yafo Kitchen like to eat and do their research. Priding themselves on being thorough, the two just returned to Charlotte from an immersion trip to the Middle East, with ideas on how to make the Mediterranean cuisine served in their restaurant even more authentic.
In Greece, they toured the city tasting foods in locals' homes and restaurants and were inspired to bring home a dish they call Greek lemon chicken with mustard. In Israel, they visited Shai's old stomping grounds including a visit to Dr. Shakshuka, who invited them in for lunch, where he made his original Shakshuka recipe for the gentlemen to base their recipe off at Yafo.
In Athens, they had a delightful gyros and tried to replicate the flavors of garlic, oregano, olive oil and mustard in their restaurant. It's not exact, but it's their version that calls to mind the beautiful moments in Athens.
Chef Shai Fargian said,
"When we were in Athens, we ate at about thirty different spots over four days. Out of that list, we went to the same place three times because their pork gyros were by far the best thing we had experienced on our trip. After eating it (three times) and loving it more each time, we knew we had to recreate it for Yafo in Charlotte. "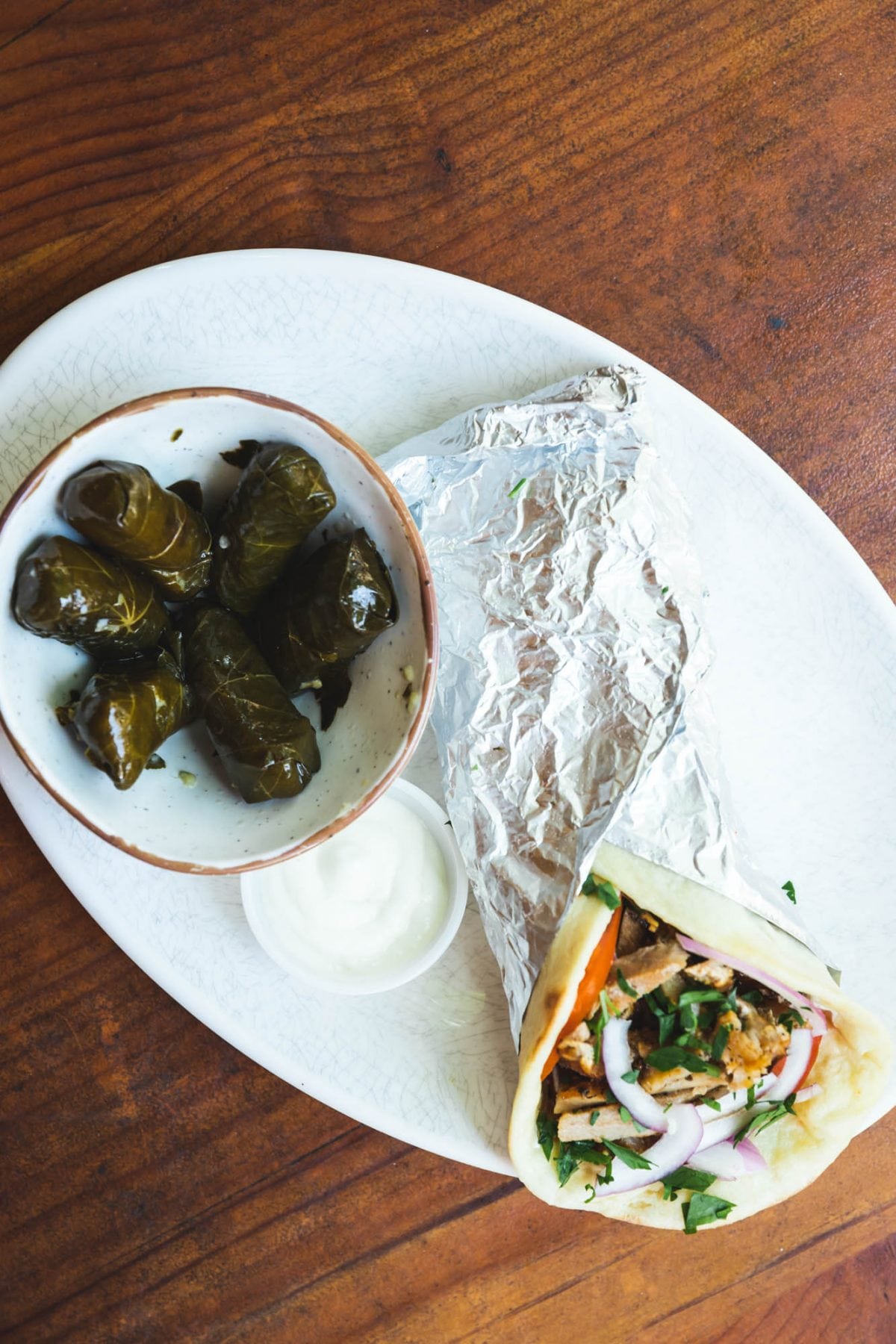 The many people they met and tastes their tongues danced with were noted, packed up and brought back to Yafo in Charlotte, NC. Their menu is now laden with that Greek chicken, shakshuka, okra in tomato sauce and pork gyros. Yafo is the place to go if you are looking to try authentic Mediterranean and Middle Eastern food in North Carolina.
So how is this different from other gyros in the States? Chef Shai says,
"I think ours is different because of the combination of flavors we use and what it is inspired by – it's incredibly authentic. We also use pork belly because it holds flavor so well. In addition, we have a vertical rotisserie machine that cooks the meat, gives it a great sear, and cuts the meat as soon as it reaches a certain temperature. This is very similar to what they use in Greece and Israel which is another reason why it tastes so authentic."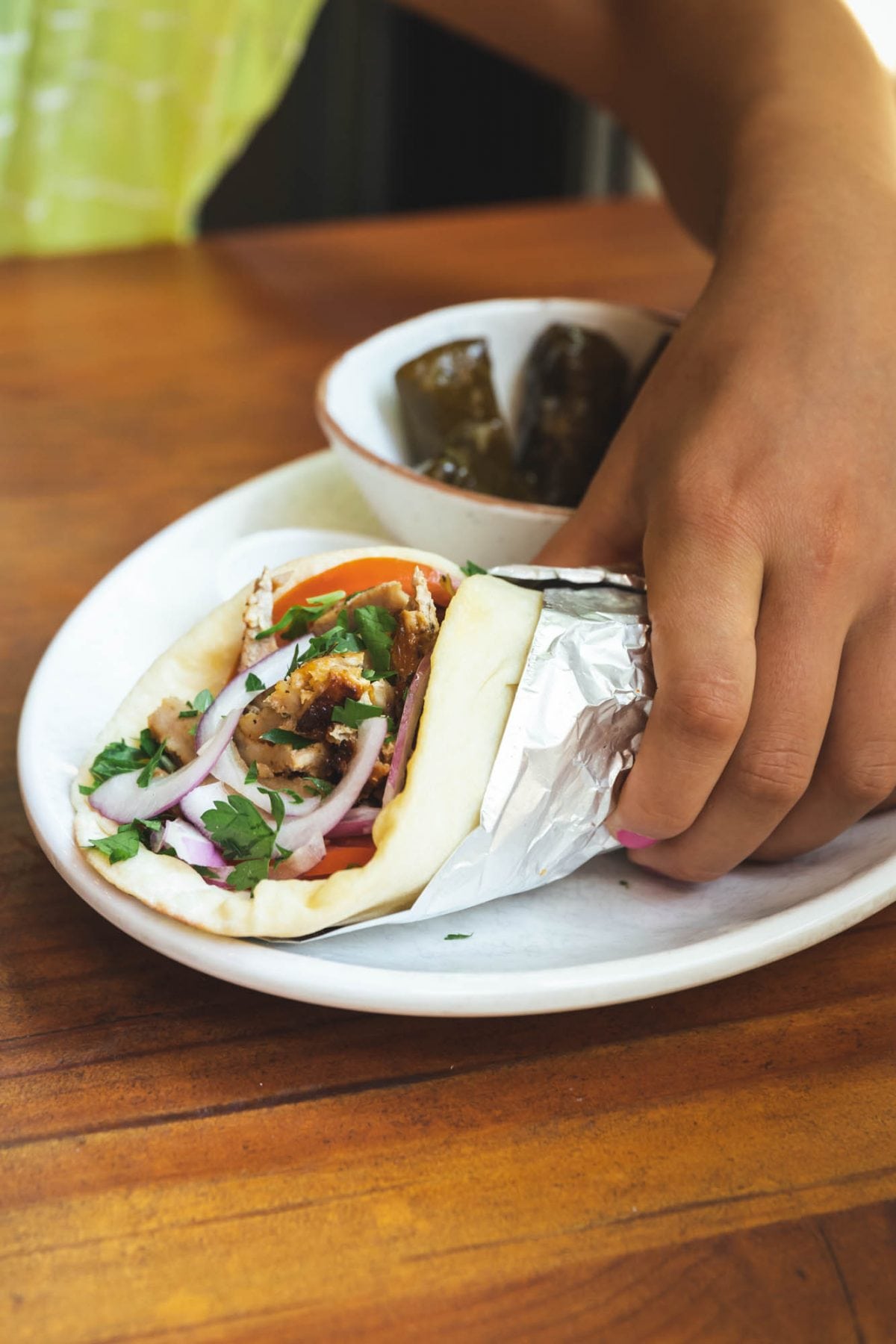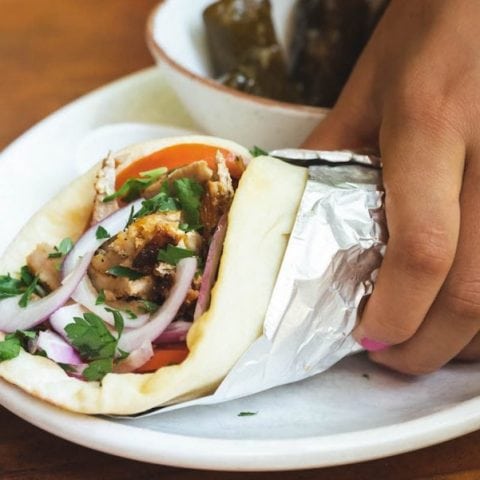 Pork Gyro
Ingredients
1

pork shoulder boneless

about 7 lb.

1

cup

EVOO

1.5

cup

Fresh Lemon juice

3

tablespoons

Salt

1/2

cup

Granulated garlic

1/3

cup

Dry Oregano
Instructions
Slice the pork into thin steaks and pound until you reach 1/4'' thickness

Whisk all the marinade ingredients in a large bowl and add the pork. With clean hands, massage marinade into the meat until it is fully coated. Put a layer of cling wrap directly on the pork in the bowl to avoid too much air contact and leave overnight in the fridge.

Skewer all the pork back together to form a large stack. Try and keep any fatty bits evenly distributed across the meat so as to help self-baste.

Cook on a medium-high grill until crispy. Shave outside layers off as they become cooked until it's all cut. Serve with fresh sliced vegetables like tomatoes and cucumbers, tzatziki and flatbread.

If you can't find a big enough skewer, grilling the pieces of pork individually and slicing them thinly will work too (small kabobs work in a pinch), just make sure they do not over cook and become dry.

Garnish with freshly chopped parsley.