Try this easy baked Jamaican jerk chicken for a deliciously simple version of Caribbean-style roast chicken. It is tender, flavorful and comes together quickly.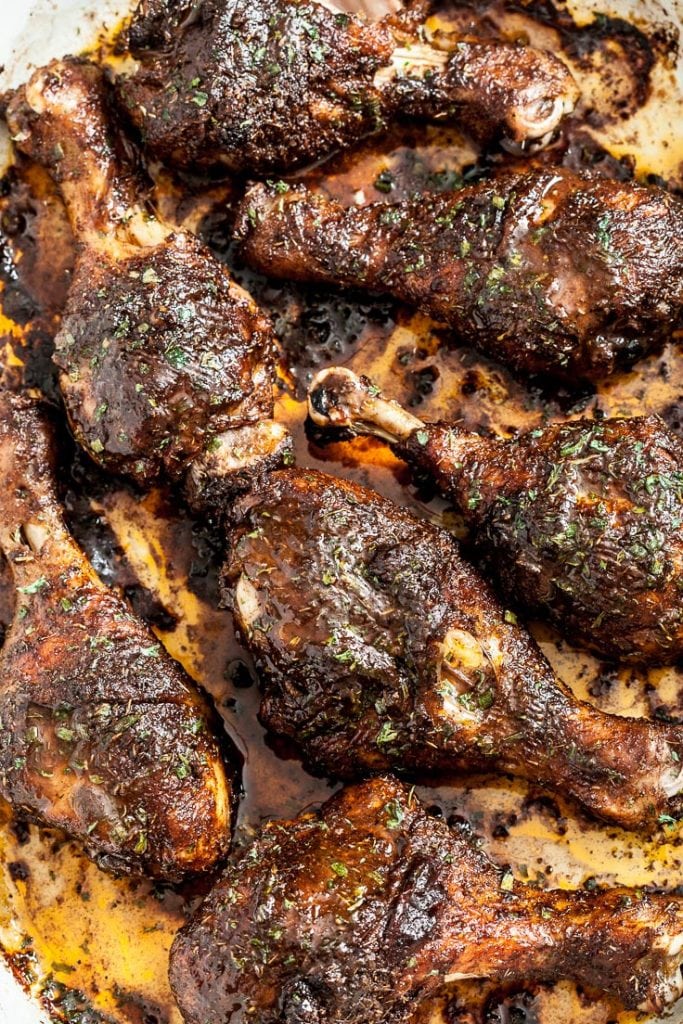 Here's a fun bit of jerk history (the good kind of jerk, not the bad kind): the word jerk refers to a way of cooking that's popular in Jamaica. All varieties of meats and even vegetables are traditionally marinated in a paste or rub that includes allspice and Scotch bonnet peppers. Then it's slow smoked over long sticks of pimento wood.
Nowadays, you can get authentic Jamaican jerk eats from delicious smelling jerk huts on their island stomping grounds. So if you're lucky enough travel to Jamaica, send me some tasty pics and I'll live vicariously through you for a moment
Since most of us aren't going to soak our chicken overnight in Scotch bonnet peppers and then slow-smoke it over long sticks of pimento wood, I'm here to share this simplified way of making delicious jerk chicken. [Aka, lazy but totally tasty.]
This easy jerk chicken recipe will result in extremely tender, tasty, smoky-ish chicken that can be made any busy weeknight. The jerk spice rub can be made weeks ahead of time and stored in your pantry for anytime use.
If that resonates with you, read on…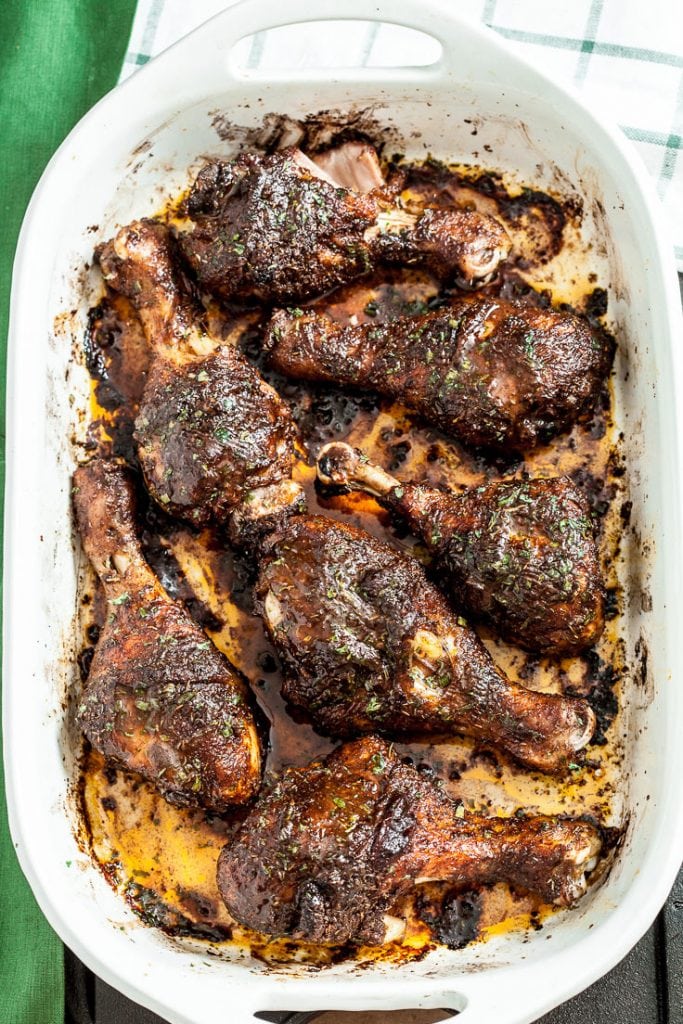 We're keeping things simple for all the crazy busy home cooks who need an easy way to liven up their same-o chicken routine. I'm talking about myself, but feel free to join the club.
All you'll need here are dry spices and fresh chicken legs. Do be sure your dry/ground spice are fresh (always throw out older spices that have lost their flavor)
Our ground spices include: cinnamon, ginger, cloves, sugar, thyme, cayenne, allspice, and smoked paprika. You can get away with regular paprika, but smoked paprika is easy to find at many grocery stores these days, and it provides that smoky flavor you'd otherwise miss.
Once you've combined the dry rub spices together, simply rub all that aromatic goodness onto and under the chicken skin. That's always my secret to well-seasoned poultry: get that rub under the skin!
No marinade time needed here. You'll just bake at 425F for 35-40 minutes. The result is a fantastically tasty and tender chicken dinner that's amazing with this Rice and Beans Recipe.
Amy Dong
Welcome to our kitchen! Here is the place where you'll find an ever-growing collection of all things yum. We're an active, hyper-busy family of six (including Miss Dog) -- we get how hard it is to put delicious 'n healthy food on the table every night! We do the recipe testing so your family will love what you dish up, and your friends will be begging for your recipes. Come on over and let's get cooking!