Perfect for indefinite snacking, or for those times when life throws you things that knock you down and you're yet to find the strength to get back up.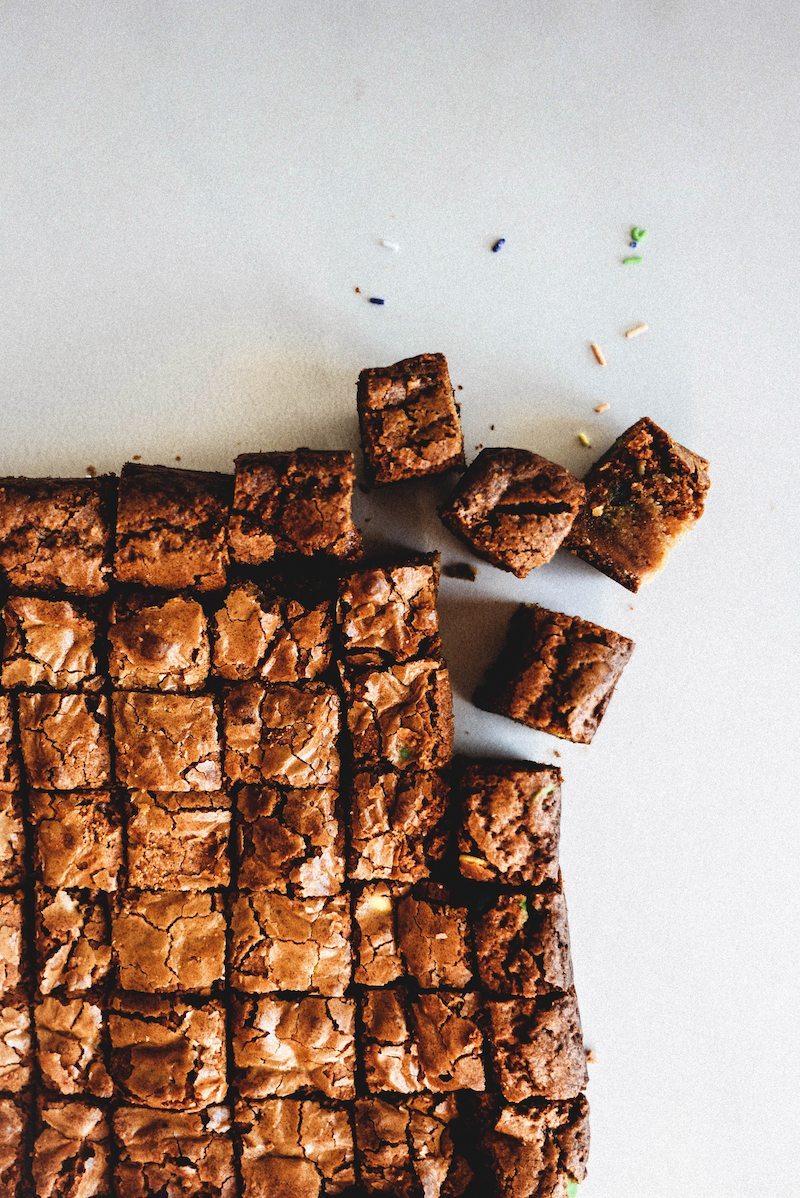 I have two things for you today. Some words on the 12.657541 hours (a tiny exaggeration) that I, and countless others spent trying to grease butter and brioche's wheels to perfection. And the recipe for these Funfetti Marzipan Blondie Bites that helped console me when everything went askew.
It's no secret that I don't mix well with technology. Navigating plug-in's, updates, servers, and all the tech paraphernalia that comes along with owning a website – is an indecipherable realm. I can't code, I have no idea what a server is, and I couldn't read a style sheet if my life depended on it. I'm sure I could learn – but my brain isn't naturally inclined that way.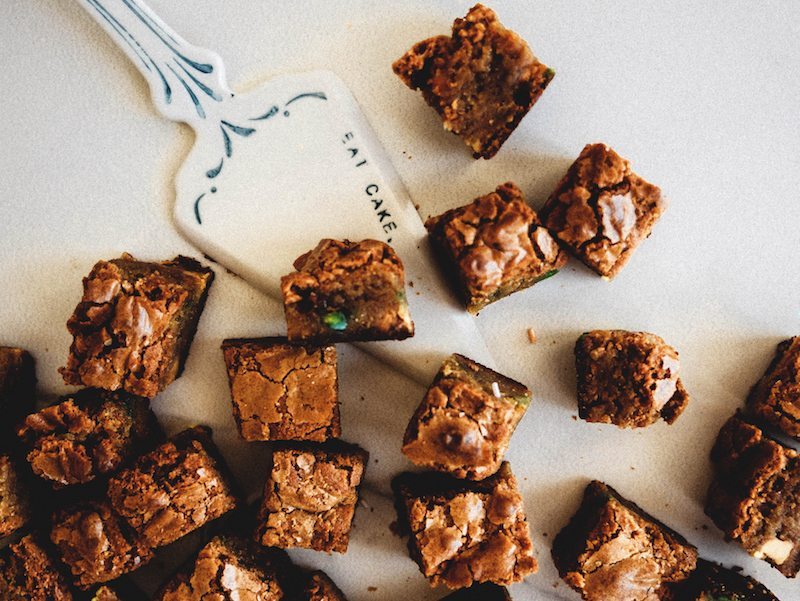 That's where these Funfetti Marzipan Blondie Bites come in. They were there when all I needed was a hushed it's okay, you're okay, she'll be okay. They were there when I slowly watched everything disappear. They were there when it all returned and was restored. And they'll be there for you too.
Funfetti Marzipan Blondies Bites are filled with sweet white chocolate, marzipan chunks and a whole lot of rainbow sprinkles. They're gooey, moorish. And fun, in a childish sense. A good, humble blondie is something I'll never be able to resist, they're often what I crave – and something I love making. Make me a blondie, and I'll be yours, forever.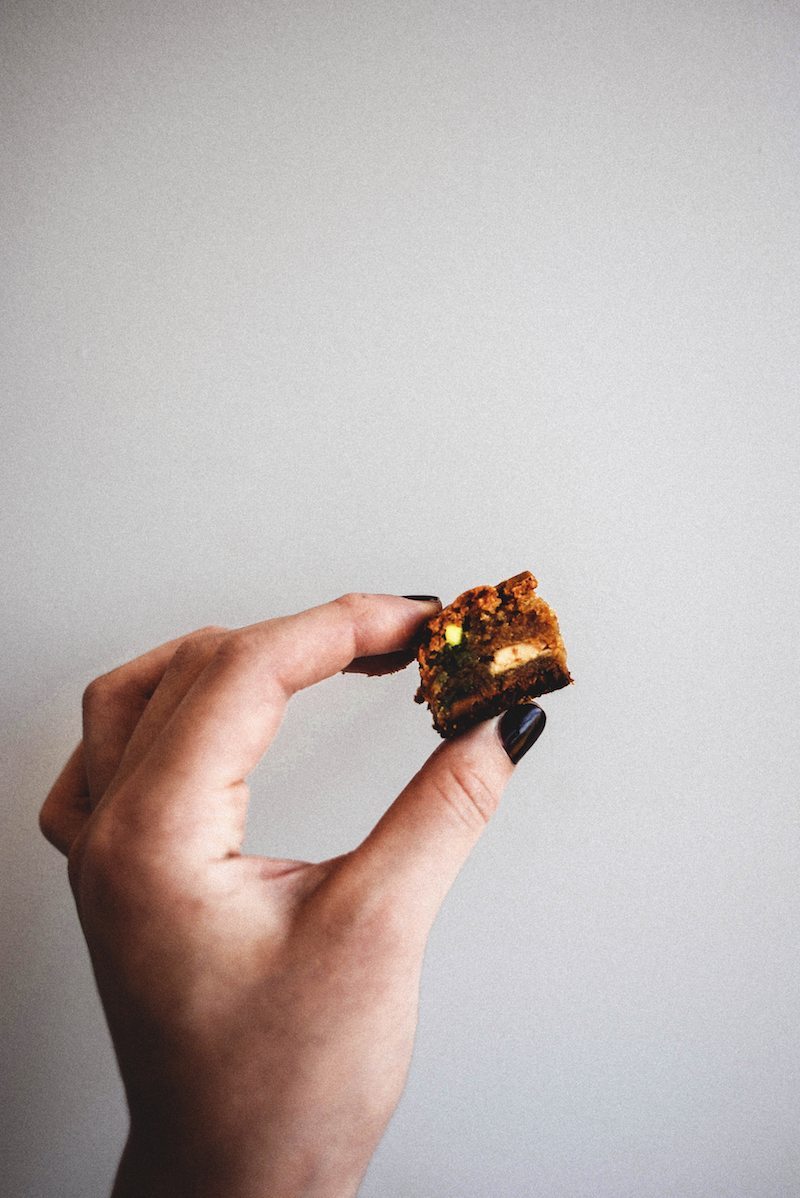 Though you can cut them however you desire, in bars, slices, boldly in triangles – I prefer to cut the blondie into mini bite-sized cubes. Mainly because they're just so god-damn little, addictive and cute. Put them into a bowl, and it's almost like popcorn, dangerous. You can eat ten and still feel like a champion.
Print

---
190 grams

6.7 ounces plain flour

1 teaspoon

baking powder

½ teaspoon

sea salt

180 grams

6.3 ounces white chocolate, finely chopped and divided

170 grams

6 ounces unsalted butter

300 grams

10.6 ounces light brown sugar

2

large eggs

1 teaspoon

vanilla bean extract

¼ teaspoon

almond extract

100 grams

3.5 ounces marzipan, cut into small chunks

50 grams

1.7 ounces sprinkles
---
Instructions
Pre-heat the oven to 180 C (350 F). Grease and line a 18 cm (7 inch) square baking pan.
In a large mixing bowl, whisk together the flour, baking powder and salt until evenly combined. Set the bowl aside.
Place half the chopped white chocolate into a large sized mixing bowl.
Place the butter in a medium sized saucepan set over medium-low heat. Heat, stirring often, until the butter is melted and golden. Once melted, immediately remove the saucepan from the heat and pour the butter all over the bowl with half the white chocolate. Let the mixture sit for 1 minute to acclimatise before stirring with a rubber spatula until smooth.
Add the light brown sugar to the butter mixture and stir until evenly incorporated.
Add in the eggs, one at a time, stirring well to incorporate after each addition. The mixture should be thick and glossy. Stir in the vanilla bean and almond extract.
Add half of the dry flour ingredients into the mixture and fold until just incorporated, then, fold in the remaining half until combined. Stir in the marzipan chunks, sprinkles and the remaining half of the white chocolate until evenly distributed throughout.
Pour the mixture into the prepared pan and spread out the top evenly with a rubber spatula, if needed. Bake, for 35 to 45 minutes, or until golden brown, the top has begun to crack and the edges are firm. A wooden skewer inserted into the middle should not come out clean but with a few moist crumbs attached, and the center should still be slightly soft.
Remove from the oven and let the blondie cool in the pan for 30 minutes before transferring out and onto a wire rack to let cool completely. Once cool, cut the blondie into your desired size, and serve.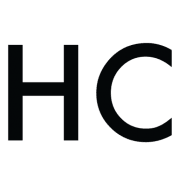 Thalia Ho
thalia is a law student by day, blogger at butter and brioche by night and all around francophile. In her free time you'll find her spending hours on end in her kitchen, testing recipes, baking decadent treats, exploring cookbooks and getting lost in the digital world.