Maple Pumpkin Pie with Toasted Pumpkin Seeds and Spelt Crust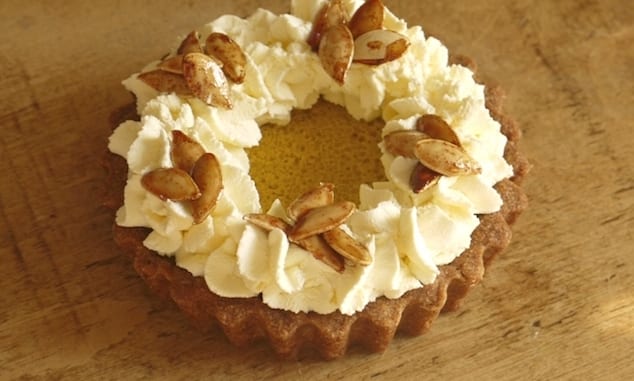 Pumpkin pie filling that is beautifully smooth, sweet and full of flavour, made more substantial with a pillow of maple whipped cream on top. The wholemeal spelt flour in the crust works wonderfully with the pumpkin and nothing goes to waste as the seeds are toasted up to salty-sweet perfection.
By Kate Doran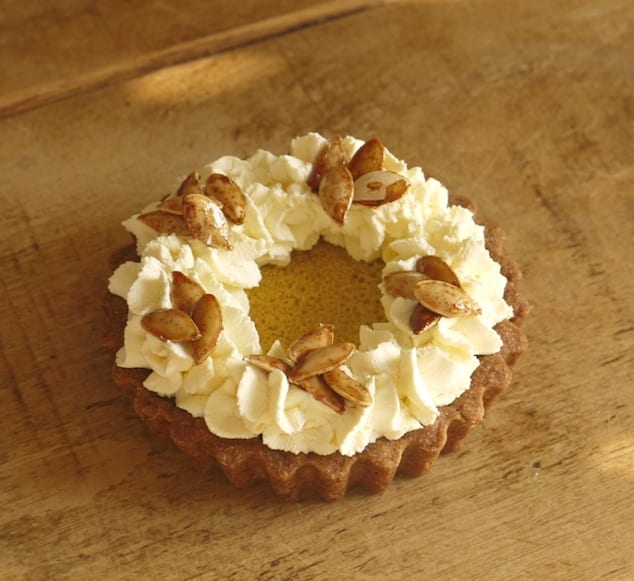 If you're a fan of Pinterest, Instagram or regular food blog reader you won't have failed to notice the proliferation of orange recipes that arrived along with autumn. Although at times it feels like everywhere I look, pumpkins and squash are leaping from my computer screen, people are posting these recipes for a reason. Seasonal produce tastes best, should be made the most of and can provide us with a warm, comforting food-based hug as the temperatures drop and the nights draw in.
Last Thursday some friends came over for an autumn meal. As they told us they were planning to bring a carved out, candle-lit pumpkin, I decided to put the one I'd already bought to edible use and attempt to make a pie. I knew I wanted lots of spice, a spelt crust and maple syrup to complement the sweet nutty pumpkin flesh and after a bit of experimenting, this is the end result.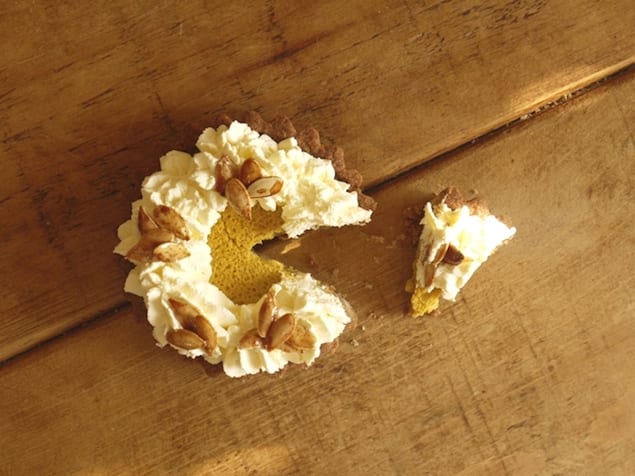 The only individual tart tins I own are shallow so these don't quite have the spoon-sinking depth of some of the pies out there, but what there is of the filling is beautifully smooth, sweet and full of flavour, made more substantial with a pillow of maple whipped cream on top. The wholemeal spelt flour in the crust works wonderfully with the pumpkin and nothing goes to waste as the seeds are toasted up to salty-sweet perfection.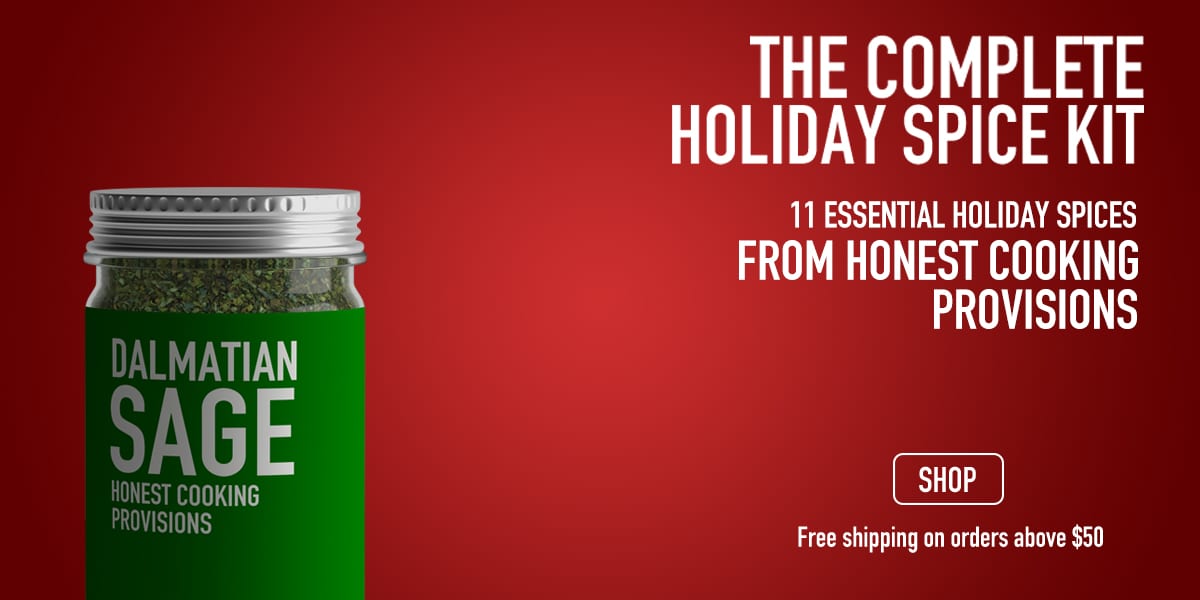 This might be my first pumpkin pie but it certainly won't be my last. Here's to seasonal baking and who knows, this could be the year that I finally learn to love all sorts of Christmas desserts, too.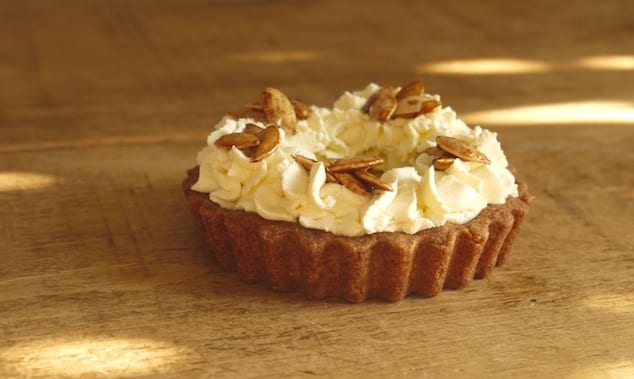 Maple Pumpkin Pie with Toasted Pumpkin Seeds and Spelt Crust
Pumpkin pie filling that is smooth and topped with a pillow of maple cream on top. And is wasted as the seeds are toasted up to salty-sweet perfection.
Recipe Type:
Dessert, Baking
Serves:
makes 6 x 9cm tartlets
Ingredients
For the pastry
85g unsalted butter, room temperature
50g granulated sugar
1 large free range egg yolk
140g wholemeal spelt flour
Pinch salt
For the filling and seeds
1 small pumpkin
70ml maple syrup, divided
2 tsp olive oil
½ tsp ground cinnamon, divided
Pinch salt
65ml double cream
½ tsp vanilla extract
¼ tsp ground ginger
Scrape of fresh nutmeg
1 large free range egg
To serve
200ml double cream
1 tbsp maple syrup
Instructions
Start with your pumpkin. Cut into quarters and remove the seeds. Detach any stringy bits of pumpkin from the seeds, wash thoroughly then pat with paper towel until your seeds are dry. Preheat the oven to 190 degrees C and line two trays with parchment paper.
In a small bowl, combine one tablespoon of maple syrup with the olive oil and a pinch each of cinnamon and salt. Toss the pumpkin seeds in the mixture then spread out one one prepared tray. Place the pumpkin quarters on the other tray and pop both into the oven. Bake the pumpkin seeds for 15 – 20 minutes, turning occasionally, until golden and sticky (they will harden as they cool to become more crunchy). Remove from the oven. The pumpkin quarters will need 30 – 40 minutes, checking every 15 minutes or so depending on the size of your pumpkin. Once the flesh is nice and soft, remove from the oven and set aside to cool.
To make the pastry, beat the butter and sugar together until just smooth in a medium bowl, about one minute. Add the egg yolk and mix for 30 seconds, then add the flour and salt, mixing until the dough just comes together. Press into 6 individual 9 cm tartlet tins with a removable base, prick the base with a fork and freeze for one hour.
Preheat the oven to 190 degrees C. Remove the pastry cases from the freezer and bake for 5 minutes (no need to line with beads). If the pastry has puffed up slightly, pat it flat with the back of a spoon then bake for a further 6 – 8 minutes, until lightly golden. Remove from the oven and turn the temperature down to 180 degrees C.
To make the filling, peel your cooled cooked pumpkin then blend in a food processor. Weigh out 100g of pumpkin purée (you will have more than you need, but can freeze the leftover purée or use it to make pumpkin spice granola), then blitz with the remaining 65ml cream, 50ml maple syrup, vanilla extract, spices, salt and egg to form a smooth cream.
Pour the filling into your par-baked pastry shells and bake for 20 – 25 minutes or until lightly golden and set with a slight wobble. Remove from the oven and set aside to cool.
When ready to serve, whip the cream and maple syrup until soft peaks form. Spoon into a piping bag and pipe round the edge of each tart. Top with crunchy pumpkin seeds and serve.
Kate Doran
Nicknamed Little Loaf at 3 by a great aunt who noticed her appetite for bread was bigger than she was, Kate fell in love with baking from an early age. In 2011 she started 'The Little Loaf' blog as a place to share her favourite recipes and stories. Since then, Kate's recipes have featured in The Sunday Times magazine, Stylist, Guardian, The Huffington Post, Making Cakes & Bakes and more. Kate was named one of the UK's best food bloggers by the Sunday Times magazine and The Little Loaf was named one of the UK's best baking blogs by Channel 4 Food. Kate's debut cookbook, HOMEMADE MEMORIES: CHILDHOOD TREATS WITH A TWIST, will be published by Orion Books on 4th June 2015.