Layers of Mango chunks and Pomegranate pearls one after the other – In-between the fruits some flavored yogurt. it is simply heavenly!
By Anamika Sharma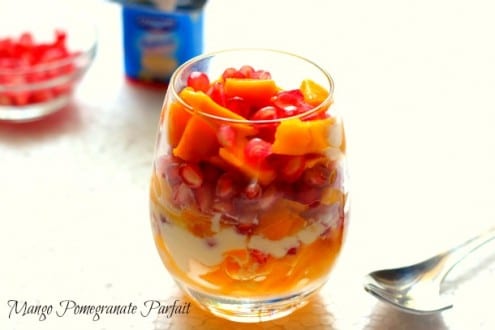 Mango Pomegranate Parfait
Layers of Mango chunks and Pomegranate pearls one after the other - In-between the fruits some flavored yogurt. it is simply heavenly!
Ingredients
• Pomegranate pearls – 1 medium size
• Vanilla yoghurt – 1 cup or 100 ml
• Mangoes (diced) – 1 ripped large size
• Honey - 2 tablespoons
Instructions
Take 2 glasses of your choice; I sometimes prefer tall glasses or short broad glasses for my parfaits.
Now fill each glass with 1 tablespoon honey, followed by some mango then yogurt and some pomegranate pearls. Repeat this step to form another layer with same pattern. You can go on and on with as many layers you wish provided your glass has the capacity to hold such layers.
Top it with some nuts or granola if you wish to, I kept it quick and simple this time.
Anamika Sharma
Anamika Sharma is a passionate foodie, a food blogger with a background in aviation and telecom industry for good 15 years. Her mission is to spread the love for Indian cooking to all those who wrongly think it's too difficult. She loves to cook for her family, specially her kids. Besides cooking she also enjoys photography and traveling. MAD – making a difference is a word she chose to describe her Indian cooking site. Cooking always meant to her to be maddening and now she is mad about cooking.