PARTNER POST: The versatile potato is perfect in a multitude of recipes showcasing flavors from around the globe. Get creative with your spuds.
Slightly tangy and creamy Malaysian curry is loaded with the most tender chicken and deliciously soft and flavorful potatoes.
By Ai Ping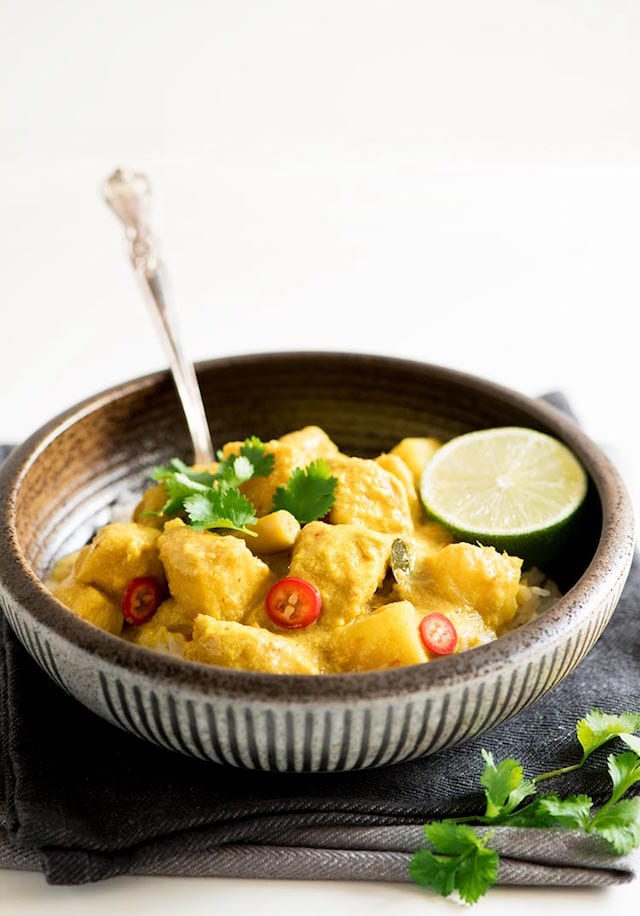 Valentine's Day is fast approaching. Valentine's Day is pretty useful as a reminder that it's time to reinvigorate my love for my husband. Cue 'Awwwwwwww'. And the way to his heart is of course through chicken breast and a non-spicy curry.
Dubbed one of Mr. V's favorite Malaysian curries, this chicken and potato curry is just the perfect thing for him. Savory and slightly tangy creamy curry with the softest and juiciest chicken breast ever and delicious tender potatoes.
Kapitan Curry is an adaptation from the Malaysian Indian Chicken Curry (which is spicier). It is a fusion of Malay and Chinese curry which explains the rich depth in flavor from the combination of ingredients like lemongrass, kaffir lime leaves and coconut milk.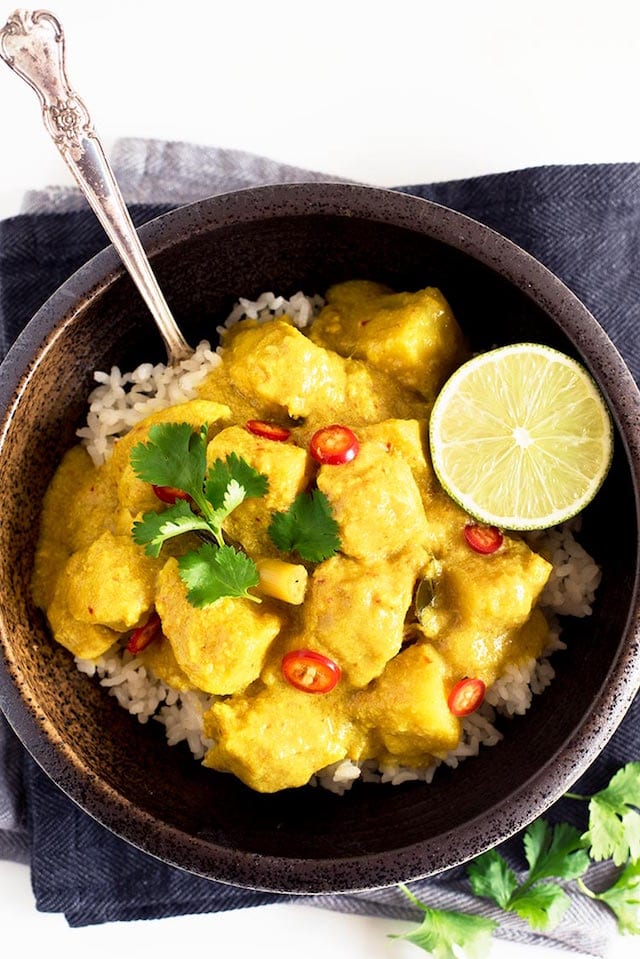 I love using potatoes in curries or anything stew-ish for that matter. They're so hearty, healthy and a great addition to a dish that would've been primarily just meat. For this recipe, I use russet potatoes because I like that they almost fall apart when they're done. If you like yours the exact opposite, feel free to use red or yellow potatoes instead.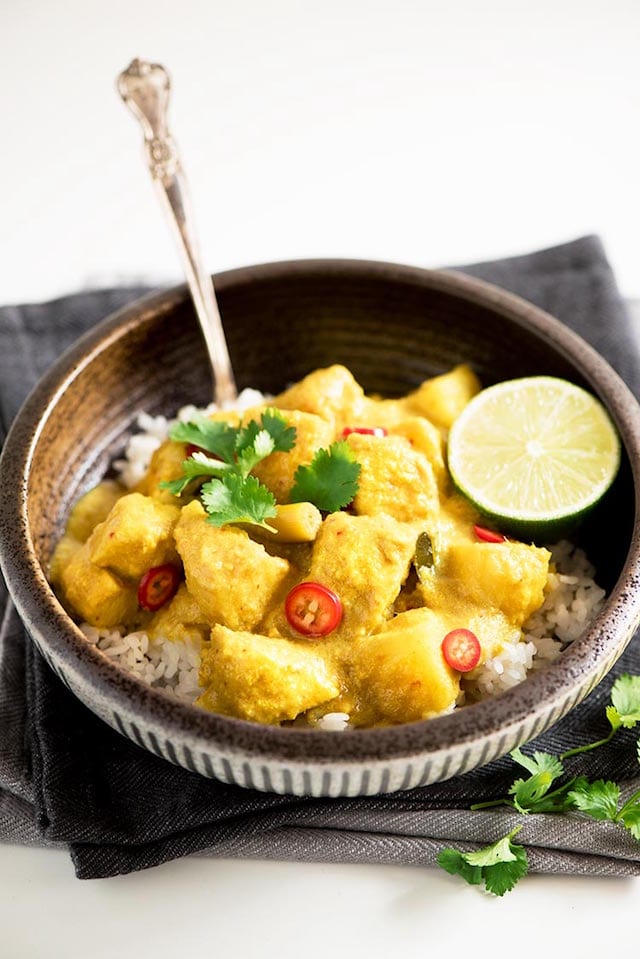 Tips:
1. Marinating the chicken with yogurt is key to have juicy & tender meat.
2. Whole fat milk yogurt (instead of low fat) is used to decrease the chances of the curry curdling.
3. Since chicken breast is used, there isn't a long simmering time. Therefore chicken stock (instead of water) is used to help boost the flavor in the sauce.
For another hearty international recipe, try these Bombay Spiced Potatoes:
Malaysian Potato and Chicken Curry
Slightly tangy and creamy Malaysian curry is loaded with the most tender chicken and deliciously soft and flavorful potatoes.
Ingredients
1 lb boneless, skinless chicken breast, lightly pounded and cut into ¾" cubes
½ cup whole fat plain yogurt
1 tsp ground turmeric
½ tsp salt
½ tsp sugar
10 fresh kaffir lime leaves, bruised
4 lemongrass stalks (green parts left from spice paste), cut into 3" length and bruised
1 large russet potato, cut into ¾" cubes
1½ cans 13.5 oz coconut milk
1¼ cup chicken stock
1 - 1½ tbs lime juice
2 - 3 tsp brown sugar
2 - 3 tsp salt
!Spice Paste
12 shallots (short variety), peeled
1½" galangal (blue ginger), peeled
1"ginger, peeled
6 garlic cloves, peeled
8 dried cayenne chilies, deseeded and soaked in hot water for 10 minutes
8 candlenuts (or macadamia nuts)
4 lemongrass stalks (white parts only)
½ tsp ground turmeric
½ tsp belacan (fermented shrimp paste in block form), optional
½ cup water
¼ cup oil
Instructions
Combine the yogurt, ground turmeric, salt and sugar. Pour over the chicken and marinate for 2 - 4 hours.
Remove the chicken from the marinade and pat dry the chicken to remove excess marinade (This is to remove as much yogurt coating on the chicken as possible to avoid curdling in the curry). Bring chicken to room temperature.
Add all the ingredients for the spice paste (except the oil) in a blender and blend until smooth. Add the oil into a pan, pour the paste in and fry the paste for 5 minutes over medium heat. Add the kaffir lime leaves and lemongrass stalks and fry for another 5 minutes.
Turn the heat to medium high. Add the potatoes, coconut milk, chicken stock, lime juice, brown sugar and salt. Fry until liquid starts to boil. Turn to low heat, cover and simmer for 25 minutes.
Uncover, add the chicken and stir. Do not turn up the heat yet (This is to avoid a high difference in temperature for whatever yogurt's left, again to avoid curdling). After 30 seconds, turn the heat up to medium high. Once liquid starts to bubble, cover and simmer on low heat for 6-8 minutes or until chicken reads 165 F - 170 F. Any higher temperature and chicken may become dry and tough.
Taste and season again. The curry should be slightly sweet, sour and spicy. To make it sweet or to balance out the sourness, add sugar. To increase in tang, add some lime juice. Add salt if it's too bland and add coconut milk to make it creamier. Serve with warm steamed rice.
Notes
Even if the curry has some curdling, it's still ok to eat. It may not look at pretty, but it will be delicious.