Sponsored Post: Whether you are hosting a wine party or looking for the perfect pairing for your dinner party menu, we've teamed up with Sonoma-Cutrer to provide wine inspiration for your next gathering.
This epic cheese board that is a must-make for get-together with friends and family. Plus, check out the wine pairings to make the party a breeze.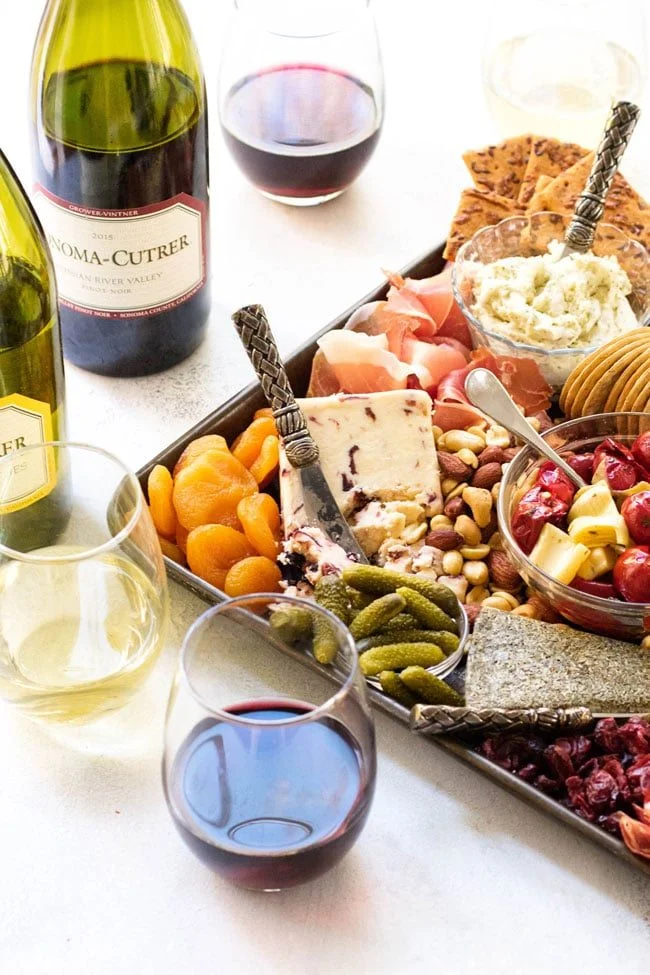 Party season in full swing it's down to the wire in the entertaining department and there is no easier way to impress guests than with a big cheese board filled with delicious bites. There's no cooking required and with a few tricks up your sleeve, you can assemble and serve a beautiful platter that will leave people wondering who you hired to put the whole thing together. It's the perfect centerpiece for your holiday get-together. So, consider this your guide to the ultimate holiday cheese board. Let's get started!
The key to success in any endeavor is planning and taking a few minutes to make a list before you hit the store will help ensure you end up with a cheese board that's not only beautiful to look at but filled with a variety of colors, textures, flavors, and shapes. These days even the most mainstream grocery store has a specialty foods section filled with lots of choices so don't feel like you need to scout out some distant gourmet food store to source your items. At the end of this post, I've included a printable guide that details all the products I used for my cheese board, but depending on what you have to choose from you might need to make some adjustments. So here are some things to keep in mind…
CHEESE
Pick a few different kinds of cheese with different shapes and textures. A few wedges, a creamy spreadable cheese, and bite-sized sliced cheese gives everyone a few choices.
CRACKERS
I like to include crackers that not only vary in shape but also flavor. I love a classic water cracker, but including different colors and flavors keeps things visually interesting. Use enough crackers to fill the nooks and crannies (more about how to arrange everything coming up!) and refill as needed.
MEAT
A few different types of cured Italian meat like prosciutto and hard salami are little savory surprises tucked in among all the cheese and crackers. Look for different types in the deli section or specialty cheese area at your grocery store. You may find a variety pack that includes a few different options.
BRIGHT BITES
A lot of stores have olive bars now where you can pick out all kinds of tasty treats that add a pop of bright flavor to your cheese board. If your store doesn't have an olive bar, check out the aisle where the pickles are – jarred artichoke hearts, roasted red peppers, sun-dried tomatoes, and stuffed olives are all great additions.

FILL-INS
Fruit and nuts are a nice way to fill in the little spaces on the board. Dried apricots and cranberries along with some roasted mixed nuts are a great choice.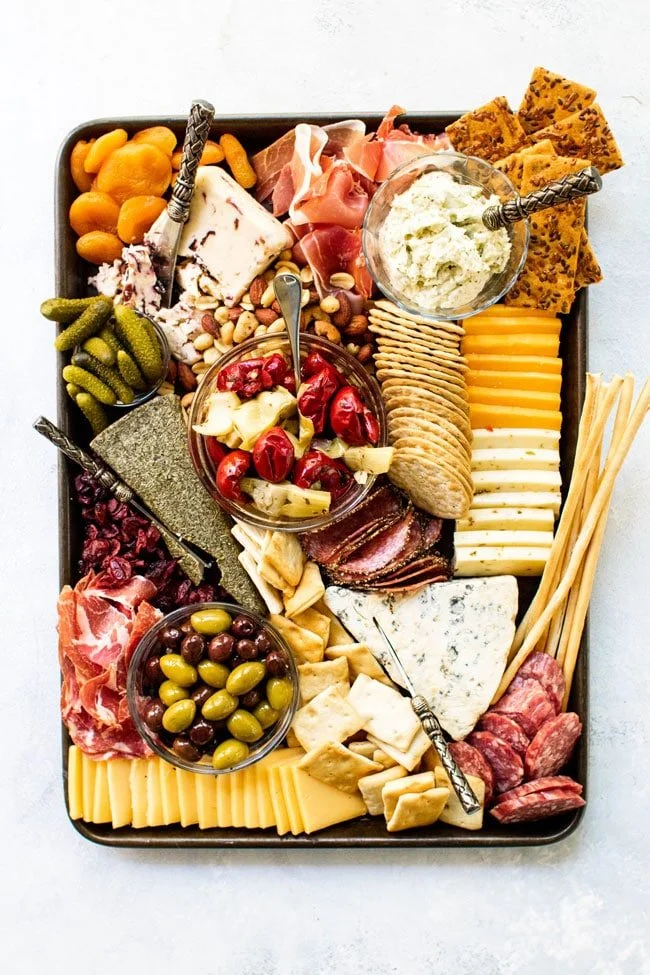 CHEESE BOARD WINE PAIRINGS
I'm a big believer in drinking what you like to drink and not getting too caught up in the "rules" of wine pairing. For get-togethers, it's nice to offer both red and white wine options and the wine-makers at Sonoma-Cutrer, located in the beautiful Sonoma Valley in California, not only have lots of options, to choose from (plus winery tours if you happen to be in the area!), but they also have a great online store where you can learn about their wines and order what you like. No more wandering the wine aisle aimlessly in deep contemplation. Sonoma-Cutrer makes it easy to shop for wine from your couch and that is the best thing ever.

RUSSIAN RIVER RANCHES CHARDONNAY
For a white wine, I don't think you can go wrong with Chardonnay. This option from Sonoma-Cutrer has nice fruit notes, with hints of lemon and green apple and its light acidity pairs nicely with the cheese board and is a good choice for guests who like a refreshing glass of wine.

RUSSIAN RIVER VALLEY PINOT NOIR
I like to think of Pinot Noir as a "middle of the road" red. It's lighter than other reds and a good choice to pair with a cheeseboard. Like the Chardonnay, it's punctuated with fruit notes like blackberry and black cherry and it has a long, smooth finish.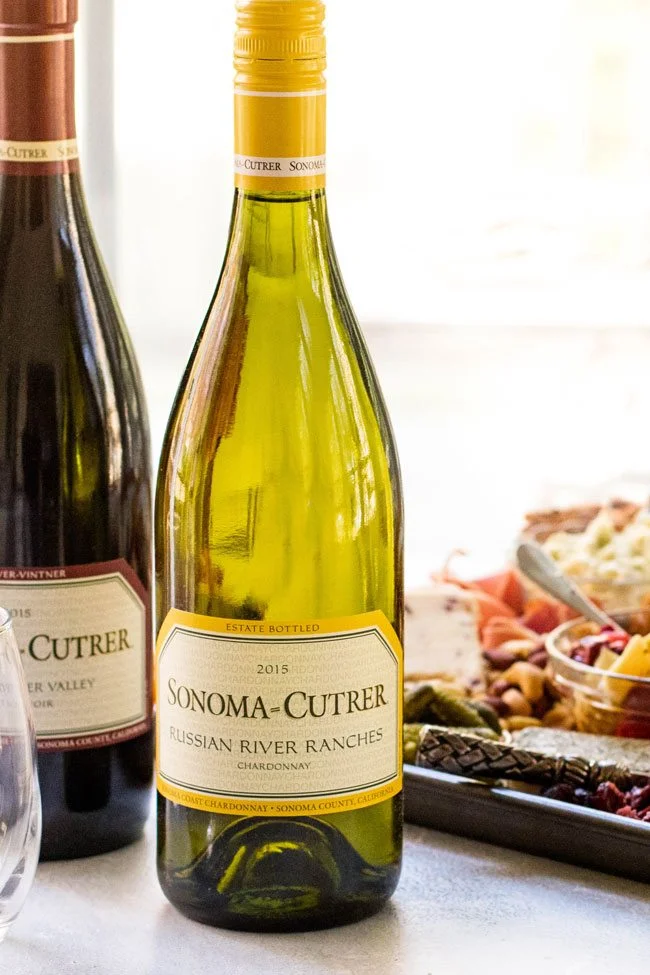 BUILD YOUR CHEESE BOARD
Once you have all the components for the cheese board it's time to get creative. It doesn't take long to put it all together…

PICK A BASE
If you already have a large slate or wooden board, by all means, use it, but I find a simple sheet pan makes a great base for a cheese board. First, it keeps everything contained (no fear of anything falling off the edge) and it's easy to move the cheese board around. Parties have a tendency to change locale transitioning from the living room to the kitchen and using a sheet pan makes it easy to move the cheese board from spot to spot.

START BIG
Building a cheese board is like arranging flowers. Start with the big stuff first like anything that needs to be held in bowls followed by the big wedges of cheese. Place them spaced apart leaving room to fill in spots with everything else.

STACK AND LINE
Next, position the sliced cheese along the edges of the sheet pan making it easy for people to grab a slice. Depending on the type of crackers you use, stack and line some of them up, too.
TUCK IT
Fill in spots with the cured meat, but it's a good idea to hold some back and refill as necessary. Things like salami and prosciutto hold well at room temperature for a while but have a tendency to get a little greasy if left out too long. Keep the extras in the refrigerator and add more as they disappear.

FILL IN
Use the dried fruit and nuts to fill in the little nooks and crannies after everything else has found a place on the board. Small crackers work well for this, too.
And that's it! Just open the wine and let the merriment commence.
Happy Holidays, everyone. I hope yours is filled with good eats and lots of love.
You don't need a fancy slate or wooden board to build a beautiful cheese board. A simple sheet pan is a perfect base to assemble a delicious work of art for a get-together with friends and family. While there are no "rules" in building a cheese board there are a few good tips to keep in mind – a variety of shapes, colors, and textures will make it visually interesting and a variety of flavors will give your guests a lot to choose from.
Print

How to Make a Cheese Board and Pair it with Wine
---
CHEESE
Wensley Dale with Cranberry
Cheddar and Roasted Garlic Cheese Spread
Rosemary Topped Goat Cheese
Sliced Sharp Cheddar Cheese
Sliced Pepper Jack Cheese
Gorgonzola Wedge
Sliced Gouda
CRACKERS
Red Pepper Sesame Crackers
Water Crackers
Small Square Crackers
Thin Crunchy Bread Sticks
MEAT
Proscuitto
Genoa Salami
Coppa
Hard Salami
BRIGHT BITES
Cornichons
Marinated Artichoke Hearts and Cherry Peppers
Black and Green Olives
FILL-INS
Dried Apricots
Mixed Roasted Nuts
Dried Cranberries
---
Instructions
Place the anything in a bowl on the sheet pan first leaving space in between each. Follow with all the cheese wedges.
Line-up the sliced cheese along the edges of the sheet pan.
Tuck the sliced meats in between the bowls and cheese wedges. Fill-in space with the different crackers.
Fill the nooks and crannies with mixed nuts and dried fruit.