Buttery, sweet, and flaky with caramel flavors, palmiers are so easy to make. Once you master puff pastry, you are on your way to having these French sweets.
By Manali Singh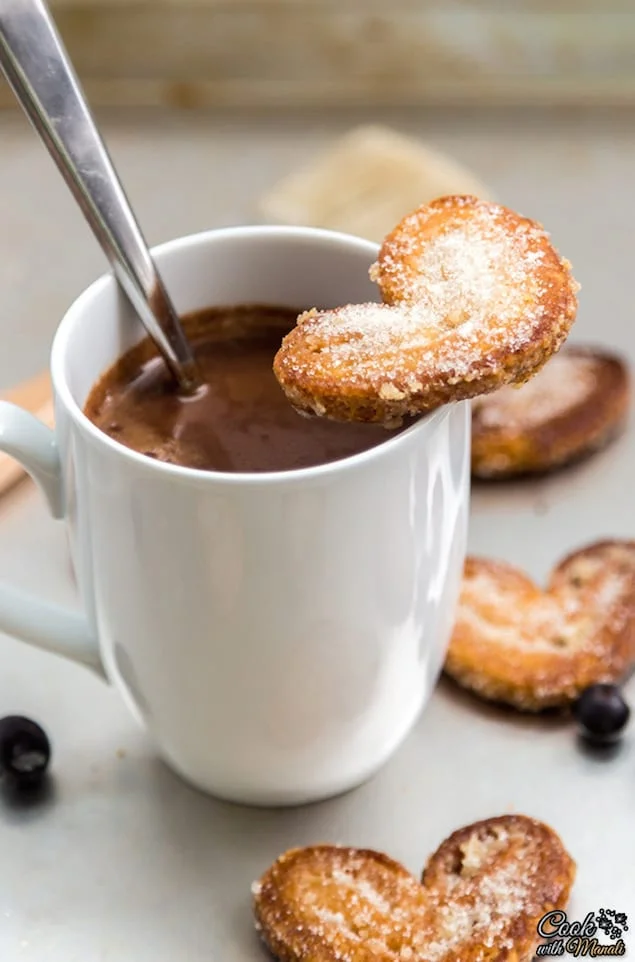 When life throws you some puff pastry, you obviously make palmiers! Well at least that is what I did after I made this puff pastry dough. (Find the recipe for the dough and a guide here.) The fact is that I wanted to use my homemade puff pastry as soon as possible and didn't want to slog in the kitchen for hours.
I often saw these at french bakeries and thought they would be difficult to make. I mean how do we get that butterfly/heart shape? But looks can be so deceiving because these treats are super simple to make. I learned to make them at the French Pastry Class and I was amazed by how quickly it all came together, like literally in minutes especially when you already have puff pastry ready on hand.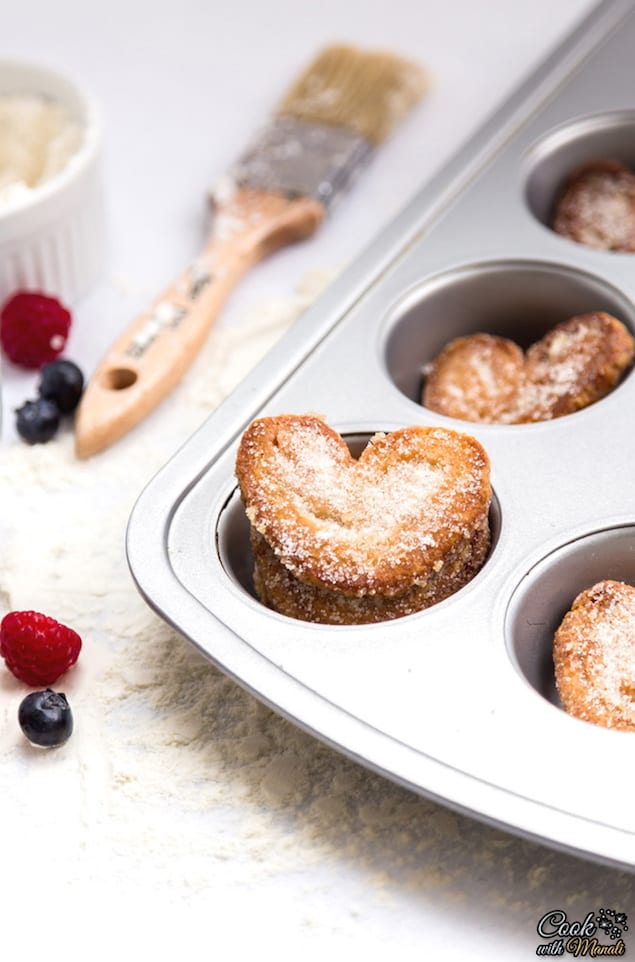 These little hearts are all butter and caramel, so perfect with a cup of coffee. In fact you can serve them with ice cream, mousse or any other dessert. I think the best part about this french pastry is that you only need two ingredients to make this – puff pastry and some sugar. Speaking of sugar I used regular granulated white sugar here, but I think superfine caster sugar will work even better.
Oh, I also think cinnamon would be so good here. Just mix it with sugar before sprinkling on the puff pastry and now on to the palmiers recipe!
Print
How to Make Buttery Palmiers
---
Description
Buttery, sweet, and flaky with caramel flavors, palmiers are so easy to make. Once you master puff pastry, you are on your way to having these French sweets
---
1

sheet puff pastry [homemade- see link above for recipe or store bought]

¾ cup

fine granulated white sugar [superfine is better]
---
Instructions
Thaw your puff pastry sheet and roll it into a square. Trim the edges to make it even from all the sides.
Take sugar and sprinkle generously all over the puff pastry. Be extra generous here, sugar is important so sprinkle lots.
Flip and cover the other side with sugar too. An easy way to do this is sprinkle sugar on your work surface (a little away from where your puff pastry is) and then gently lift your pastry dough and place it over that sprinkled sugar surface. You can flip the sides to see if there's enough sugar.
Now fold the pastry to mark the center, just mark it using your finger. Start folding from one side. We will do 2 folds from each side and will leave a little space in the center between the two folds in the end because ultimately we have to fold it in a log.
And then the 2nd fold, ending slightly away from the center.
Repeat the same 2 fold process from the other end, ending slightly away from the center.
And finally roll one fold on top of the other and form a log.
Trim the edges so that you can get clean pieces. Wrap in a cling sheet and refrigerate for 30 minutes or till it's firm. It's easier to cut this way!
Once the puff pastry is firm, take it out and cut into ½-1 centimeter pieces. The thinner you cut them the crispier the palmiers will be.
Preheat your oven to 400 F degrees. Line a baking sheet with parchment paper or silicone mat. Set aside.
Once you have cut all the palmiers, start rolling each in more sugar. Roll from both sides.
After you have rolled the palmiers, take each and shape them a little by pulling the two ends slightly away from each other. [see picture above]
Repeat the same with all the cookies and then place them on a baking sheet lined with parchment paper or silicone mat.
Bake at 400 F degrees for 15-16 minutes, flipping them once at the half way mark. Please remember to flip at half time else they won't get properly baked from both sides.
Let the palmiers cool down and then store in an airtight container.
Enjoy with a cup of coffee or hot chocolate!
Category:

Dessert, Pastry, Baking

Cuisine:

French
Manali Singh
Food lover, recipe developer, food photographer and a big time baking addict. I live in Seattle with my husband and share simple and delicious vegetarian recipes on my blog Cook With Manali.