Kelly Morisson shows us how to make a low fat, pumpkin flavored mac and cheese.
By Kelly Morisson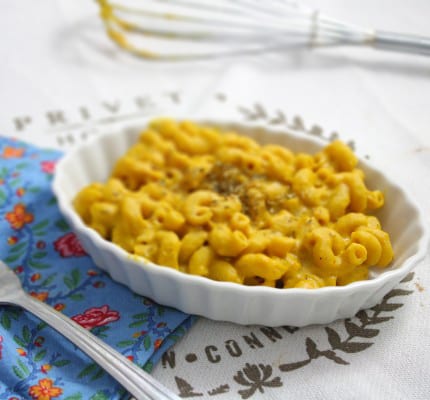 Low Fat Vegan Pumpkin Mac and Cheese
A wonderful low fat vegan pumpkin mac and cheese recipe.
Ingredients
1 cup of uncooked elbow macaroni (use Easy Grain Free Pasta for a gluten/grain free and low carb version)
1 cup pumpkin puree (not pumpkin pie filling)
6 tablespoons nutritional yeast
1 cup Silk Pure Almond Unsweetened Original
1 teaspoon minced garlic
2 teaspoons Dijon mustard
Salt and pepper, to taste
Instructions
Cook pasta according to package directions and set aside until ready to use.
Meanwhile, bring almond milk to a boil in a pot over medium high heat. Whisk in nutritional yeast, minced garlic, and Dijon mustard, and continue to cook for two minutes, or until slightly thickened. Whisk in pumpkin puree until completely smooth and cook until desired consistency is reached. Add salt and pepper to taste. Stir in cooked pasta until the sauce is evenly distributed throughout.
Transfer to plates and serve!
Kelly Morrison
At the age of thirteen, Kelly Morrison founded Foodie Fiasco, a popular healthy recipe website that provides the ultimate guide to having it all: happiness, decadence, and loose pants. Five years later, she currently resides in West Hollywood, CA, where she spends her days developing recipes, photographing food and her cats, and writing bios in the third person.