Stir it, shake it, build it, fortify it then pair it with an insane turkey club sandwich. This is Lot 15, Midtown's newest lounge for impressive cocktails and bites.
Inside the Kixby Hotel located on 45 West 35th street, Lot 15 becomes the favored spot for anyone seeking next level drinks and bites. Decorated with charred black wood walls and velvet chairs, Lot 15 offers more than the run of the mill bar.
It's hard to believe that this modern lounge exists in Herald Square, but it's true. Designed by the Rockwell Group the dim-lit space features, dusted mirrors, candles, flowers and contemporary artwork with a nod to "Notorious B.I.G". Creating a re-imagined version of old-New York with a modern-sexy vibe. Thereby making it versatile for any social occasion. Whether it be a romantic date, a vivacious game night with the boys or casual post work happy hour meetings.  Seating approximately 70 persons, guests sit comfortably on the plush velvet chairs either sipping away on their shaken classic whisky sour. Or grubbing on a game changing turkey club sandwich.
Cocktail Program at Lot 15
Led by Bar Specialist Cameron Shaw Lot 15's  curated cocktail program  showcases familiar yet sophisticated options including  sours, a French martini, a lemon drop martini, a sky blue aviation, large format cocktails in addition to beer and wine and delicious zero proof options.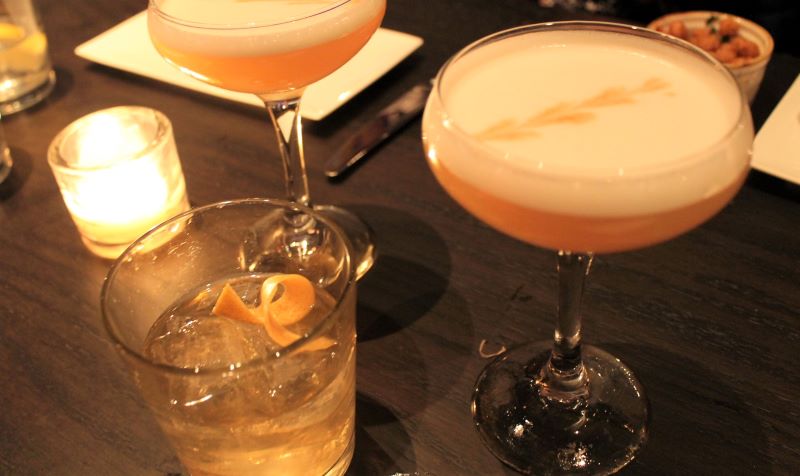 From the "Shaken" section guests can order a well-balanced whisky sour. Typically, the drink includes a mixture of whisky sugar and citrus. Lot 15 elevates the drink by adding pisco (Brandy) and midori (muskmelon-flavored liqueur) as opposed to liquid syrup. Among other great cocktails on the menu the classic old fashioned is another powerful contender to order. Featured on the "Stirred" section, this cocktail features Oaxacan Mezcal and Sazerac. It's rich, smooth and has a silky taste. Not as complex in taste as the Whiskey Sour cocktail but the flavors of the drink shine through nicely.
In addition to the classics, other specials on the diverse drinks' menu features zero proof drinks like the plum spritz. The bright and refreshing plum drink can easily become the new celebratory drink for anyone who isn't a fan of alcohol. Plus, a wine list and other well curated libations.
Although the drinks are the focus, a menu of large and small plates are available to order. Enjoy on its own or to pair with the well curated cocktail program.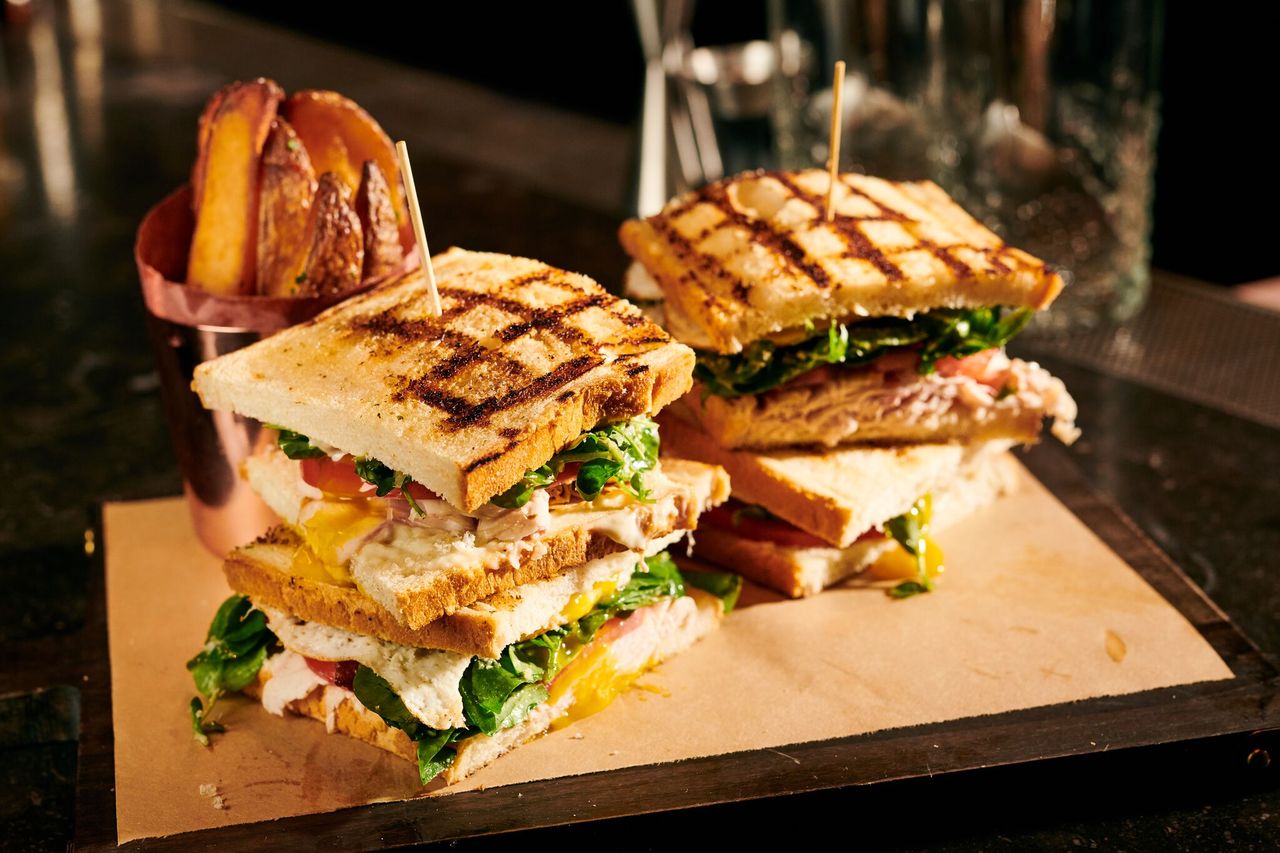 Drunken Shrimp Cocktail ($19): Thyme, pink peppercorn, rosé wine, meyer lemon allow flavors to bloom in this juicy shrimp cocktail. Served with a mini bottle of rosé dressing poured table-side.
Lamb Harissa Meatballs ($17) – A medley of chilies, peppers, herbs, seasoned these warm and satisfying meatballs. Complemented by a refreshing cucumber, red onion, watercress & tzatziki.
Trio Old Fashioned Mini Cheeseburgers ($12)

MiniCheeseBurgers_MadonnaChild

– a definite crowd pleaser among the table, these burgers are must to order for any larger celebrations at Lot 15.  Martins potato roll, garlic butter, Velveeta, minced onions, kosher pickles, and spiked thousand islands construct these perfect party bites.

Skillet Truffle Mac & Cheese ($13)

SkilletMacandCheese

– Crispy top, browned edges, a hint of truffle and endless creamy cheese. These make the ultimate winter comfort food (Optional to add an egg for more creaminess.)

House Roasted Turkey Club ($16) – There's the basic sandwiches then there is the turkey club. An impressive menu item, with a unique architecture. Lot 15's House Turkey Club has all the necessary ingredients while maintaining the construction of the classic. Sliced of bread packs turkey, bacon, lettuce, and tomato but no mayo. Replaced by an egg the sandwich is perfectly executed. Lot 15 creates a balanced combination of crunchy and creamy, savory and refreshing bite to pair with its' great cocktail list.
Kale Caesar ($12) – On the healthier side, the Kale Caesar is ready to order- Done right, the salad uses serrano chilies, lime, toasted bread crumbs to create a bowl of contrasting flavors and textures. Topped with shredded Parmesan and optional to add grilled chicken.
'Sweet Tooth' menu offers just the right amount of sweetness to cap a romantic dinner date. Selects include a mini Apple Skillet Cake and Creme Brulee ($5 each)
Currently For those looking for a happy hour, Lot 15 offers it between 4PM – 7PM.  It includes 'House Picks' with prices ranging from $1 $3 $5 bites and drinks starting at $5.
The options are Fried Deviled Egg ($1 ea.), Old Fashioned Mini Cheeseburgers ($3 ea.), and Hand Cut Chips ($5). Whereas the drinks feature Montauk Brewing Driftwood Ale ($5), Complices De Loire L'Evanescente ($8) | Pinhook Bourbon Country Straight Bourbon Whiskey ($8) | Paradise Lost ($10) | In-Cider Information ($10)
Lot 15 is Open Daily from 4pm- 12am.  To make reservations visit  http://lot15.nyc/contact-us/ 
This post is sponsored by Lot 15. Featured Image is courtesy of Melissa Hom Photography