Typically filled with raspberry jam, these heart-shaped linzer cookies bring a rich flavor to the mouth with their chocolate-buttermilk centers.
By Ruth Kirwan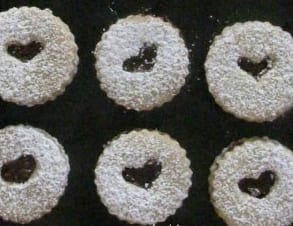 Print

Linzer Cookies with Buttermilk Ganache
---
Ganache
8oz

semi-sweet chocolate

2 tablespoons

buttermilk

3 tablespoons

confectioner's sugar
Cookies
1 cup

(

2

sticks) softened butter

1 cup

powdered sugar

2 cups

all purpose white flour

½ cup

almond meal

¼ teaspoon

salt

¼ teaspoon

ground cloves

¼ teaspoon

ground cinnamon

½ cup

white sugar

1 teaspoon

baking powder

2 teaspoons

vanilla extract

1

egg
---
Instructions
Cookies
Using a hand mixer, beat the butter, confectioner's sugar and white sugar together until very light and creamy, making sure the white sugar has mostly broken down and the mixture is not grainy.
In a separate bowl, whisk together the all purpose white flour, almond meal, baking powder, salt, cinnamon and cloves.
Carefully fold the wet ingredients into the dry.
Divide the dough into two portions, wrap and chill for at least one hour or up to three days.
When you're ready to make the cookies, preheat the oven to 350*F.
Roll the cookie dough out and stamp out shapes using linzer cookie cutters (these are specialized cutters, and have a stamping mechanism inside a round or shaped cookie cutter)
Make sure you have an even amount of "bottoms" as you do "tops" for the cookies. Bake the cookies at 350*F for 10-12 minutes, or until the bottoms have browned and the sides have lightly crisped.
Allow the cookies to cool before frosting.
Ganache
Melt the chocolate, using either the microwave or a double boiler (to melt chocolate using a double boiler, break up the chocolate into small pieces and place in a heatproof bowl over a pot of boiling water. Stir gently until melted.)
Remove chocolate from heat and carefully stir in the buttermilk.
Using a hand blender, whisk in the powdered sugar until the ganache is light and fluffy and will hold onto the back of a spoon without dripping.
To frost, place about 2 teaspoons ganache on each bottom half and carefully cover with a top half. Some of the ganache should poke out the inner cut-out; this is the beauty of linzer cookies
Sprinkle with powdered sugar and serve. These cookies will keep for up to four or five days if stored, tightly covered, in a cool, dry place.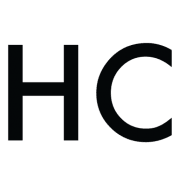 Ruth Kirwan
Midwestern transplant living in New York City. I live in a teeny apartment in NYC with my husband, whom I call the Big Man. I'm a food writer, recipe developer and tester, cooking school instructor, and total cheese lover. I'm happiest whenever I'm in front of a hot stove with a wooden spoon in my hand.