A well seasoned light and flavorful rendition of linguine with clams, perfect for any time of the week and great for easy company fare.
By Rinku Bhattacharya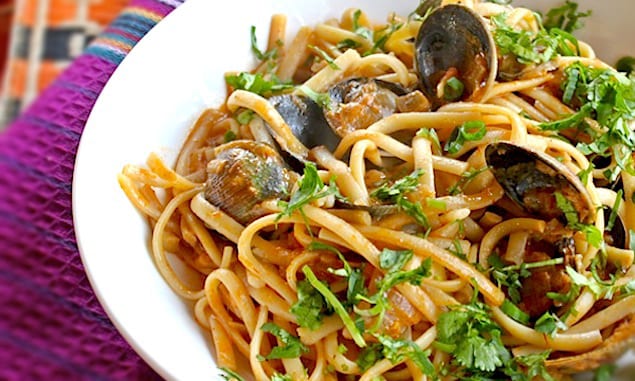 The magic in the recipe is actually finishing off the pasta in the clam flavored sauce, adding a very different dimension to the pasta. You can add heavy cream if you wish, I happened to have some coconut milk handy and so that is what I used. Cooking this dish, made me realize the magic of adding shellfish to pasta, something that has not quite made intuitive sense to me until now.

Linguine with Clams in Light Red Sauce
Author:
Rinku Bhattacharya
Ingredients
⅓ cup olive oil
3 shallots, finely chopped
4 cloves garlic, minced
½ cup of diced red tomatoes (about 2 fresh tomatoes, chopped)
1 large stick of cinnamon
1 cup of fruity white wine
2 cups of vegetable broth (I liked the lighter taste)
2 minced jalapenos
6 ounces of dried linguine
Water and salt for the pasta
⅓ cup cream or coconut milk
2 pounds of littleneck clams (wild caught), cleaned throughly
Chopped cilantro or parsley to garnish
Instructions
Heat the oil on medium heat for about a minute and add in the shallots and the garlic and cook on medium heat stirring frequently for about 5 minutes, until the air is nice and fragrant and the shallots are turning pale golden.
Add in the cinnamon stick and the tomatoes and cook until the tomatoes are well mixed and beginning to bubble and mix into the onion mixture. This will take about 3 minutes, gradually add in the white wine and bring to a brisk simmer and stir well, loosening the tomato shallot mixture and simmer for 6 minutes until the mixture is fairly thick.
Add in the broth and the jalapenos and simmer for 15 minutes, until the mixture is smooth and the consistency of a thick soup.
While the base is cooking, bring 4 cups of water to a boil and cook the linguine for about 3 minutes and drain and set aside.
Stir in the coconut milk to seal the broth and add in the clams and cover and cook for 3 minutes until the clams are all open.
Carefully remove the clams and place in a large bowl and cover.
Add in the linguine and cook for another 3 minutes, until the linguine is cooked through but not too soft. Remove the cinnamon stick.
Gently add in the clams and garnish with cilantro or parsley and serve.