Lime and Sesame Soba Noodles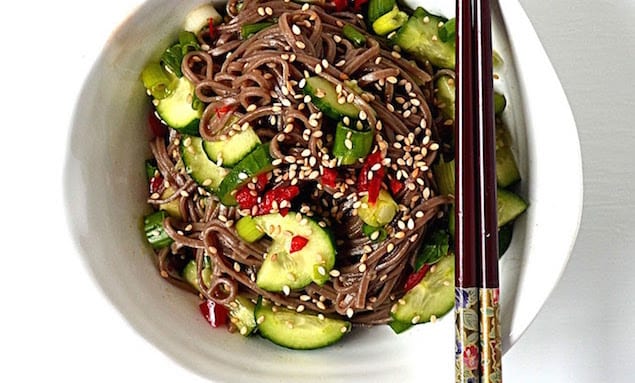 Crunchy cucumbers are coated with the noodles in a ginger and lime sesame sauce with a touch of chili pepper heat. A perfect, simple summer dish.
By Jill Nammar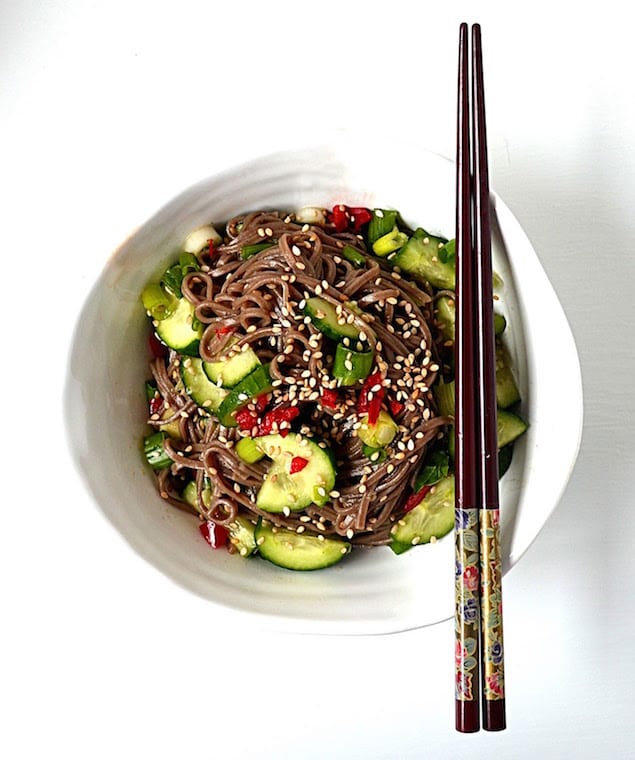 Real soba noodles are made with buckwheat flour. They're much less caloric than regular pasta. They contain important vitamins, minerals and protein. They're satisfying too. Give them a go the next time you're in the mood for pasta.
Today's recipe is a Japanese-inspired noodle bowl. Tangly soba noodles, crunchy cucumbers, warm sesame oil, fresh lime juice and perky ginger are all here. There's a bit of heat from a chili pepper if you're in the mood. The ingredients are tossed together in one bowl. Easy and quick! Win-win!
Check out more of my soba noodle recipes here.

Lime and Sesame Soba Noodles
Crunchy cucumbers are coated with the noodles in a ginger and lime sesame sauce with a touch of chili pepper heat. A perfect, simple summer dish.
Ingredients
8 ounces of soba noodles
1 bunch of scallions, diced (about 4-5)
5-6 small cucumbers, sliced into thin half moon shapes. I use Persian cucumbers.
1-inch piece of ginger, peeled and grated
1 red chili pepper, diced. You can also use a dash of sriracha sauce. (optional)
A handful of fresh Thai basil, regular basil or mint, chopped or torn (optional)
1-2 tablespoons of regular or lower sodium soy sauce or to your taste
2 teaspoons of sesame oil or to your taste
2 tablespoons of sesame seeds
To Serve
lime wedges from one or two juicy limes
Instructions
Cook the soba noodles according to the package instructions, rinse them well in cold water and drain well. Toss the noodles with all the other ingredients. Serve with a squeeze or two of fresh lime juice
Notes
I kept this recipe on the very light side, using a minimal amount of sesame oil. Feel free to add more sesame oil, but be careful because it's intense. You can also stir in another neutral tasting oil to your taste.

Small cucumbers work best here. If you can only find large ones, peel and seed them.

Toasting the sesame seeds in a dry skillet will bring out their flavor.

Be careful not to overcook the noodles, they cook very quickly.

Enjoy this noodle bowl with sliced avocado or steamed edamame on the side. It's also great served with chicken, tofu or salmon.
Jill Nammar
Jill has been cooking and serving meals for most of her life. As she was growing up, he parents owned a restaurant and an ice cream parlor where she became immersed in food. The kitchen is truly her comfort zone. Jill's recipes are influenced by France, the Mediterranean and Morocco, and often the bright flavors of Southeast Asian cuisine, too. She cooks to inspire others to whip up flavorful food in their own kitchens. Each recipe has a notes section with helpful tips, techniques and secret ingredients to follow. Taste and see how easy it is to create delicious meals.