Buttery Salted Caramel Bars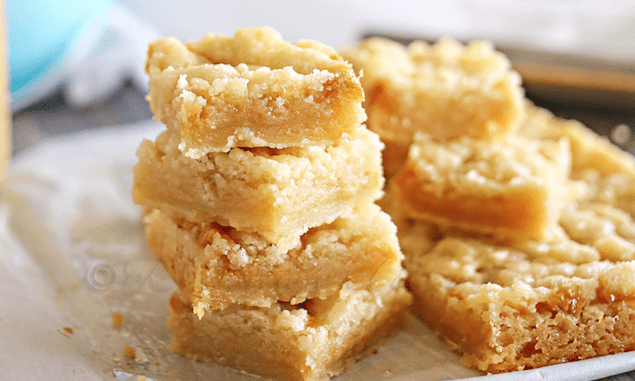 Gooey, homemade salted caramel makes these buttery bar cookies something sweet and special. Mix the batter, spread in a pan, bake and enjoy. So easy!
By Gina Kleinworth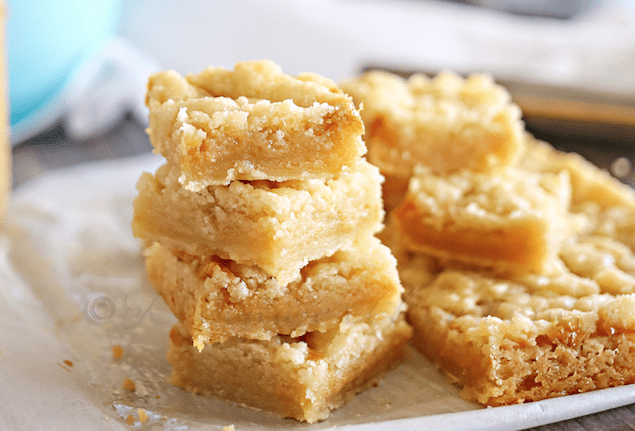 Delicious salted caramel in these rich butter bars is positively delightful. I mean, if you love salted caramel, then these really are for you. I should really rename them "can't get enough bars".
I am a dessert bar fiend. Cookie bars, cornmeal bars, cheesecake bars. I love to make them all. Check out more of my bar recipes here.
I love how easy they are to make – which is great! Honestly, if I put a ton of work into a recipe- I sort of want it to last more than a few minutes. These certainly don't last anywhere near that, so it makes me feel better that it doesn't take me very much effort to go from prep to enjoy. I'm telling you- these are a MUST MAKE.
Find the recipe for the homemade caramel here.

Buttery Salted Caramel Bars
Gooey, homemade salted caramel makes this buttery bar cookies something sweet and special. Mix the batter, spread in a pan, bake and enjoy.
Recipe Type:
Dessert, Baking
Ingredients
1 cup (2 sticks) butter – room temperature
½ cup granulated sugar
¾ cup confectioners sugar
1 tbsp vanilla extract
2 cups all-purpose flour
For the filling
½ cup homemade caramel (find the link to the recipe above, but omit the pumpkin in the recipe)
½ tbsp coarse salt
OR you can use
7 ounce bag caramel candies
⅙ cup milk
¼ tsp vanilla extract
Instructions
Preheat oven to 325 degrees
Line 8×8 pan with parchment & set aside
In mixer bowl combine sugars & butter – mix on medium until creamy
Add vanilla – beat until combined
Add flour & mix on low until dough becomes smooth
Press ⅔ of the dough into an even layer in the bottom of prepared pan
Bake for about 20 minutes or until edges are golden
Refrigerate remaining dough while that is baking
While that is baking prepare your caramel if you are making it from the candies by
combining unwrapped caramels & milk in microwave safe bowl & heat in microwave for approx 1 minute
Stir & continue to heat in 30 second intervals until melted
Once melted add vanilla & set aside until crust is done baking
Once you remove crust from oven top with your caramel & sprinkle with your coarse salt
Take remaining dough & crumble over the top of the caramel layer – do not press or spread – leave in crumbles
Return pan to the oven & bake 25-35 minutes or until golden & filling is bubbly
Let cool before cutting into squares
Store in an airtight containe
Gina Kleinworth
Gina is the author & photographer behind Kleinworth & Co. She is a homeschooling mom to 3 and devoted wife with a passion for all things creative. Gina lives in Northern Idaho but is a So Cal native & spent 12 years living in various parts of the Nevada desert. Kleinworth & Co is a creative blog where Gina shares recipes, gift ideas, crafts, simple & cost effective ways to decorate your home, creative & fun projects for the kids & photography tips. Come visit to learn, share & get inspired on a budget.