Imagine you're pressed for time. Enter this super-fast 20-minute chicken wrap meal.
By Amber Massey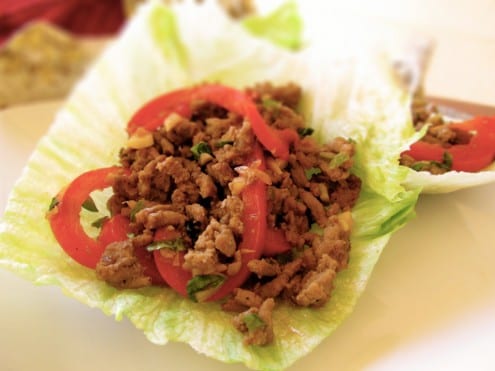 Lettuce Wraps with Spicy Thai Chicken
Imagine you're pressed for time. Enter this super-fast 20-minute chicken wrap meal.
Ingredients
4 teaspoons canola oil, divided
3 medium shallots, minced
1 small red bell pepper, thinly sliced
4 cloves garlic, minced
1 pound ground chicken
2 Thai or serrano chiles, minced
1 tablespoon fish sauce
2 teaspoons dark brown sugar
2 teaspoons lower-sodium soy sauce
¼ teaspoon freshly ground black pepper
1 cup basil leaves
The juice of one fresh lime
4 lime wedges
Lettuce leafs
Instructions
Heat a large nonstick skillet over medium-high heat. Add 2 teaspoons oil to pan; swirl to coat. Add shallots; sauté 2 minutes. Add bell pepper; sauté 1 minute. Add garlic; sauté 30 seconds. Remove shallot mixture from pan.
Add remaining 2 teaspoons oil to pan; swirl to coat. Add chicken; cook 5 minutes or until browned, stirring to crumble. Drain well. Return chicken to pan over medium heat. Add chiles; cook 1 minute. Add shallot mixture to pan. Stir in fish sauce and next 3 ingredients (through black pepper); cook 1 minute or until thoroughly heated. Remove pan from heat; stir in basil and juice. Serve with lime wedges in a lettuce leaf.