The story about how Gilda came to fill an ordinary brown paper bag with the most exquisite lentilles du Puy.
By Gilda Claudine Karasik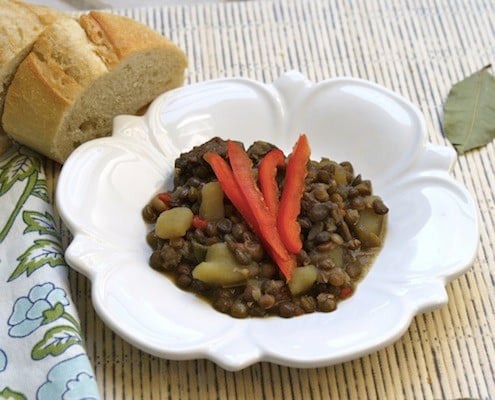 Lentils.  They are as right as rain, so reliably filling, sufficiently nourishing, and easy to make. The little legumes–a brown and unremarkable supermarket variety–were my go-to food when I was a young law student trying to eat within a budget.  But now I'm a suburban mom who shops at organic grocery stores while sipping lattes and contemplating rattlesnake beans and chick pea flour.
The array of dried goods available in bulk at my neighborhood market is alluring. What for others is a routine shopping experience is for me a fantasy of lifting levers to shower beneath bins of exotic rice and beans, of making snow angels in dunes of couscous cascading on counters, and of dancing pirouettes around bulging bags of fair trade coffee beans.
Often, I am brought back to reality by a screaming child (usually my own) but, most recently, an earnest employee interrupted my reverie by asking to help me with my selection.  I curtly thanked him and feigned expertise about all things legume, reaching for the nearest canister in a hurry.  And this is how I came to fill an ordinary brown paper bag with the most exquisite lentilles du Puy.
Previously unbeknownst to me, lentilles du Puy, grown in the Auvergne region of France,  are considered the caviar of lentils.  According to food writer David Leibovitz:
See Also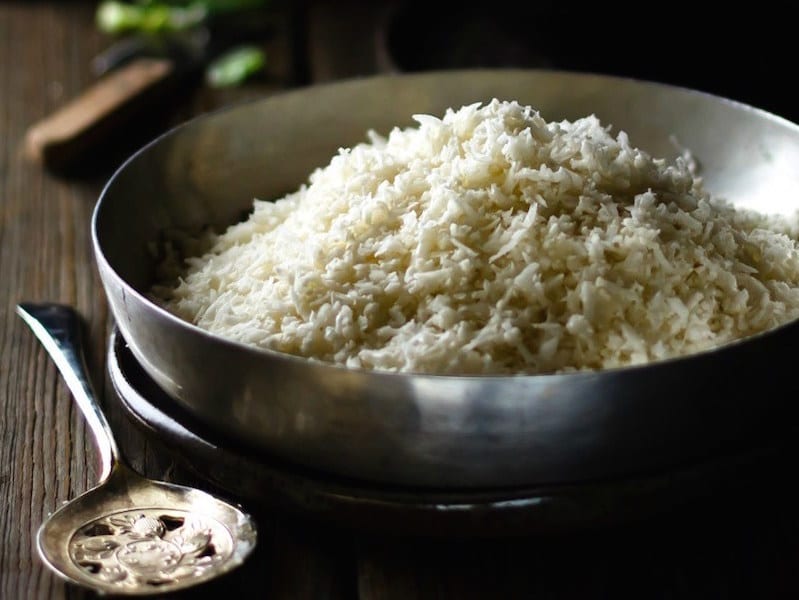 Their unique, nutty flavor is attributed to the volcanic soil they're grown in, sans fertilizer, which gives them their fine, mineral-rich taste. The climate in the Auvergne also contributes to their unique texture: a lack of humidity and abundant sunshine, courtesy of the surrounding mountains and volcanic deposits, ensures that the lentils dry on the plant all by themselves. Consequently lentilles du Puy have less starch than other green lentils, so they don't get all mushy and muddy when cooked like those hippy-dippy soups people used to make.
My heretofore ignorance about these precious leguminous gems was a classic case of what-you-don't-know-won't-hurt-you.  But now I do know.  And so do you.
Print
Lentilles du Puy Avec Saucisse
Author:

Gilda Claudine Karasik

Prep Time:

30 mins

Cook Time:

1 hour

Total Time:

1 hour 30 minutes

Yield:

6

to 8

1

x
2 cups

(

300

ml) lentilles du Puy (French green lentils)

1/4 cup

(

59

ml) olive oil

3

stalks celery, diced

1/2

yellow onion, minced

2

cloves garlic, minced

1

red pepper, diced

2 cups

(

300

ml) of diced potatoes

4 cups

(

600

ml) chicken stock

2

fresh Italian-spiced chicken sausages
Healthy pinch of dried or fresh rosemary
Salt and pepper to taste
Instructions
Rinse and drain the lentils.
In a large pot, warm most of the olive (reserve a bit to cook the sausages).
Sweat the onions, celery, red pepper and garlic.
Meanwhile, cook the sausages in a separate pan. When they are cooked through, remove, slice and set aside.
Add the lentils, chicken stock, potatoes and sausages to the pot.
Add spices (salt, pepper, rosemary).
Let simmer for an hour.
Add water or more chicken stock as needed until the preferred consistency is acquired.
Gilda Claudine Karasik
Gilda Claudine is a lawyer and freelance writer. She blogs about Mexican food and culture at www.dosgildas.com and about writing at www.dkwritings.wordpress.com. She is currently working on a her first novel.