A tangy spicy chicken curry made with a lovely pickling sauce to lift anyones mood instantly.
By Kankana Saxena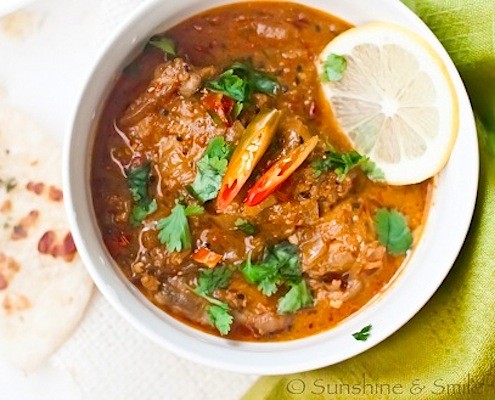 Achari Murg is a famous North Indian dish made with a similar pickling spice mix. It's rich in flavor, not too hot and gives a tangy spice kick which can lift up your mood instantly.
In India, pickles or achar are commonly enjoyed in everyday meal. It's made with different variety of vegetables, fruits and at times, with fish. The vegetables or fruits are partially cooked in the spice mix. Then, they are dipped in oil and left for resting in an airtight jar for few weeks. This allows the spice mix to combine nicely and enhance the flavor even before you can enjoy the first bite.  There are no artificial chemicals added in the pickling jar. It's the salt and oil in the pickle that works as a perfect preservative for months.
Achari Murg/Tangy Pickled Chicken
A tangy spicy chicken curry made with pickling sauce . This dish is warm and hearty and can lift up your mood any day
Recipe Type:
Entree, Indian, Curry
Ingredients
1-1/2 lb chicken pieces (bone or boneless)
2 large onions, chopped
4 cloves garlic, grated
1" ginger, grated
1 cup yogurt
1 tsp turmeric powder
juice and zest of 1 lemon
1 tomato, pureed
3 green chilies
salt
oil
chopped cilantro for garnish
For the pickling sauce
4 dry red chilies
1 tsp fenugreek
½ tsp nigella
1 tsp mustard seeds
1 tsp cumin seeds
1" cinnamon stick
3 cloves
Instructions
Dry roast all the ingredients for pickling sauce individually until they change the color to a darker shade and start releasing aroma.
Cool them and grate to a fine dust.
In a bowl, squeeze the lemon juice, add the lemon zest and the pickling sauce powder.
Slit 3 green chilies and add it to the bowl. Mix it well and let it rest for about 20 minutes.
In a hot pan, add 2 tbs oil and saute garlic, ginger and onion.
Season it with salt. Then, add the turmeric powder and fry until the onion get golden brown in color.
Once done, cool it for while and blend it to a fine paste.
Pour it back in the pan and add the chicken pieces. Bring the heat to low and keep cooking for about 10 minutes.
Next, add the pickling sauce, tomato puree and yogurt and continue cooking in low heat for another 10 minutes.
If the chicken is not cooked through, add some water and continue cooking till the chicken is properly cooked.
Taste for salt and add if required.
Garnish it with fresh chopped cilantro and serve with hot rice or naan.
Notes
If you don't like meat, you can try this with paneer or cauliflower.
Achari Murg
is made with a similar pickling sauce. This is one of those few chicken recipes where I do not marinate the chicken overnight and it gets cooked pretty quickly. If you don't like meat, you can give it a try with paneer or cauliflower and it will taste equally delicious.