Undoubtedly, slow and steady truly does win the race. This is a nourishing soup with layers of fresh, meritorious flavors. Think of adding rice, pasta, or assembling a salad or sandwich to go with it. This soup tastes marvelous with a dollop of goat cheese and a buttery, toasty hunk of French baguette. The result is a reflection of time, patience, and quality ingredients in which herbaceous notes, citrus, and hints of sweetness meld together in a savory, drinkable brine.
By Sophia Feliciano
Photos By Eric Fallecker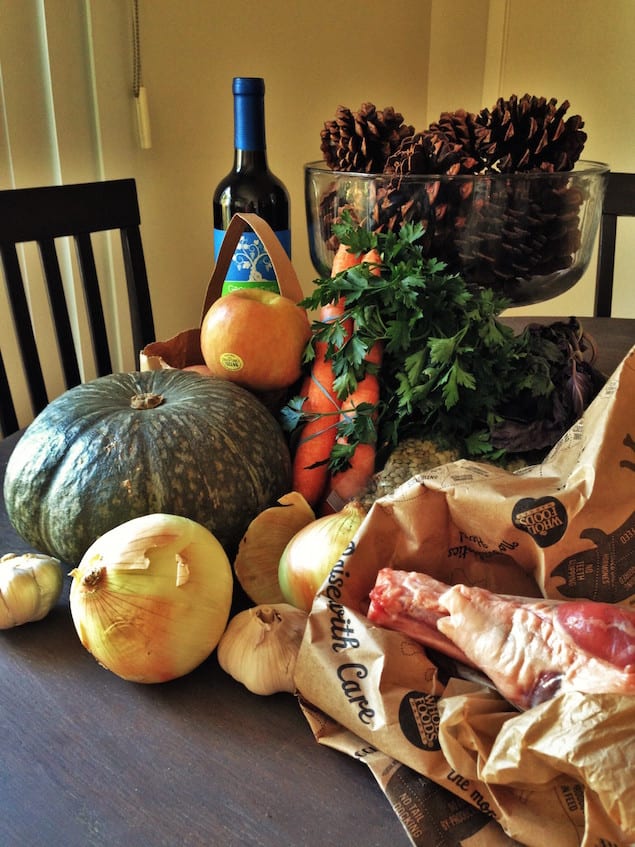 Last week I personified a reckless rogue with a debit card. To explain further, I now own a completely useless and unnecessary blinged out eye mask which I wore for a grand total of three hours at a Halloween masquerade party. Here's to hoping that I might wear this accessory again some day. Perhaps I will be more eccentric than usual on my next birthday. Either way, I felt genuinely ashamed and convicted in the wake of this whimsical impulse purchase. I told myself, "Sophia, you need to be punished!" I reproached myself with a week long sentence of soup consumption. It's holiday time and I need to save my funds being that my parents expect somewhat decent gifts from me now that I have a stable big girl job. Thus I responded to this self inflicted challenge with zeal and determination. Yes, I will persist with this soup until the very last drop and it shall prove delectable.
Last Monday I was scheduled to work overnight at one of my store accounts which allotted some day time for a food run. Just to be clear, elves are not the culprits who change your local grocery store layout when you're away; that is what sales reps and merchandisers are for! Yet I digress in the telling of this anecdote; due to my topsy turvy schedule, I was able to pay the farmer's market a visit under one condition. I could spend no more than ten dollars. I can tell you now friends that I did not succeed. I spent $10.50, but close enough. I was able to procure a beautiful and exotic Kabocha squash, carrots, onions, garlic, opal basil, and parsley. For nine dollars, I purchased a singular grass fed, organic lamb shank at my local Whole Foods. I spent another six on a bottle of modest red table wine for cooking. You always want to go with a modest and palatable wine; you might just consume the excess while cooking.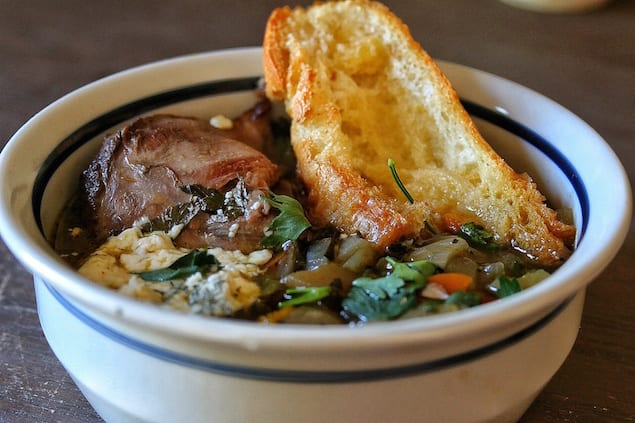 I combined the above ingredients with two apples I had on hand alongside dried lentils, oregano, and juniper berries. I confidently left the concoction to slow cook over night while I was away. I whistled while I worked as I imagined the elements getting along swimmingly in their succulent bath. Undoubtedly, slow and steady truly does win the race; for today, I tasted a nourishing soup with layers of fresh, meritorious flavors. This brew replenished and enlivened my inanimate being; I was a complete zombie before the spoon hit my lips. I now have over ten quarts of savory soup to imbibe over the course of a week. I can always add rice, pasta, or assemble a salad or sandwich to go with. This soup tastes marvelous with a dollop of goat cheese and a buttery, toasty hunk of French baguette.
The broth of  this soup is unblemished in cultivation as the flavors are pure. The result is a reflection of time, patience, and quality ingredients in which herbaceous notes, citrus, and hints of sweetness meld together in a savory, drinkable brine.
See Also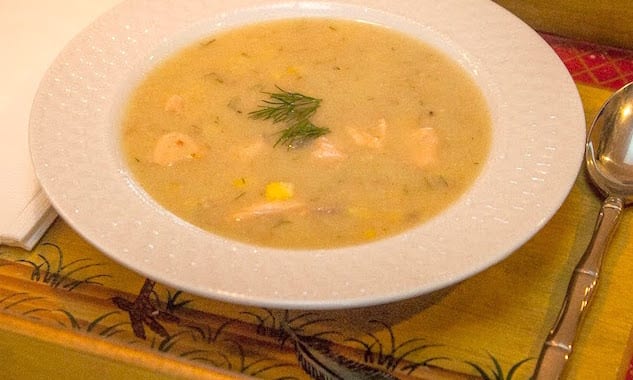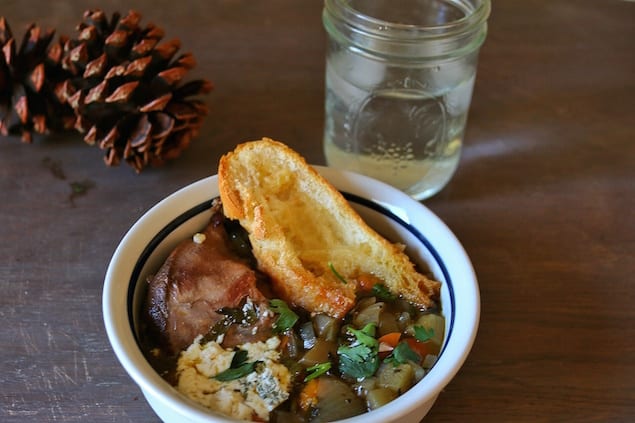 Lentil Lamb shank soup with Kabocha squash, apples, and carrots.
Recipe Type:
Main, slow cooker
Ingredients
½ of a Kabocha squash or 1 acorn squash
1 lamb shank
4 carrots (roughly chopped)
2 apples diced
2 onions diced
1 head of garlic ( roughly chopped)
1 bunch parsley
1 bunch purple basil
1½ c red wine
1 tbs juniper berries
1 tbs dried oregano
3 tablespoons fine pink salt
2 tablespoons black pepper.
6 cups of water
2 tablespoons of butter
Instructions
Turn the oven on to 425 degrees.
While oven is heating, salt your lamb shank and set aside.
Cut Kabocha squash in half and scoop out insides. Drizzle the halves with olive oil and salt. Place the halves downward facing on to a baking sheet and roast for 20 minutes. When finished, scoop out the insides. You will only need one half of the squash.
Heat two tablespoons of butter on a skillet, medium heat. ( I prefer my cast iron)
Sear each side for 2-3 minutes or until well browned and remove from pan.
Place lamb shank in the well of a 10 quart slow cooker.
Add the rest of the ingredients. Give it a decent stir and allow mixture to slow cook for 8-10 hours.
The lamb will fall of of the bone easily! Serve with crusty bread and a hunk of goat cheese for a satisfying meal.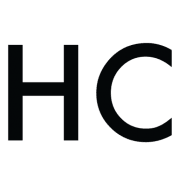 Sophia Feliciano
Sophia Feliciano works in natural food sales in Los Angeles. She studied fashion before realizing that she only wanted to stylize food. She began writing restaurant reviews for a local San Antonio magazine whilst continuing to learn cookery through trial and error. The culinary world is vast and indomitable, especially for us home cooks, and so she will forever be a student of it. There are boundless tricks of the trade, trends, traditions, and recipes to tackle. She will share her experiments here which are oft simple and every blue moon, a bit fancy. Like many other LA foodies, Sophia is on a budget which means she eats loads of organic farmer's market eggs. Join her as she shares recipes, dinner party ideas, farmer's market finds, and dining out stories. Let's break bread together.