Lemongrass Chicken and Bell Pepper Stir-Fry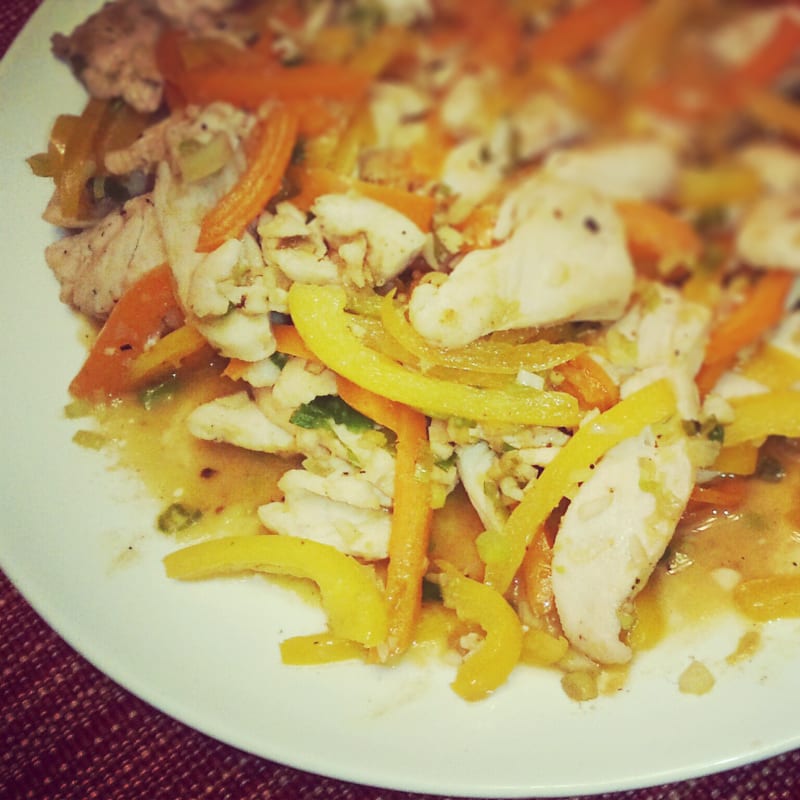 This is a SUPER healthy and light recipe, that is so easy to make for a delicious weekday meal.
By Tania Goulart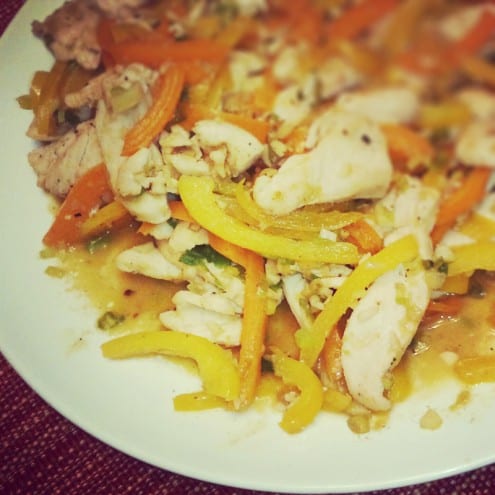 This is a SUPER healthy and light recipe, that is so easy to make for a delicious weekday meal. The lemongrass, ginger and scallions provide a tangy freshness, a perfect balance along side the fish sauce, infusing the chicken with tons of flavor! Spoon this over steamed white or brown rice for an easy complete meal!

Lemongrass Chicken and Bell Pepper Stir-Fry
This is a SUPER healthy and light recipe, that is so easy to make for a delicious weekday meal.
Ingredients
3 boneless, skinless chicken breasts (1.5 to 2 lbs), halved, then cut into thin strips
20 gm dried porcinis
2 Tblsp Safflower Oil (or Canola)
1 cup scallions/green onions, thinly sliced
1 lemongrass stalk, bulb only, finely chopped
4 small or 3 large garlic cloves
1 Tblsp freshly grated ginger
2 bell peppers, stemmed, cored and seeded, cut into thin strips then halved
2 Tblsp Asian fish sauce
½ cup chicken stock
salt and fresh ground pepper, to taste
Instructions
Lightly season the chicken with salt and pepper.
Heat up a wok or frying pan on high heat, once it heats up a bit, add the oil. Once the oil has warmed up, just before it begins to smoke, Add the chicken and cook for about 2 to 3 minutes until opaque and slightly golden. Once cooked through, remove and set onto a plate.
Add the scallions/green onions, and stir fry for about 1 to 2 minutes.
Place the lemongrass, garlic and ginger in the pan and stir fry for just under a minute.
Add the bell peppers and cook through about 1 more minute.
Add the broth and fish sauce, bring to a simmer at medium heat, add the chicken back into the pan to reheat.
Serve right away with rice and ENJOY!
Tania Goulart
Tania Goulart is a lover of all things foodie. Based out of San Francisco, California, she enjoys the good fortunes of her hometown - the thriving local food culture, abundance of culinary resources, and some of the best produce in the world. A self-taught cook and food writer, her passion is natural, whole foods cooking, using only the freshest, local and sustainable ingredients. You can follow her at her blog, The Urban Farmerette (www.theurbanfarmerette.com), where she chronicles her adventures focusing on seasonal ingredients, gluten free, and Portuguese fare.