Lemon-Rosemary Spatchcocked Brick Chicken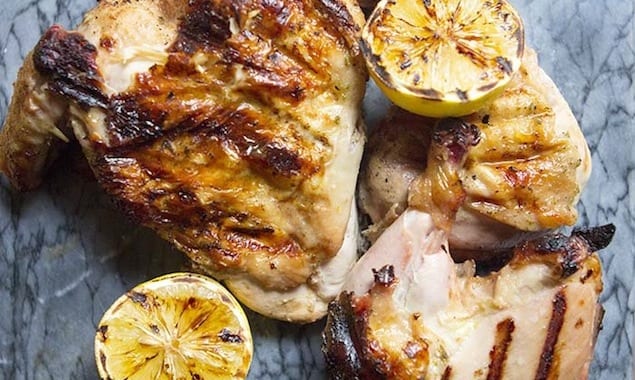 Don't let the word 'Spatchcocked' freak you out; besides being a fun word to say, all it means is that the back of the chicken is cut away from the legs, thighs and breast, then spread the chicken out to lay flat – save the back pieces until you have enough to make stock.
By Debra Smith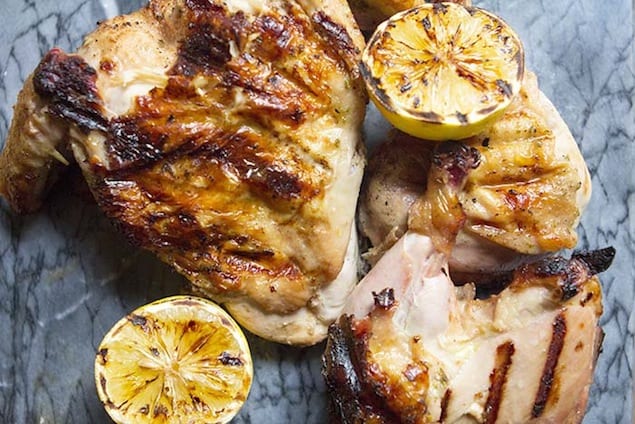 A quick over night marinade, then thirty minutes on the grill under foil-wrapped brick and you'll have a bright, lemony chicken with perfectly charred skin. This is the perfect meat with any summer sides.

Lemon-Rosemary Spatchcocked Brick Chicken
Don't let the fun word 'Spatchcocked' scare you; all it means is that the back of the chicken is cut away from the legs, thighs and breast, so it lays flat.
Ingredients
1 chicken (3-4 pounds), spatchcocked (see note above)
Kosher salt
⅓ cup olive oil
2 lemons, zest and juice
1 tablespoon minced garlic
1 tablespoon minced fresh rosemary
Freshly ground black pepper
1 lemon, halved
Instructions
Salt each side of the chicken
Prepare a marinade by mixing olive oil, lemon zest, lemon juice, garlic, rosemary, and pepper
Pour the lemon marinade into a resealable gallon-sized bag and place the chicken inside; zip close and massage the marinade into the chicken, then place the zipped bag onto a plate or rimmed sheet pan. Refrigerate overnight
When ready to grill, remove chicken from marinade and pat dry with paper towels; discard any remaining marinade
Place the chicken skin side up, onto prepared grill and weigh it down with a brick wrapped in aluminum foil; cook for 15 minutes. Turn the chicken skin side down, weigh it down again with the brick, and cook for another 15 minutes
When 10 minutes of cooking remains, place the lemon halves on the grill, cut side down. Remove the chicken, cover with aluminum foil, and allow to rest for 5 minutes
Sprinkle with salt and serve with the grilled lemon halves
Debra Smith
Debra and 'The Professor', Midwest-based husband and wife freelance videographers, photographers, writers, storytellers, and publishers of the Smith Bites. Using images, words, music and video, they connect the stories about food, friends and family to the world around them.