The dough for these cookies can be stored in the freezer for up to a month, so go ahead and double the batch and you'll be set next time you're craving something sweet.
By Preethi Vemu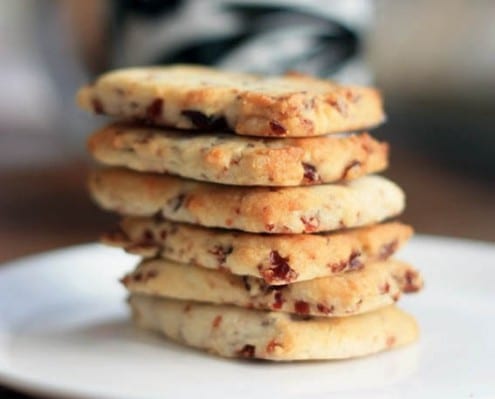 Lemon Cranberry Shortbread
The dough for these cookies can be stored in the freezer for up to a month, so go ahead and double the batch and you'll be set next time you're craving something sweet.
Ingredients
Butter , softened - 1 C or 200 gm
Lemon juice - 2 Tbsp
Lemon extract (optional) - ½ Tsp
Vanilla Extract - 2.5 Tsp
Almond Extract - ½ Tsp
All purpose flour - 2 C
Sugar, powdered - 1 C
Baking powder - ¼ Tsp
Salt - ⅛ Tsp
Dried Cranberries, chopped - 1 C
Instructions
In a bowl, beat the butter with the powdered sugar. Once the sugar is incorporated into the butter, mix in the lemon juice and extracts to the butter. Mix/Beat well till the butter is airy and light and the extracts are mixed well.
Sieve the flour with the baking powder and salt.
Mix the flour into the butter gently by folding in the butter from the sides, preferably with a silicon spatula.
Once the dough is prepared, fold in the chopped cranberries.
Fill this dough into a zip lock bag and remove all the air bubbles in it by rolling the dough with a rolling pin. Refrigerate the dough for a minimum of 3 hrs., and a maximum of a month.
To prepare the cookies, preheat the oven to 185 C.
Cut open the zip lock , and cut the cookies in shapes you prefer. Line them on a greased baking sheet and bake for 12-14 min.
You will know they are done when your kitchen smells buttery and citrusy , and when the cookies are just about to turn brown on the edges.
Cool and store in an airtight container for up to a week.
Preethi Vemu
Preethi loves tea, animals, food and her Kindle. When she is not busy being a geek, she dreams about seeing her name in print media some day . An avid reader and an amateur food photographer, Preethi lives in Hyderabad, India with her husband who is subjected to all her culinary experiments.