With a classic flavor combination, this lemon blueberry cake is made just like a poke cake to let the sweet blueberry filling mingle with the soft lemon cake. Frost in a cheesecake icing and you will be set.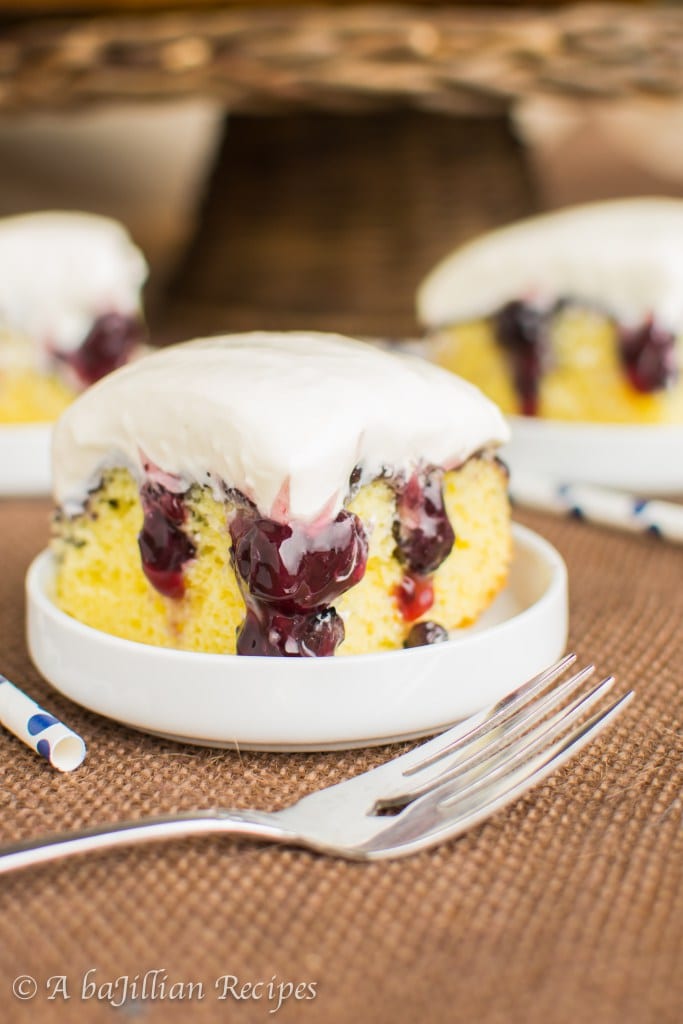 When it comes to favorite summer flavor duos, lemon and blueberry are definitely at the top of my list. They just compliment each other so perfectly.
Since I've been in that lazy summer mode lately, I decided this week's dessert would be on the simpler side. And because the Pinterestphere went absolutely bonkers for the Raspberry Coconut Poke Cake I made last summer, I thought this Lemon Blueberry Poke Cake would do the trick.

This dessert is easy peasy, lemon blueberry squeezy! To make the cake, I went the simple route of using a boxed lemon cake mix and doctoring it up a bit. Instead of oil, I used greek yogurt (I made it healthier, yo!), and I substituted the water with milk for a richer flavor. I also added some fresh lemon zest along with vanilla and almond extract. For me, almond extract is just as much of a pantry staple as vanilla extract. It adds such a unique sweetness that you can't get with vanilla alone, and it pairs especially well with lemon or any kind of berry.
After poking several equally-spaced holes in the cake with a wooden spoon handle, I poured the blueberry filling on top of the cake, spreading it evenly while trying to push the filling down into the holes. This is how you end up with that neat poke cake look!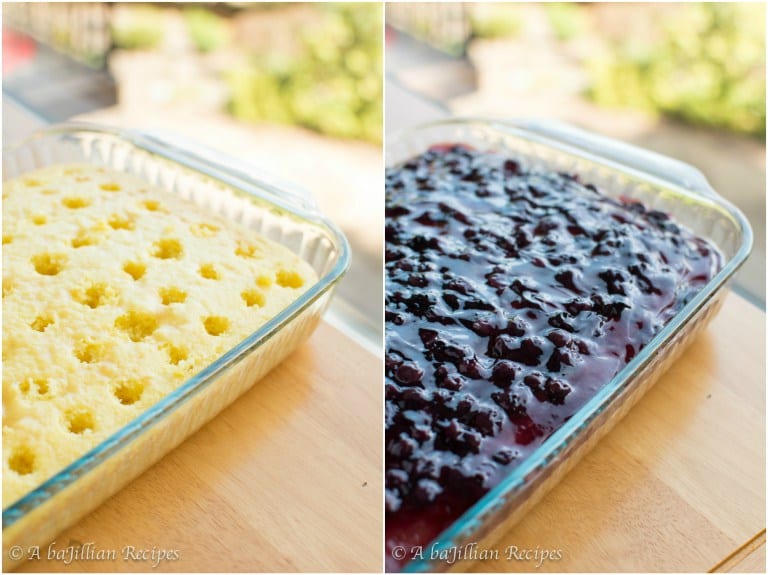 See Also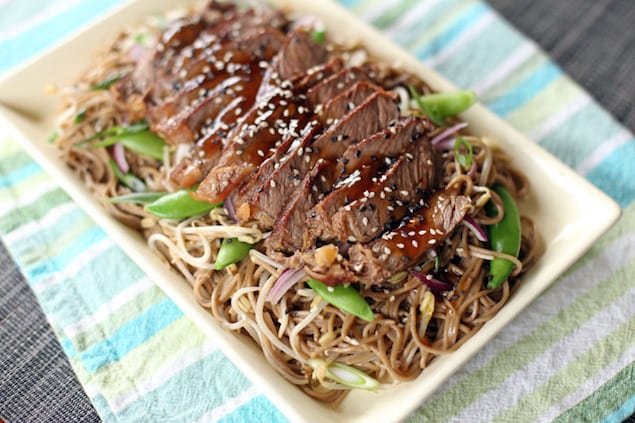 Click here for the frosting recipe.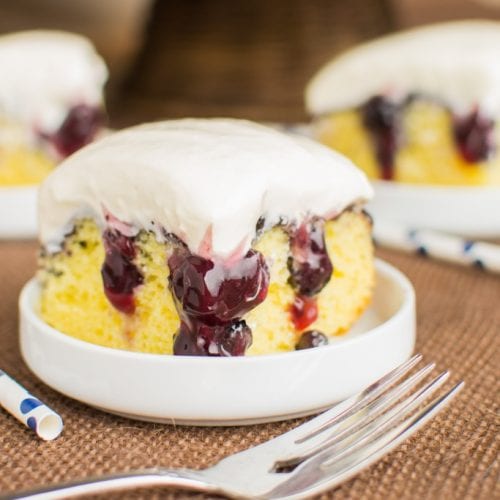 Jillian Hatsumi
Ingredients
For the Cake
1

15.25 oz box lemon cake mix or 1x your favorite lemon cake recipe

3

eggs

1

cup

milk

1/2

cup

Greek yogurt

1

teaspoon

vanilla

1/2

teaspoon

almond extract

Zest of one large lemon

about 2 teaspoons

1

21 oz can blueberry pie filling
For the Cheesecake Frosting
Instructions
Preheat oven to 350F degrees. Spray a 9x13 inch baking dish with nonstick cooking spray; set aside.

In a large bowl, mix the cake mix, eggs, milk, yogurt, extracts, and zest until fully incorporated. Pour into prepared baking dish and bake for 26-28 minutes, or until a toothpick inserted in the center comes out with few crumbs attached. Allow to cool for 20 minutes.

Using the handle of a wooden spoon, poke holes into the cake that are about an inch apart (I did 60). Pour the blueberry filling on top and spread into an even layer, ensuring that the filling gets down into the holes. Place cake in the refrigerator to cool completely while you work on the topping.

In the bowl of an electric stand mixer fitted with a paddle attachment, beat cream cheese until smooth. Gradually stir in the milk, about 1/4 cup at a time, scraping down the sides of the bowl as needed. Once all milk has been added, switch to whisk attachment and add pudding mix, lemon juice and extracts. Whisk on high for 2 minutes until mixture is smooth and thickened.

Add 1/4 of the whipped topping to the bowl and mix thoroughly. Remove bowl from mixer and use a rubber spatula to gently fold the rest of the whipped topping in.

Pour topping onto completely cooled cake and spread evenly, then refrigerate for at least 3 hours before serving. Cake will stay fresh covered in the refrigerator for up to one week.
Notes
*If you can't find cheesecake pudding mix, instant vanilla pudding mix can also be used.
Jillian Hatsumi
I'm Jillian, the writer, baker, chef, recipe creator, and amateur (very amateur) photographer of A baJillian Recipes. Though I'm not a classically trained chef, I like to think I know my way around a kitchen pretty well. Aside from baking, cooking, and EATING, I also enjoy acting, couponing (I LOVE saving money!!), running, working out, photography, and playing with my little fluffernutter, Olivia. She's a dog, if you're wondering...