Lemon and Lavender Melopita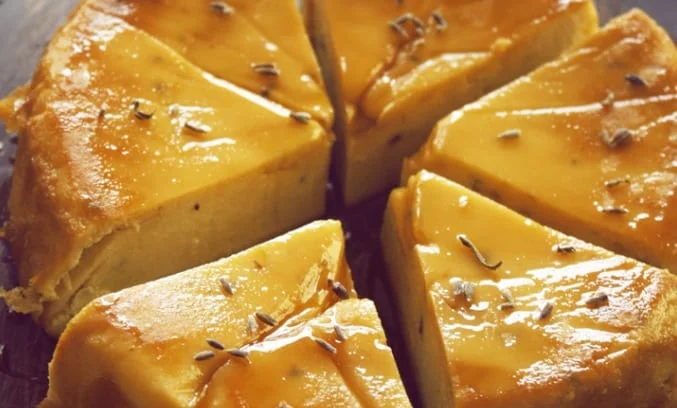 Melopita – a Greek cheesecake that is sweetened with honey and served with even more honey is a perfect light dessert for the summers.
By Pallavi Gupta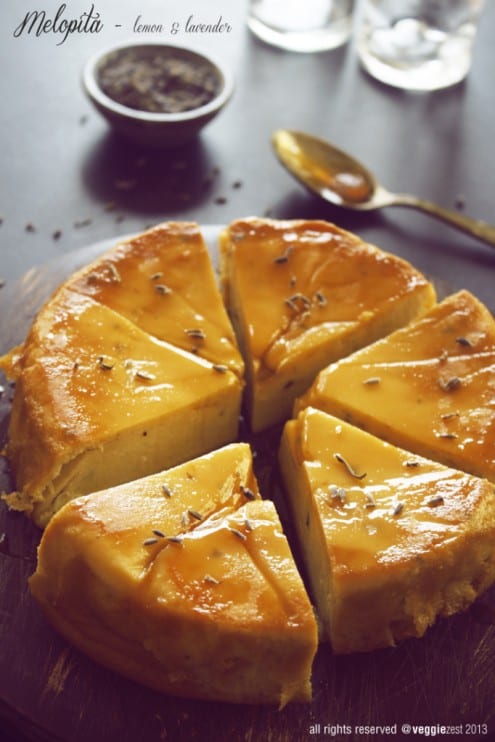 If you are a cheesecake lover then this recipe will be right up your alley. The only thing different about this dessert from the regular cheesecake is that this does not have any crust.
Traditionally this dessert is made with cinnamon but I am not a huge fan of the spice. Except for maybe a few bites of cinnamon roll sometimes, I dont really care for it in the dessert recipes. So, I flavored my melopita with lemon and lavender.
If you are a cinnamon fan, then by all means skip the lemon and lavender combination and stick to the traditional method. Just use some cinnamon while making melopita and then sprinkle generously after its cooked. Serve with an extra drizzle of honey.
Lemon and Lavender Melopita
Melopita – a Greek cheesecake that is sweetened with honey and served with even more honey is a perfect light dessert for the summers.
Ingredients
2.5 cups ricotta cheese
3 eggs
½ cup honey plus more to drizzle
1 tbsp corn starch
zest of two lemons
2 tsp dried lavender
Instructions
Prepare an 8 inch round baking pan. Preheat the oven to 325 F.
In a large mixing bowl add cheese, eggs, cornstarch and honey – beat with a hand held beater to form a lump free mixture.
Add lemon zest and lavender and mix well.
Pour the batter into the pan and bake for 40 minutes, you want the edges to be firm and the center to be slightly wobbly.
Cool completely, serve at room temperature with an extra drizzle of honey.
Pallavi Gupta
Pallavi is a vegetarian globetrotter, who currently lives in the southern part of India. Past ten years of her life includes living in six cities in three different countries. It has added to her vast exposure of cuisines from different parts of the world which is now reflected in her cooking. She shares her knowledge of vegetarian and vegan recipe from around the world via her blog Veggie Zest. When not cooking or photographing, she does graphic design.