Layers of rich chocolatey cake, toasted marshmallow filling, made from actual marshmallows and enrobed in a velvety swiss meringue buttercream loaded with graham cracker crumbs and just a hint of cinnamon. This layered s'mores cake is a sure showstopper.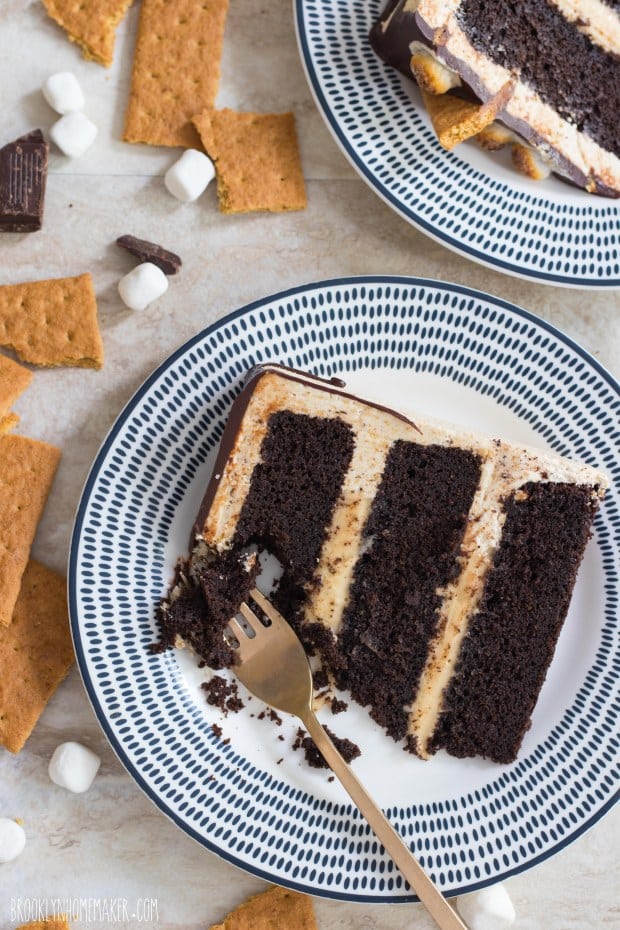 I baked my own birthday cake.
I know that some people gasp in horror or baulk at the very idea of such a thing. On one's birthday, one is supposed to just sit back and enjoy the day without having to lift a finger.
But, you know what, one thing that I enjoy even more than eating cakes, is baking cakes! Especially if doing so means that I get to share them with people I love.
And guess what else. I could never find a cake in a bakery that would be as good as a cake that I could bake myself, and even if I found one, I couldn't afford it! So, tradition be damned, I bake my own birthday cakes. And I like it!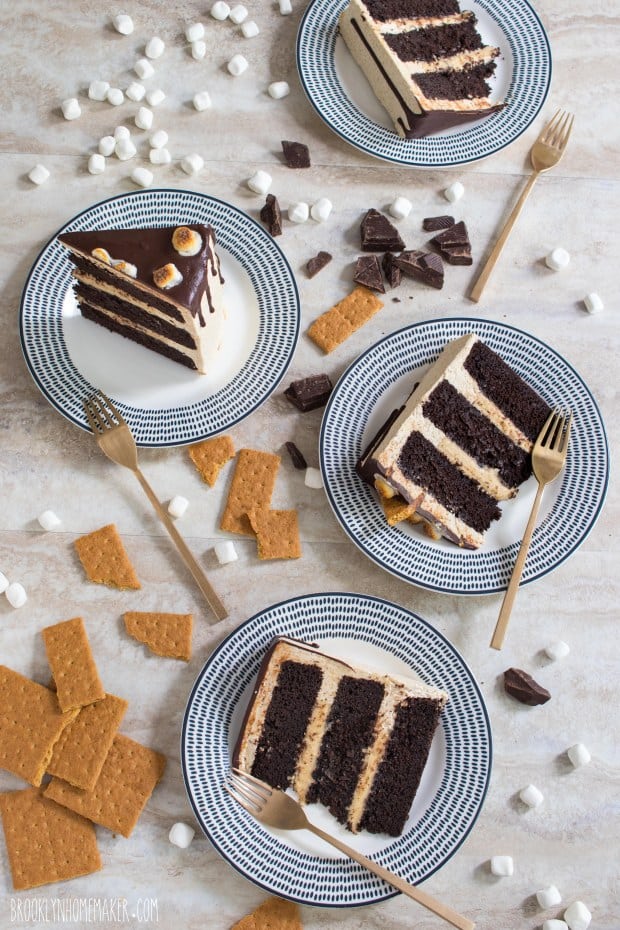 Of course, I knew that I wanted my birthday cake to be the pièce de résistance. It's been so long since I've done a big festive layer cake that I also wanted to come up with something that I hadn't really ever done before.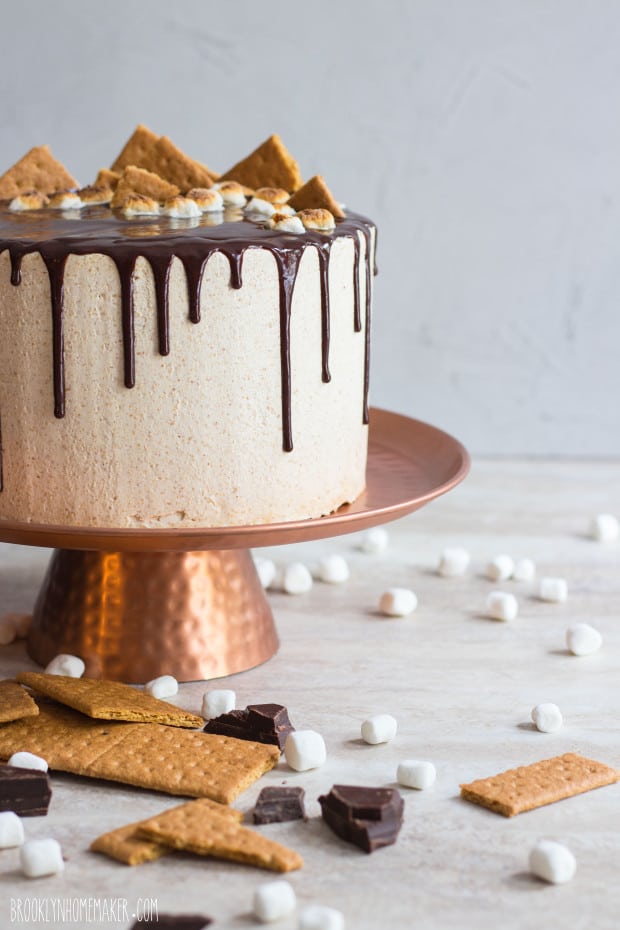 Nothing says Summer quite like s'mores.
Amirite?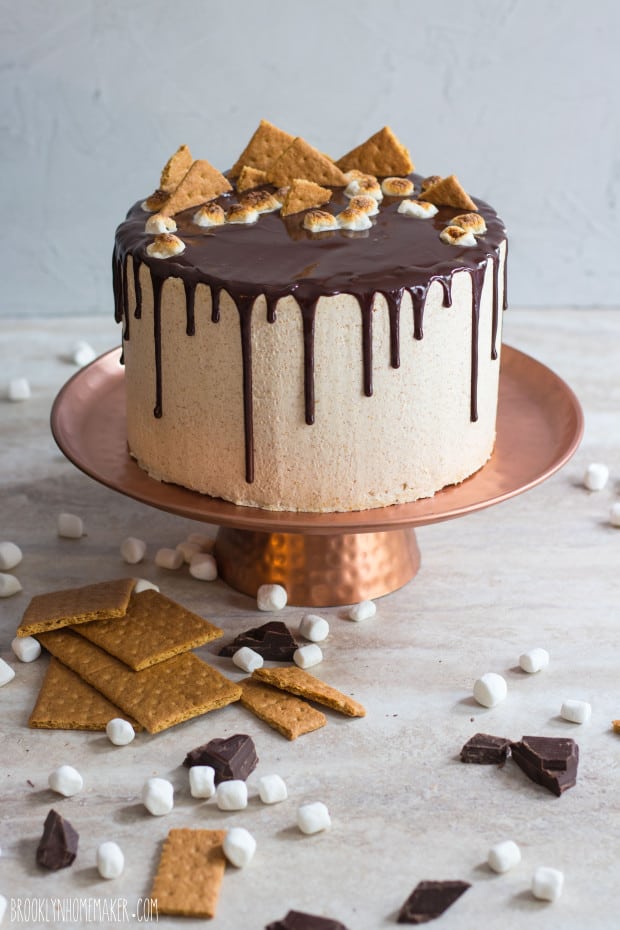 I'm not going to sugar coat things (lol) and tell you that this is an "easy" or "quick" recipe for novice bakers. It takes time and effort and has multiple steps and components. It's basically four recipes in one, with 3 layers of cake, a flavored icing, a multi-step filling, a ganache drizzle, decorations on top, and long set of assembly instructions.
If you're patient and determined though, and have a fair understanding of layer cake construction, all the effort definitely pays off in the end. I promise you that this cake is seriously incredible.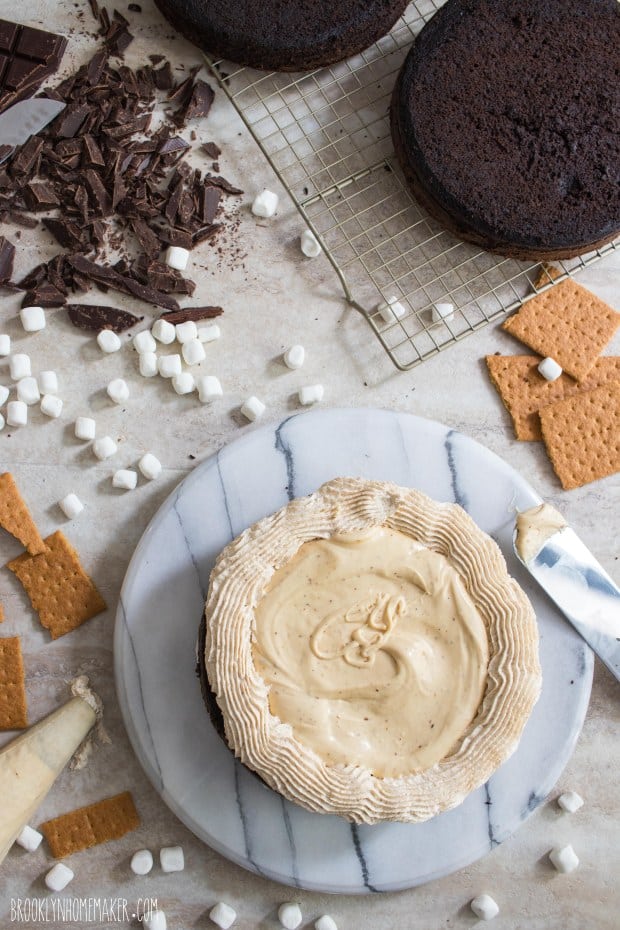 See Also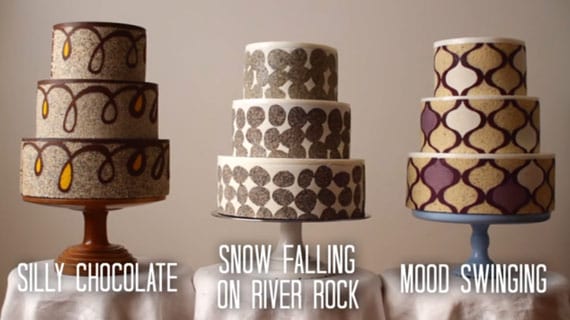 Multiple people took one bite and their faces lit up and told me that it actually tasted like real s'mores, almost as if they weren't expecting something that looks so pretty to also actually taste great too. They clearly underestimated me!
Russell even told me, repeatedly, that it's one of the best desserts I've ever made, and kept going back into the bowl to steal stray spoonfuls of the marshmallow filling while I was stacking the layers.
Actually my mom did the same exact thing when I was trying out the filling recipe for the first time!
The layers of cake are moist, tender, and richly chocolatey thanks to double dutch cocoa, strong coffee, and real butter. The toasted marshmallow filling is made from actual marshmallows rather than marshmallow spread, so it genuinely has the rich flavor and gooey texture of a warm marshmallow right off the stick. Once the layers are stacked, everything gets enrobed in a velvety swiss meringue buttercream loaded with graham cracker crumbs and just a hint of cinnamon. As if all that weren't enough, rich dark chocolate ganache is the… umm… icing on the cake. In addition to the cocoa flavor from the devil's food layers, the ganache adds that melty chocolate flavor you know and expect from s'mores. The only thing missing here is the camp fire and the sticks!
I promise you that this show-stopping cake really does taste as good as it looks. Better even!
If you're up for the challenge, it's definitely worth the effort.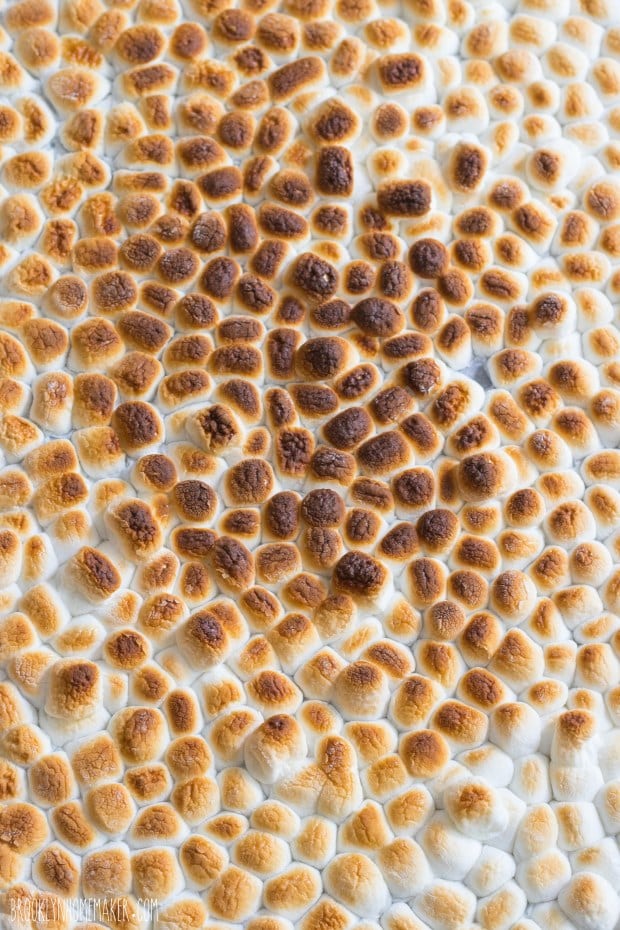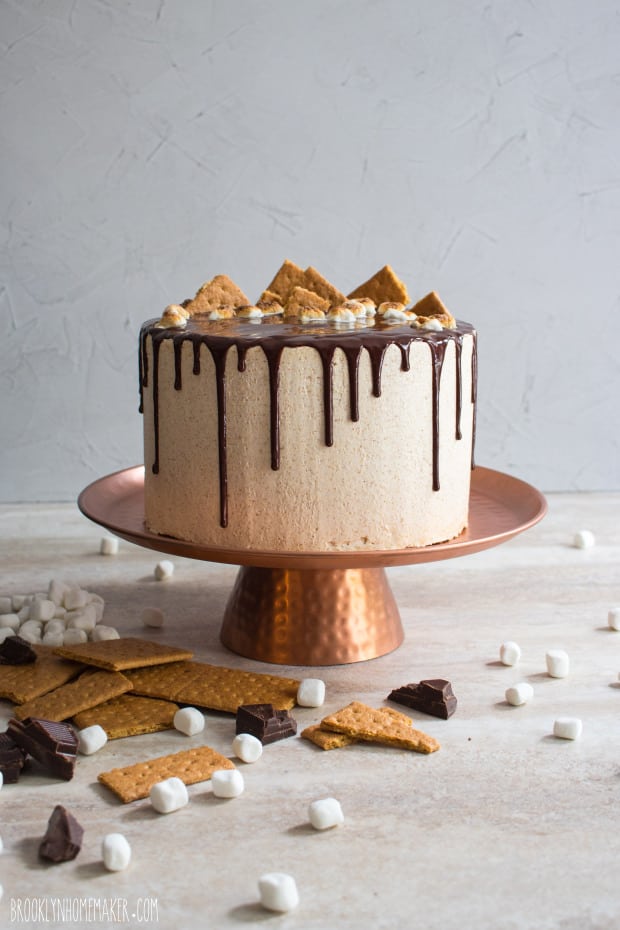 Tux Loerzel
Tux is a food blogger, photographer, dog lover, husband, and avid baker living in Bushwick, Brooklyn. Originally from upstate New York, he inherited his love of cooking and baking from his mother and grandmother. With the encouragement of good friends and several glasses of wine, he began his food writing and blogging adventure in the fall of 2013. Learn more about Tux at his blog Brooklyn Homemaker