A marshmallowy, crispy meringue dessert topped with smooth vanilla cream. Add vibrant, tart pomegranate seeds and some fresh flowers and you are ready to celebrate anything.
By Christina Soong Kroeger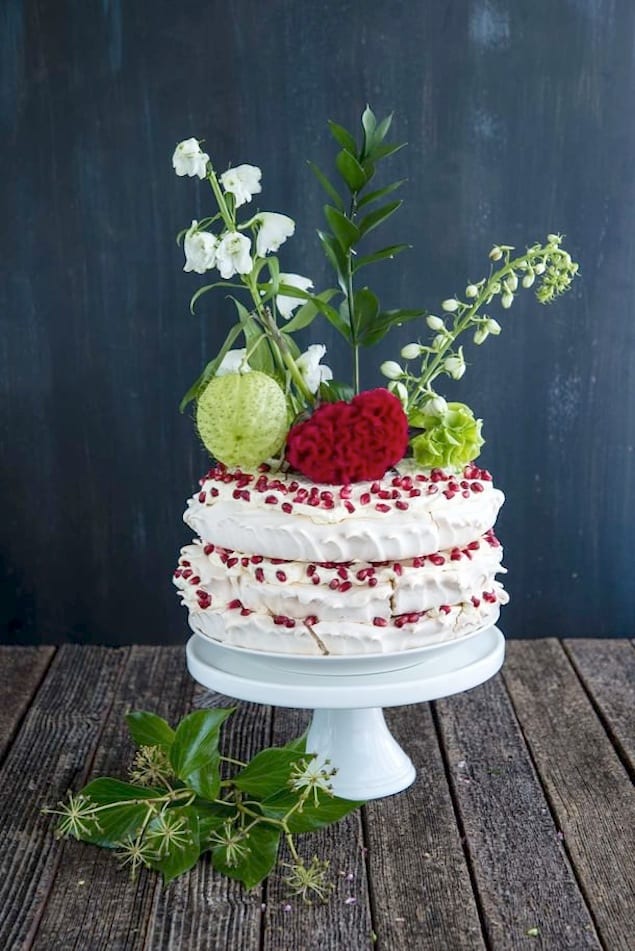 Pavlova — that brilliant Australian dessert comprising a meringue and marshmallow base topped with whipped cream and fresh fruit — is pretty darn near perfect as it is. Pavlova, my favourite Australian dessert. It was a bit of work to prep the flowers but a special occasion calls for a special cake.

Layered Pavlova with Pomegranate
A marshmallowy, crispy meringue topped with vanilla cream. Add vibrant, tart pomegranate seeds and fresh flowers and you are ready to celebrate anything.
Author:
Christina Soong Kroeger
Ingredients
10 egg whites
Large pinch salt
2.5 cups sugar
5 teaspoons corn flour
2.5 teaspoons white or red wine vinegar
2 teaspoons vanilla bean extract
725 mls thickened cream
1 teaspoon vanilla bean extract
2 large pomegranates, seeds only
Assorted flowers to decorate
Instructions
Preheat oven to 200 degrees Celsius.
Line three baking trays with baking paper and draw a 20cm circle on each.
Wipe mixing bowl with vinegar and then beat egg whites with salt until soft peaks form.
Add sugar in five batches (1/2 cup at a team), beating thoroughly between each addition until meringue is thick and shiny. Try holding the bowl upside down - if the meringue doesn't move, it's thick enough!
Add cornflour, vinegar and vanilla extract and gently fold in.
Divide mixture equally between three baking trays and spread gently to fill in the circle shape (an offset spatula is great for this). Smooth the top and the sides.
Place the trays in the oven and immediately reduce heat to 120 degrees Celsius. Bake pavlovas for 90 minutes and then turn off heat, leaving them to cool in the oven.
When ready to assemble, whip cream with 1 teaspoon vanilla bean extract.
Take one pavlova and spread with a third of the cream, leaving a 2 cm gap around the edge. Decorate with ⅓ of the pomegranate seeds and then repeat with a second layer.
Place the final pavlova on top and cover with cream.
Decorate the top layer with fresh flowers as prepared below and half of the remaining pomegranate seeds.
Notes
Fresh flowers are not food safe unless they have been organically grown and are free of pesticides. And some flowers are poisonous and/or dangerous for human consumption even if they have been grown organically. So unless you are certain of the flower type and its source it's best to prepare all flowers with a barrier between the flowers and the cake.
Gently wash and leave flowers to air dry. Work out where you want to place the flowers and then cut stems accordingly.
If inserting the flowers into the cake, wrap the stem completely in florist tape (available from florists, naturally) before inserting the wrapped stem into the cake.
For flowers that will be placed onto the cake, place small and unobtrusive discs of cling wrap on top of the cake before you carefully place the flowers on top.
To insert flower stems into pavlova, use a sharp knife to pierce the cling wrap to make a hole and then insert the flower through.
To serve, remove the flowers and cling wrap and then scatter the top of the pavlova with the remaining pomegranate seeds.