A cake for celebrations big or small, frosted with a honey buttercream, that is then topped with a croquembouche tower, where each puff is filled with caramel crème and then glazed in toffee and caramel. So elegant and indulgent.
By Thalia Ho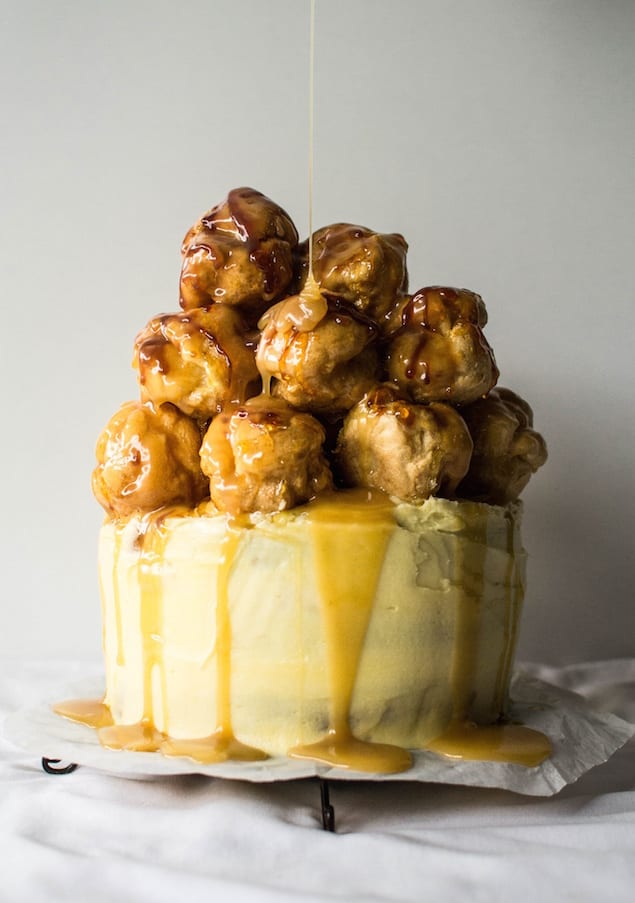 Salted Caramel Croquembouche Cake is the way I am choosing to celebrate this first month of the year – on a decadent, celebratory and positive note.
The cake comprises of three dense and moist layers of salted caramel cake. The cake is smothered in a sweet honey buttercream and topped with an extravagant Croquembouche tower. The choux Croquembouche puffs are filled with a salted caramel crème patissier and glazed in sticky toffee syrup. The cake is then finally drenched in a salted caramel sauce before serving. So indulgent.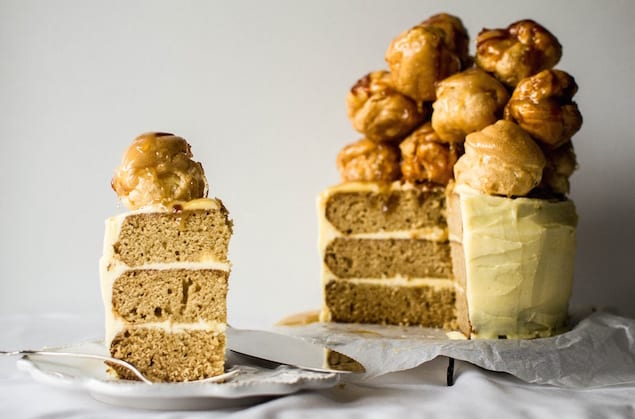 See Also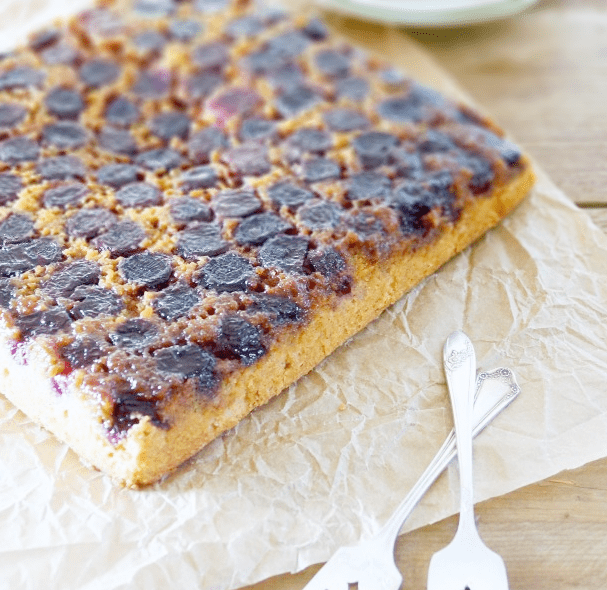 This Salted Caramel Croquembouche Cake is a cake that will be remembered long after it has disappeared from the kitchen counter. It is decadence, it is luxurious, it is a cake deserving of celebration. Make this cake for any holiday, make it for a friend or make it all for yourself – either way, it is utterly delicious.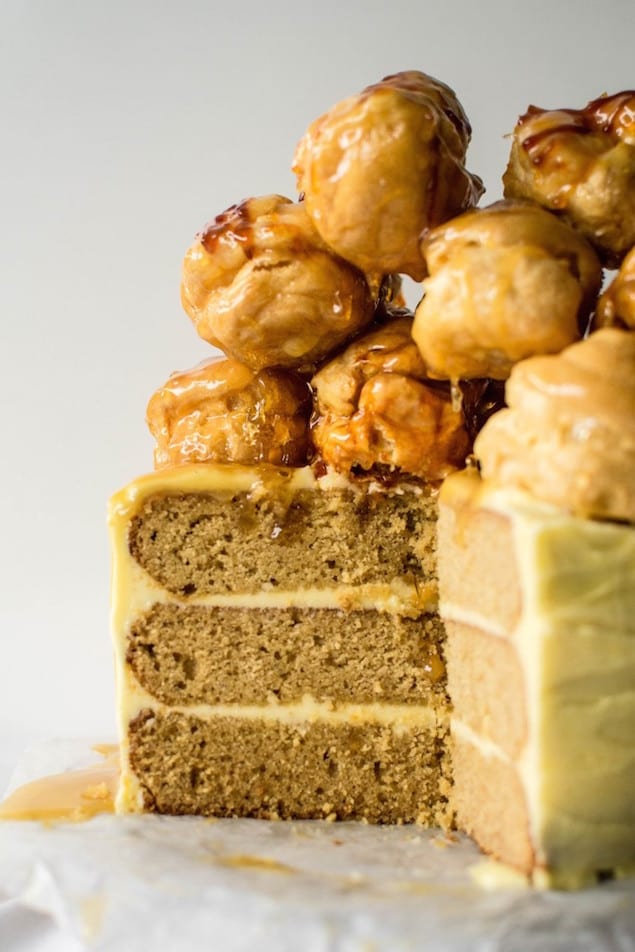 Layered Croquembouche Cake with Salted Caramel
A cake for celebrations big or small, covered in honey buttercream, a croquembouche tower on top, filled with caramel crème and glazed in toffee and caramel
Recipe Type:
Baking, Dessert
Ingredients
For the Salted Caramel Mud Cake:
300 g (10.7 oz.) butter, cubed
360 ml (12.6 fl. oz.) milk, at room temperature
400 g (14.4 oz.) white chocolate, chopped
260 g (9.3 oz.) brown sugar
2 tbsp. honey
Seeds from a vanilla bean pod
1 tsp. vanilla essence
600 g (1.52 lb.) plain flour
3 tsp. baking powder
1 tsp. baking soda
1 tsp. sea salt
4 eggs, room temperature
For the Salted Caramel Sauce:
200 g (7 oz.) caster sugar
200 g (7.2 fl. oz.) water
4 tbsp. butter
200 g (7.2 fl. oz.) heavy cream
1 tbsp. sea salt
For the Choux Puffs:
250 ml (9.2 fl. oz.) water
100 g (3.7 oz.) butter, cubed
Pinch of sea salt
150 g (5.4 oz.) plain flour
4 eggs
For the Salted Caramel Crème Patissiere:
300 ml (10.2 fl. oz.) milk
1 vanilla bean, split or scraped
3 egg yolks
120 g (4.2 oz.) caster sugar
3 tbsp. cornflour
2 tsp. plain flour
3 tbsp. salted caramel sauce
Pinch of sea salt
For the Honey Buttercream:
240 g (8.5 oz.) butter
6 tbsp. honey
500 g (17.7 oz.) icing sugar
Pinch of sea salt
For the Toffee Syrup:
450 g (15.9 oz.) caster sugar
75 ml (2.5 oz.) water
2 tbsp. glucose syrup
Instructions
For the Salted Caramel Mud Cake:
Grease and line 3 x 18 cm (8 inch) cake tins.
In a large saucepan, melt together the butter, milk, white chocolate, brown sugar, honey and vanilla bean seeds and essence over a low to medium heat – stirring the mixture continuously. Once combined, remove from heat and set aside to cool.
In a large bowl, sift together the flour, baking powder, soda and salt. Add the eggs and combine well. In separate additions add the cooled liquid caramel mixture to the flour and egg mixture and combine until uniform and smooth.
Pour the cake batter into the prepared tins and bake for 25 to 35 minutes or until a skewer inserted into the middle comes out clean. (The batter should roughly weigh 2 kg, so aim for 600 g in each tin).
Leave cakes to cool in tins before turning out to a rack to cool. Once cooled, level any domed tops.
For the Salted Caramel Sauce:
To make the caramel, heat the sugar and water in a deep saucepan, stirring until all the sugar dissolves. Continue to heat the mixture, swirling the pan often but not stirring. Let it caramelise so the mixture is golden with a few darker areas around the edges of the pan.
Add the butter, cream and salt then turn down the heat to low and stir until smooth. Cook the caramel for a further 5 minutes to help it thicken, then set aside until needed for the crème patissiere and assembly.
For the Choux Puffs:
Preheat the oven to 200 C (390 F). Bring water, butter and salt to a light boil over medium heat. Once at a boil, lower the heat and add flour, beating with a wooden spoon until the flour is combined and mixture has turned into a dough that pulls away from the sides of the saucepan.
Immediately transfer the mixture into a bowl of a stand mixer fitted with a beater attachment (or with electric beaters) beat the dough on medium speed to release steam and bring to a slightly warm temperature – roughly 5 minutes. Once the mixture is no longer hot to the touch, add the eggs one at a time and beat until the mixture is smooth, thick and glossy.
Transfer the mixture to a piping bag and pipe 3 cm (1.2 inch) rounds onto baking paper lined trays (push down any peaked tops with your finger dipped in water). Bake the choux puffs for 10 minutes, then reduce the oven temperature to 180 C (350 F) and continue to bake for another 15 minutes until golden all over.
Once the choux puffs are done, immediately pierce the bases with a skewer to let the steam escape and return to the oven, door kept slightly ajar, to dry out for 45 minutes. Let cool on a wire rack before filling.
For the Salted Caramel Crème Patissiere:
In a medium sized saucepan bring the milk and vanilla bean to a simmer.
In a separate bowl, whisk together the yolks, sugar and flours until you get a smooth paste. Once the milk is at a simmer remove the vanilla bean pod and whisk a tablespoon of the milk into the egg yolk mixture to loosen and heat, then pour the whole egg mixture into the saucepan with the milk and bring to a light boil, stirring constantly. Once the mixture has thickened, fold in the salted caramel and sea salt.
Remove from the heat, pour into a clean bowl and immediately cover the surface with plastic wrap to prevent a skin from forming. Allow to cool at room temperature.
Once the crème patissiere has cooled and thickened at room temperature, pipe into all the choux puffs.
For the Honey Buttercream:
In a large mixing bowl, beat the butter and honey until smooth. Add the icing sugar and salt and continue to mix until the frosting comes together. Set aside for assembly.
For Assembly:
On a serving platter or cake stand, ice and layer the cakes with the honey buttercream. Set the iced cake to harden in the fridge for an hour.
To make the toffee, heat the sugar, water and glucose over medium heat and bring to a light boil. Now, take the iced cake out of the fridge. Leave the toffee mixture to boil, without stirring until it turns a golden brown – roughly 15 minutes.
Remove from the heat and quickly dip each choux puff into the toffee and then stack on-top of the cake in a circular pattern, building a tower. Lightly drizzle and spin the toffee over the tower to form strands of dripping sugar. If the caramel has melted down onto the cake, re-patch it with left over honey buttercream before returning to the fridge for an hour to set. Serve with drizzled salted caramel over the cake.
Notes
* Salted Caramel Mud Cake adapted from Taste
* Croquembouche adapted from Gourmet Traveller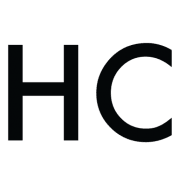 Thalia Ho
thalia is a law student by day, blogger at butter and brioche by night and all around francophile. In her free time you'll find her spending hours on end in her kitchen, testing recipes, baking decadent treats, exploring cookbooks and getting lost in the digital world.