This Lasagna Soup Recipe is an incredibly hearty meal you can easily whip up in less than an hour. It boasts everything you love about lasagna, without all the work.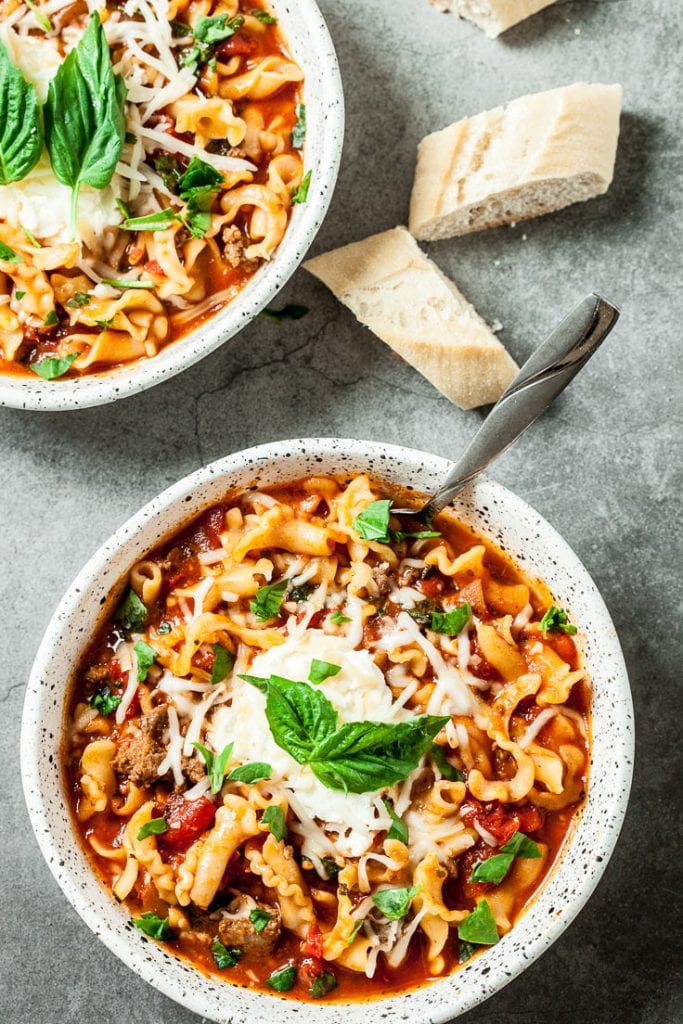 Our mild (a totally relative word) winter thus far has taken a turn towards the arctic arena, diving down to subzero degrees with obnoxious windchill. We don't even have much snow to show for all the frigidity, but welcome to the Bold North.
After a long [long] run outdoors with friends last weekend, I came home to my first relationship with true frostbite. This is despite being fully covered in solid winter running gear, from head to toe. If you've met frostbite before, you know it's a beast that doesn't simply heal up when you thaw out by the fire.
If there's no way you'll ever encounter a situation where you could even possibly encounter having frozen ears, then I'm fully jealous but I'll still invite you to dinner.
This lasagna soup recipe is what I'd make for you on a chilly day. I'd ladle up a big, piping hot bowl of comforting lasagna soup teeming with all the flavors you love in classic lasagna…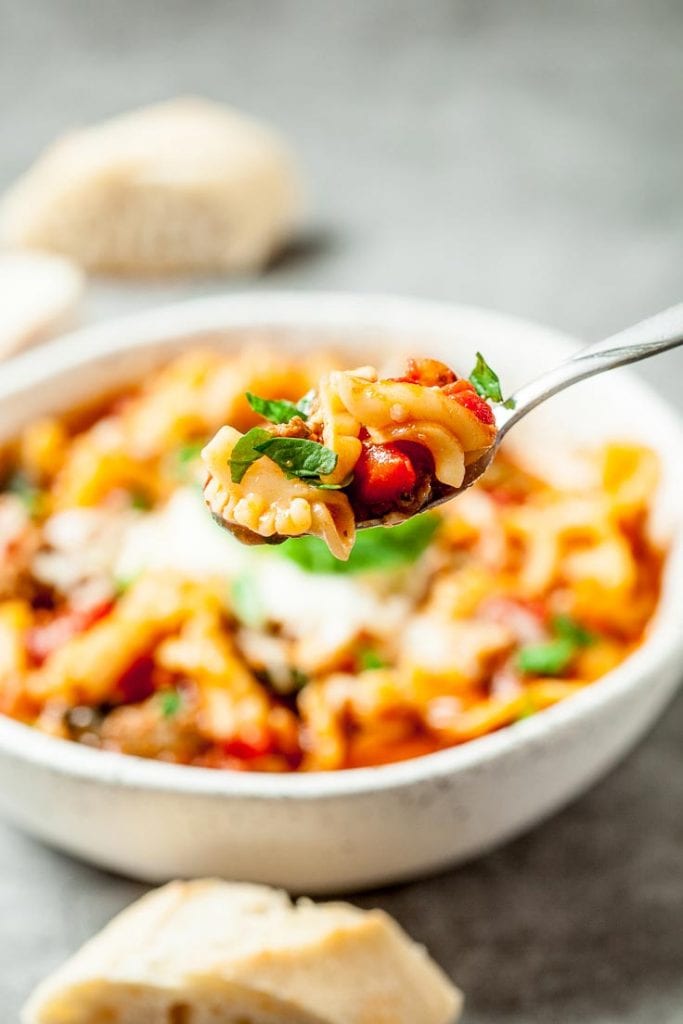 Despite wanting to make this into a one-pot situation, lasagna soup really is best when you cook the noodles separately, just to al dente, for 2 reasons: It ensures that the noodles aren't over-cooked, and that the noodles don't soak up all your delicious soup. Although, if it did, you'd basically have lasagna in a bowl (no soup) which isn't a bad thing at all. But if you do like slurping hot soup, we recommend keeping noodles separate until you serve.
After browning the sausage in a large pot, you'll add the aromatics and seasonings until it all smells amazing. Then you'll add the liquids and let it simmer 20-30 minutes, or just long enough to meld flavors together.
Ladle your awesome soup over al dente noodles in bowls, and top away.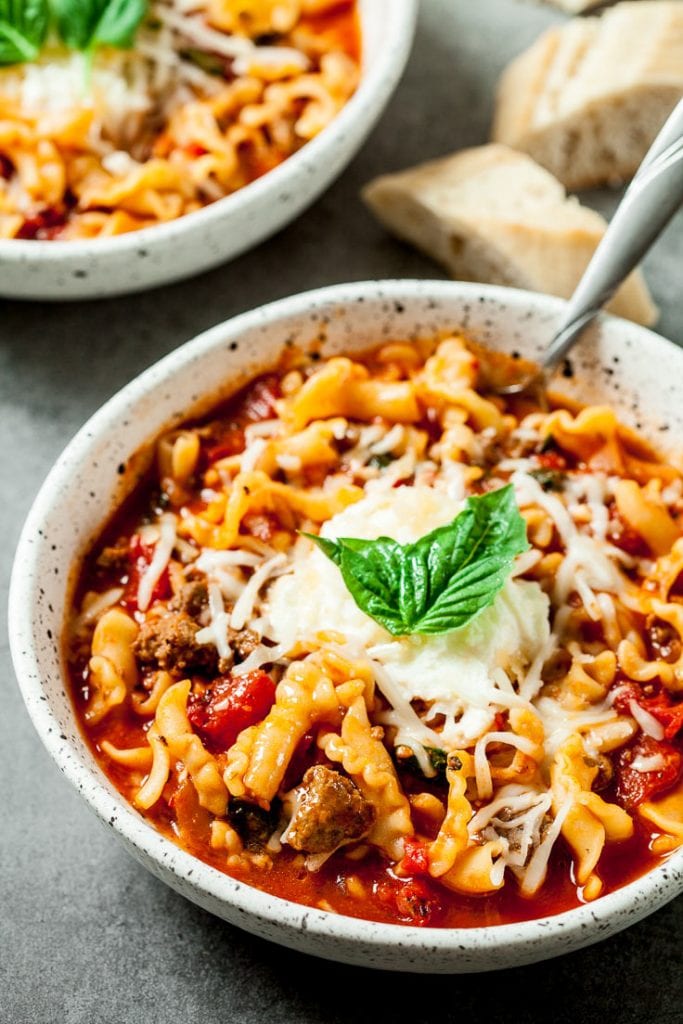 It has all the flavors we love in classic lasagna, without all the fuss
It's a meal in one – veggies, protein, dairy, carbohydrates, and lots of great herbs all in one bowl
This lasagna soup comes together in under an hour, and half of that is simmer-time, which you can use for getting other things done
Kids and grownups alike adore this meal, over and over again
Lasagna soup is super well received at potlucks and group dinners
It's perfect for bringing to a new mama or family who could use a homemade meal
Leftovers are actually exciting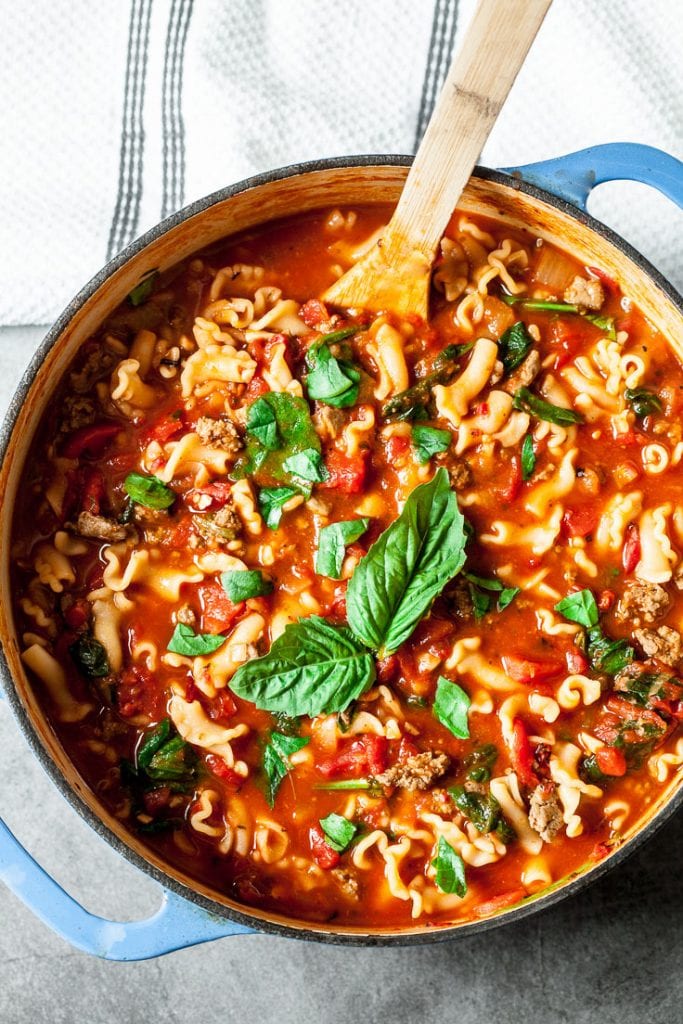 Click HERE for the recipe.
Amy Dong
Welcome to our kitchen! Here is the place where you'll find an ever-growing collection of all things yum. We're an active, hyper-busy family of six (including Miss Dog) -- we get how hard it is to put delicious 'n healthy food on the table every night! We do the recipe testing so your family will love what you dish up, and your friends will be begging for your recipes. Come on over and let's get cooking!