Satisfy all your best Chocolate-Peanut Butter cravings with these extreme cookie bars. They're sure to please every pb cup lover.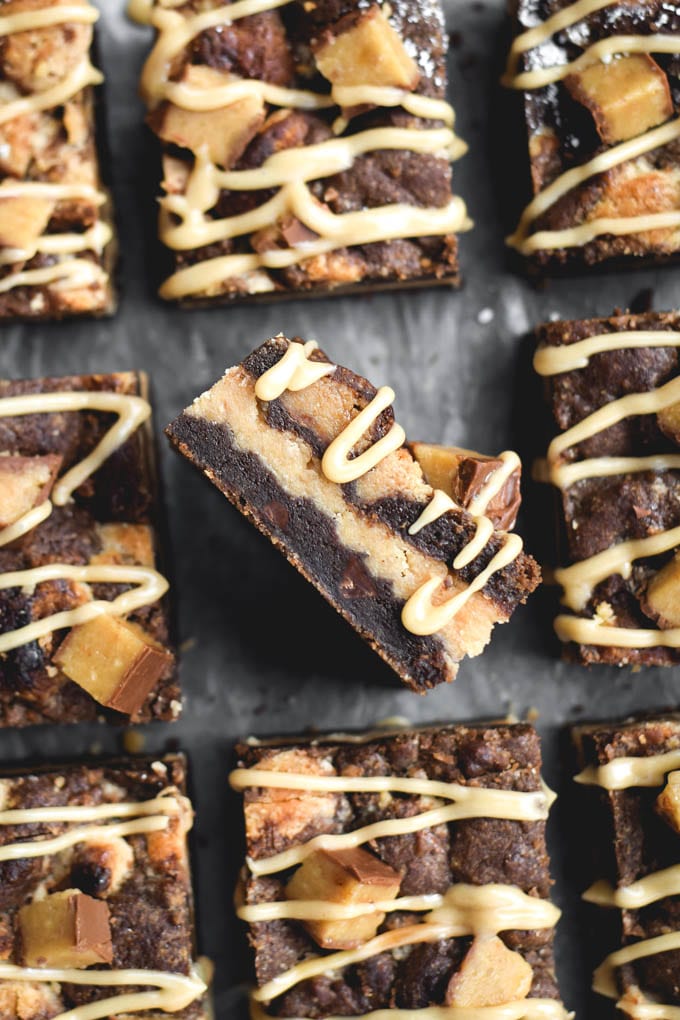 Okay, so I have to ask, do you think it's possible to have too much peanut butter and/or chocolate? Because um……there is a little bit of it in these bars and I'm just not seeing how it's a problem.
Fine, so obviously too much of any on thing is not good but what I'm talking about is all of the different forms of those two epic ingredients that are incorporated into these bars.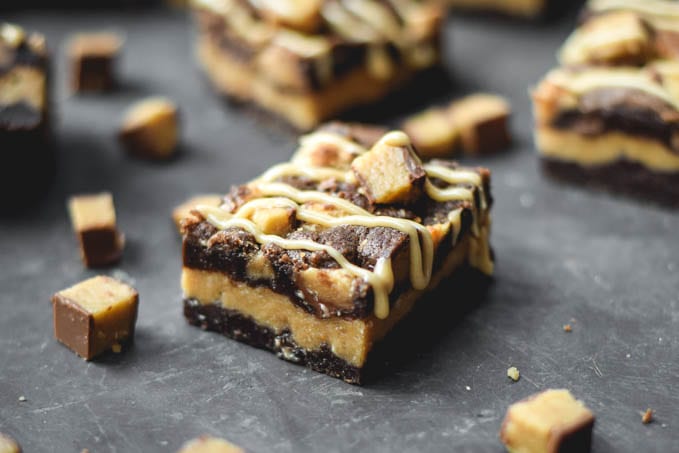 So I'm going to be honest with you, these are not for the faint of heart. I'm talking, serious peanut butter and chocolate heart-attack material here and yet they're so irresistible. Indulge at your own risk. The name sort of says it all I think, dangerous.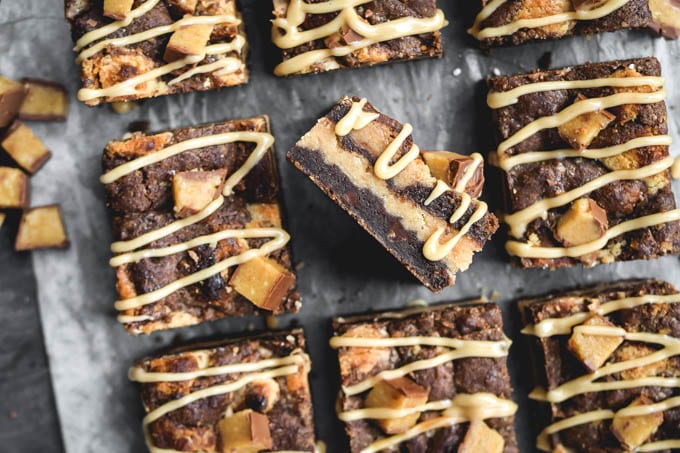 I'm almost wondering if I should feel guilty about sharing them. On the flip side, it's pretty hard to rule them out as completely unhealthy because being happy is a huge part of being healthy and these are guaranteed to make people very happy with every decadent bite. See, so that makes them partly healthy right? Do you see where I'm going with this logic?
Haha, okay so maybe we won't go that far. I'm clearly trying to ease my conscience with things that don't even make sense. Since we're all friends here I won't do any more sugar-coating the fact that these already have too much sugar. Sometimes you just have to live a little, you know? This is one of those times and that's what these bars are, an experience. An explosive, peanut butter loaded, chocolate stuffed experience. Just do it!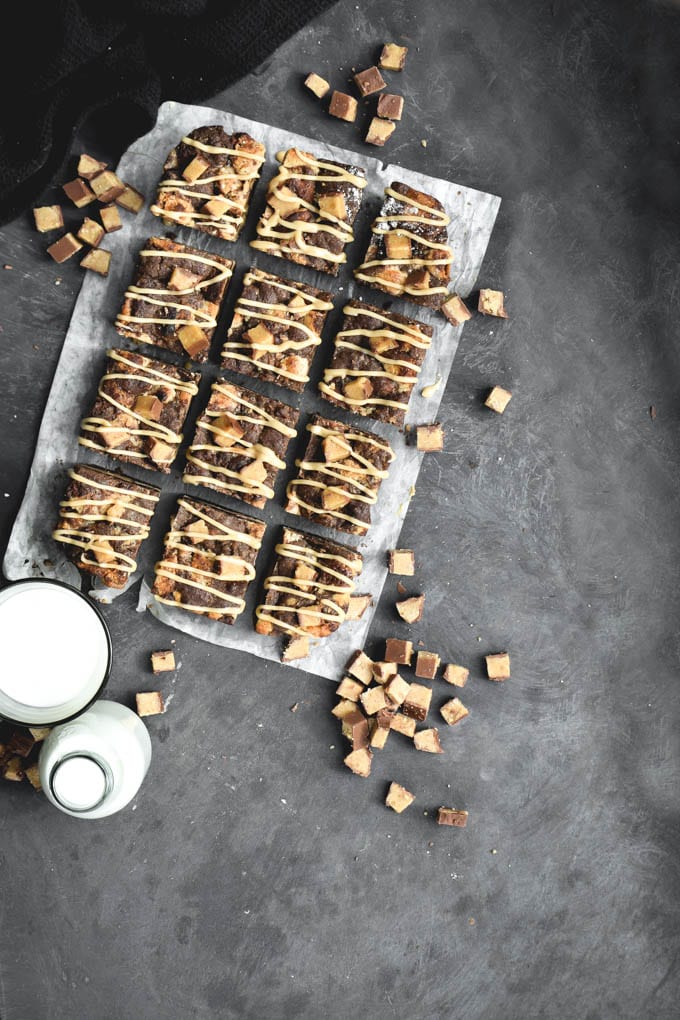 Click HERE for the peanut butter drizzle recipe.
Print
Triple Layer Chocolate-Peanut Butter Bars
Author:

Tori Cooper

Prep Time:

15 minutes

Cook Time:

30 minutes

Total Time:

45 minutes

Yield:

16

bars

1

x
Category:

Baking, Bars, Dessert
Chocolate Cookie Dough:
1/3 cup

natural peanut butter

3/4 cup

coconut sugar

6 tablespoons

almond milk

1/4 teaspoon

salt

1/2 teaspoon

baking soda

1/2 teaspoon

baking powder

1 teaspoon

vanilla

3 tablespoons

cocoa powder

1 cup

almond flour

1/4 cup

semi-sweet chocolate chips or chopped chocolate

1/4 cup

chopped peanut butter cups plus more for topping (best if frozen before mixing)
Peanut Butter Filling:
1/4 cup

natural peanut butter

1/2 cup

powdered peanut butter

3/4 cup

oat flour

6 tablespoons

maple syrup

1/2 teaspoon

vanilla extract
Peanut Butter Drizzle:(Optional)
Click the link above for the recipe.
Instructions
Preheat the oven to 350 (180C) and line an 8×8 or 7×11 inch pan with parchment.
Chocolate Cookie Dough:
Cream together the peanut butter and coconut sugar in the bowl of stand mixer or a medium mixing bowl. Add the almond milk and beat until combined then add salt, soda, baking powder, and vanilla and mix well. Now stir in the cocoa on low until mixed, then add the flour last and continue stirring until your dough comes together. Fold in the chocolate chips and pb cups with a large spatula and divide the dough in half.
Spread half of the dough in the bottom of prepared pan (the dough may be a bit sticky to work with so if you are having trouble it can be chilled until easier to handle.) and press into a smooth layer.
Peanut Butter Filling:
Stir together the maple syrup and peanut butter in another medium bowl until smooth. Add the salt, vanilla, powdered peanut butter, and oat flour and mix until combined then add the powdered sugar a little at a time and mix to incorporate into a thick dough.
Scrape the filling mixture out onto the base cookie dough layer and also press it down to form an even peanut butter layer on top of the chocolate dough.
Now scrape out the remaining chocolate dough over the filling layer and crumble evenly over it for the top layer.
Bake the bars for 18 to 22 minutes until the top is starting to darken and brown on the edges. Remove from oven and, if desired, immediately sprinkle some additional chopped pb cups over top and press down very gently. Allow the bars to cool completely before cutting.
Click the link above for the drizzle to finish the bars.
Tori Cooper
Tori is a food blogger with a passion for what she does. She shares all her recipes, photography, and bits about her life living in Patagnia Chile on her blog, Gringalicious.