Stuffed pastry pockets of any kind are a comforting snack on a cold day. This recipe is stuffed with meaty goodness and could go well with a frothy beer.
By Lolly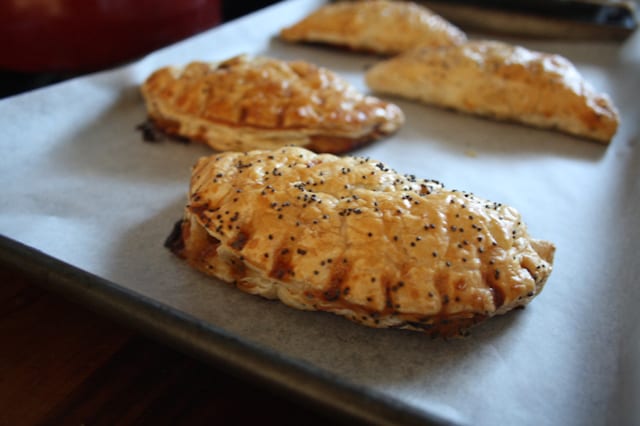 Pasties are one of my favourite comfort foods. I was under the firm belief that a family member makes the best pasties, but, sorry Nanny, these may just top them.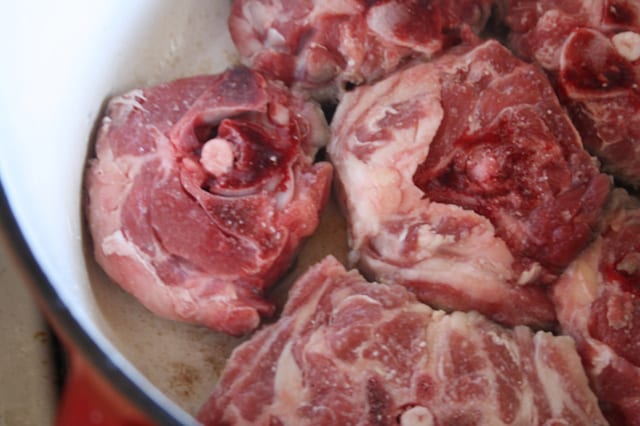 See Also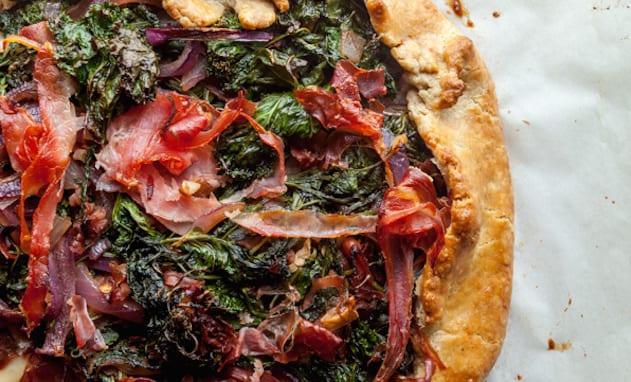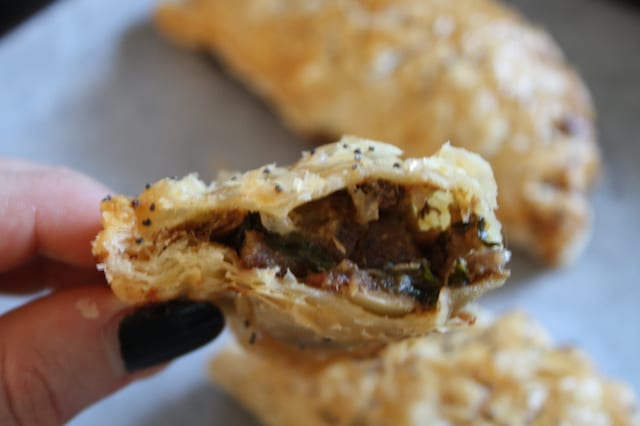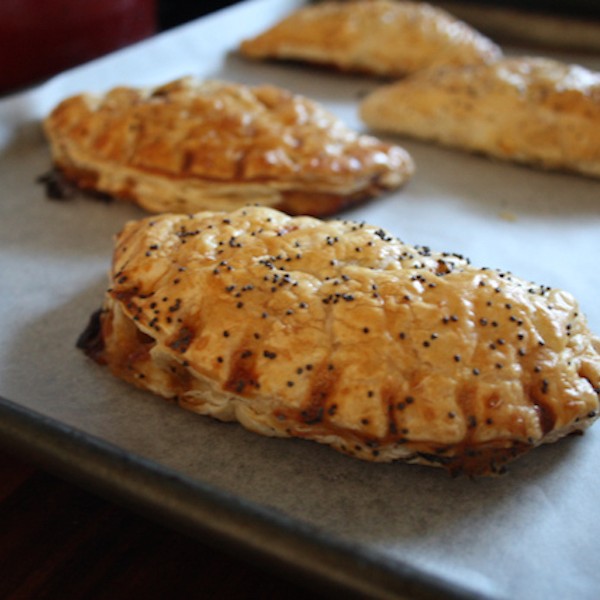 Lamb Neck, Kale, and Potato Pastry Pockets
Lolly
Ingredients
1

kg

of lamb neck rosettes

2

tablespoons

of plain flour

2

medium red skinned potatoes

cubed

3

stems of kale

shredded

3

cups

of vegetable stock

1

large tomato

chopped

1

leek

chopped

chopped thyme and oregano

1/2

teaspoon

of smoked paprika

pre-prepared puff pastry sheets

1

egg- sea salt and pepper
Instructions
Season the lamb necks with a good amount of salt, pepper and flour. Brown these off in a little oil, until you have a gorgeous golden colour on both sides.

Deglaze the pan with the stock making sure to bring up all the caramelized bits on the bottom. Chuck in your leek, tomato, herbs and paprika and bring to the boil. Turn off the heat, add the lamb necks, cover with a lid and pop into the oven for 1 1/2 – 2 hours – or until the meat is falling off the bone. In a small pot, cold-water start for your 'tatoes in generously seasoned water until they are just cooked. Drain and allow to steam dry.

Remove the necks from the braising liquid and allow to cool, before shredding and pulling the meat away – make sure to be quite thorough as you don't want any rogue bones or cartlidge in your pasties.

With the cooking liquid, reduce into a thickish gravy, then return the meat to the pan. Add your kale+potatoes and stir to combine. Allow this to come to room temperature before filling your pasties.

Lay out your puff pastry and using a bowl with approx. 15cm diameter, cut out rounds and put aside. Whisk your egg for egg wash and make sure you have your filling ready.

Place about 2 heaped tablespoons of filling off centre on your round of pastry – less is more, and you will understand why soon. Brush around the outer rim of pastry with egg wash and bring together the edges, pressing firmly so no filling escapes. If you over fill them, the pastry will rip or you will end up with monged looking pasties – and that's not fun. Pinch the pastry edge every 1cm or so making sure that the filling is completely encased in the pastry. Make a 2mm incision on top of the pastie so that the steam can escape whilst cooking, brush with more egg wash and place on your tray ready for baking.

Fill. Eggwash. Join. Crimp. Eggwash. Stab. Repeat.

Bake in the oven for 30-40 minutes @ 180*C or until beautifully golden.

Allow to cool for about 10minutes before consuming – otherwise you could cause yourself some serious mouth burns.

Serve by themselves with either tomato sauce or a really lush tomato relish, or with a nice salad.
3.2.2885
Lolly
Food Lover. Food Blogger. Chef. Mother. Lover. Free Spirit. Ever Evolving... Lauren Tangey thinks food is exciting and not to mention versatile. It's time to get back to basics. It's time to get involved in the food we eat.