Lamb Lasagna with Moroccan Spices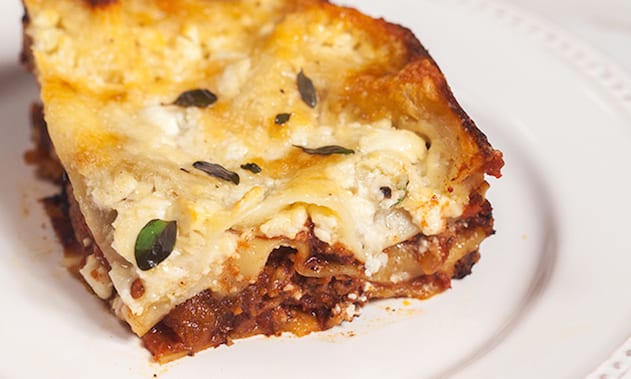 Apricots, ras el hanout, and feta take lamb lasagna on a whole new route. Make the full dish to feed a crowd or have plenty of delicious leftovers.
By Rachael Dart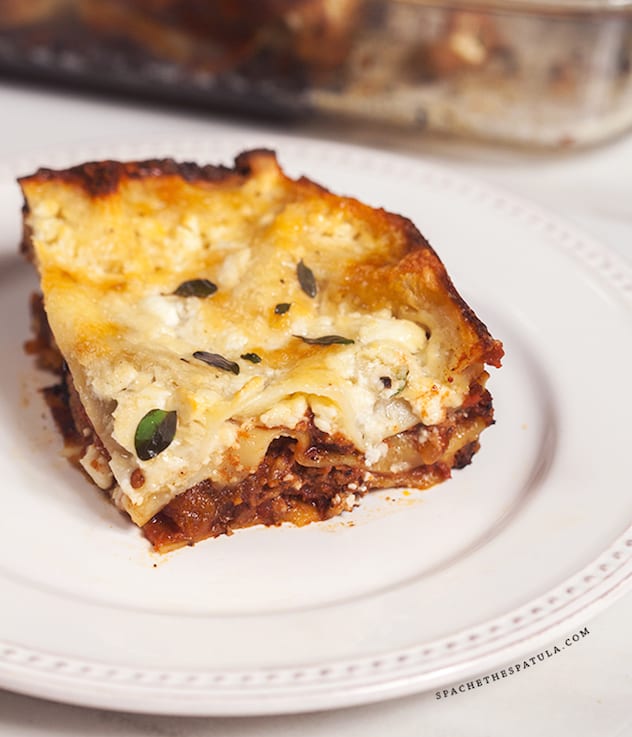 I have trouble ever keeping things standard around here, so I went and changed things up with a Moroccan flair lasagna.
I used ground lamb instead of beef, threw in a few chopped dried apricots and a healthy dose of ras el hanout, and added feta to the béchamel. It turned out crazy tasty!
By the way, if you're not familiar with ras el hanout, it's a Moroccan spice blend that you can find at specialty grocery stores or online. But I also found this recipe, in case you can't locate it.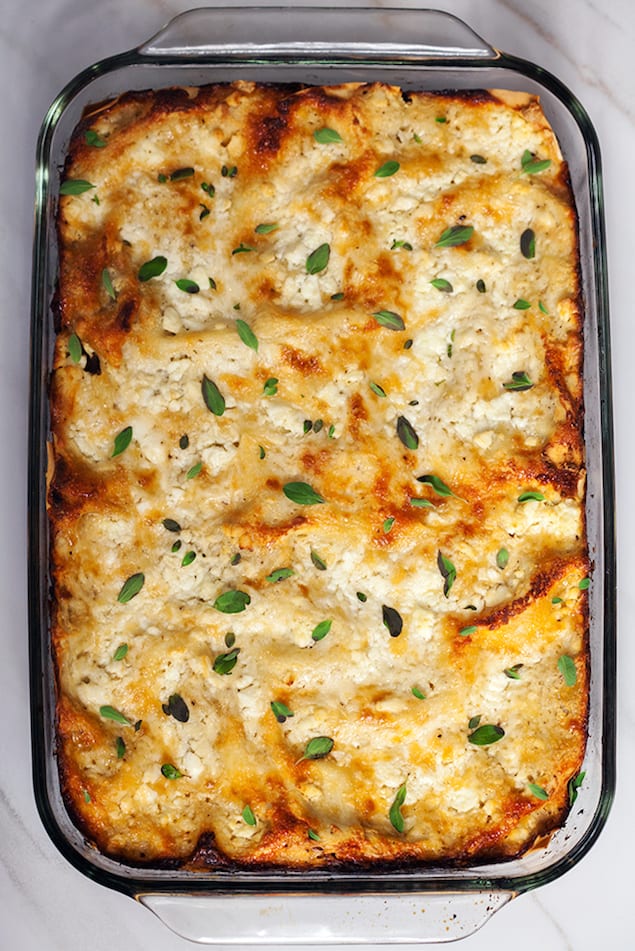 You know what's great about this lasagna other than the fact that it's delicious and that it makes a ton? You can make it ahead of time and pop the whole thing uncooked in the fridge for a day or so, of wrap it up in foil and freeze it for a quick dinner fix on a busy day!

Lamb Lasagna with Moroccan Spices
Apricots, ras el hanout, and feta take lamb lasagna on a whole new route. Make the full dish to feed a crowd or have plenty of delicious leftovers.
Ingredients
FOR THE LAMB RAGU:
1 tbsp olive oil
1 medium sweet onion, chopped
2 fresh bay leaves
3 garlic cloves, minced
1 lb ground lamb
3 oz. (about 1 dozen) dried apricots (I like the no sugar added kind), roughly chopped
28 oz. can crushed tomatoes
1 tbsp tomato paste
1 and ½ tbsp ras el hanout*
2 tsp ground cinnamon
1 tsp ground cumin
salt and pepper
FOR THE FETA BÉCHAMEL:
2 and ½ cups whole milk
4 tbsp butter
¼ cup flour
¼ tsp freshly-grated nutmeg
¼ tsp ground cumin
4 and ½ oz. feta, crumbled
½ cup shredded mozzarella
½ cup grated parmesan (I use a grated parmesan and romano blend from a local Italian specialty shop)
salt and pepper
FOR THE LASAGNA:
9 oz. box no-boil lasagna noodles (I actually didn't end up using about 2-4 noodles from the pack)
¾ cup shredded mozzarella
2 oz feta, crumbled
¼ cup grated parmesan
Instructions
FOR THE LAMB RAGU:
Heat the olive oil in a large skillet over medium-high heat. Add in the onion and a pinch of salt, and cook for 5 minutes until the onion is softened. Add in the garlic and bay leaves and good for about a minute, until fragrant.
Push the onions and garlic off to the side, and add in the lamb. Brown it for a couple minutes, without moving, before flipping and breaking it up. Continue to cook it for another few minutes until completely browned.
Add in the apricots, mix everything together, and cook for about a minute. Add in the tomatoes, tomato paste, and spices; cook for 15 minutes over medium-low heat, stirring occasionally. Season to taste with salt and pepper.
FOR THE FETA BÉCHAMEL:
Heat the milk in a small saucepan over low heat.
In a medium saucepan, melt the butter over medium heat. Whisk in the flour and cook for 2-3 minutes. Slowly whisk in the milk. Continues whisking and cook for 3 minutes, until thickened.
Remove from heated stir in the cheeses until melted (the feta may stay a little clumpy but that's totally fine!).
FOR THE LASAGNA:
Spray the bottom of your own with nonstick spray. Cover the bottom in a layer of pasta, then spread on half of the ragu. Pour ⅓ of the béchamel on top of that. Add another layer of pasta and then the remainder of the ragu. Add another ⅓ of the bechamel, and another layer of pasta. Sprinkle on the shredded mozzarella, and drizzle with the remainder of the béchamel. Finish with the feta and parmesan.
Now you can cover with foil sprayed with nonstick spray, and place in the fridge (or freezer!). When ready to bake, preheat oven to 400 degrees. Bake for an hour with the foil on, then remove the foil and cook for another 15-20 minutes.
Notes
*ras el hanout is a Moroccan spice blend that can be found in specialty grocery stores, but I have also linked a recipe in the above post
Rachael Dart
Rachael Dart is a freelance writer and food blogger living in Seattle. After earning her BA in English from the University of Washington, she quit her short stint as a Technical Content Writer to focus on food full-time! On her food blog, Spache the Spatula, she shares recipe creations and adaptations with personality and attitude.