Korean Bulgogi Lettuce Wraps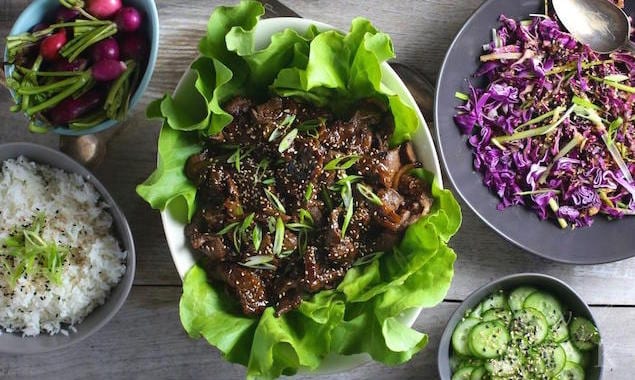 Thinly sliced and quick to cook, Korean bulgogi is served in lettuce wraps with toppings to create a fun and flavorful meal.
By Emily Clifton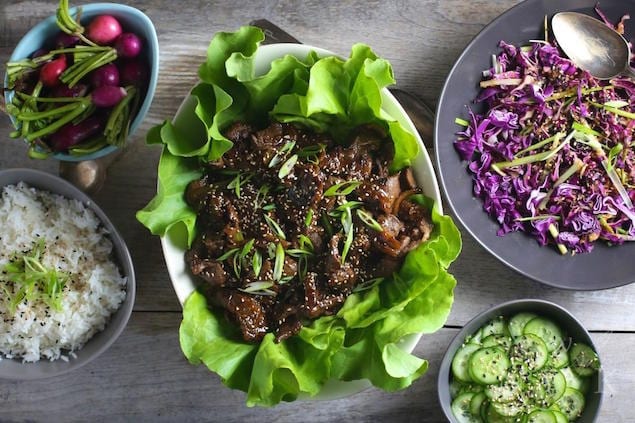 My favorite Korean dish is Bulgogi (in Korean, literally "fire-meat") which is very thinly sliced beef that has been marinated in a delicious sweet soy mixture and then grilled or pan-seared. For some reason I always thought of this as a complicated restaurant-only dish. I was wrong. Turns out Bulgogi is not only delicious, it's also super easy to make.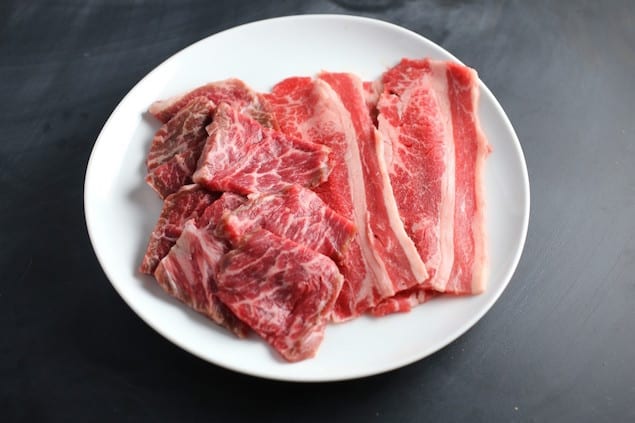 The marinade is really pretty simple. It's a mixture of soy, sugar, sesame oil mixed with aromatics like ginger, garlic and scallion. One traditional ingredient that might come as a surprise is grated pear. Round, yellow Asian pears are traditional but you could use Bosc or any pear you like. It may seem odd but pear contains an enzyme called calpain that helps to tenderize the meat. If you're using an incredibly tender cut like ribeye the pear isn't really necessary but for the chewier cuts, it's helpful. Speaking of meat, you have a lot of choices for what cut of beef you use. Some recipes call for sirloin, tenderloin, skirt steak or rib eye. (If you have access to an Asian specialty store, they often sell pre-sliced ribeye for Bulgogi). Whatever you choose, you want meat that has plenty of marbling. Lean cuts like brisket will be too tough.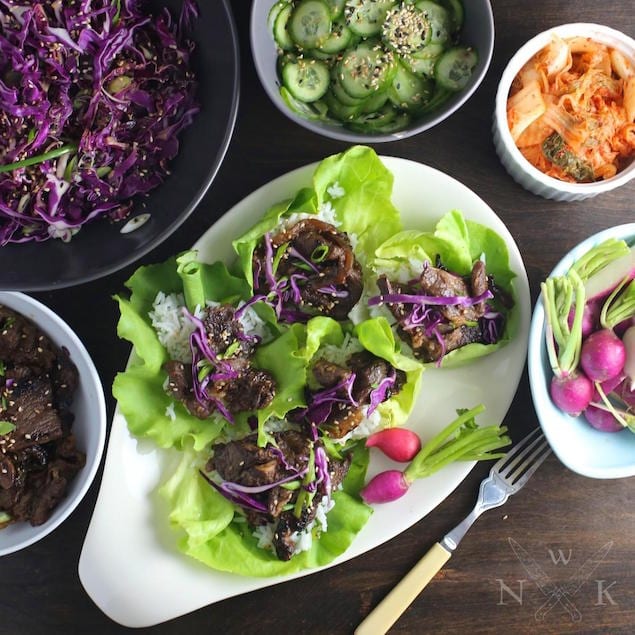 We used a mixture of rib-eye (purchased pre-sliced from the Korean market), and boneless short ribs that we sliced ourselves. Both were great but I was surprised to find that we preferred the short rib. It had more flavor and a wonderful texture. Whatever cut you use, if you're slicing it yourself, freeze it for 15 minutes (to make it easier to slice) and then cut it as thinly as you can against the grain. This is important because it makes chewy cuts of meat much more tender.
One of the nice things about this dish is that, once the meat is marinaded to your liking it literally takes minutes to cook. This is ideal for a dinner party because you can do all the work in advance and then just sear off the meat and you're done.
See Also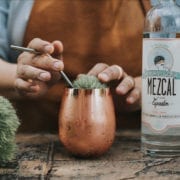 You can serve Bulgogi just with a bowl of hot rice but I like to make lettuce cups and serve them with lots of vegetable side dishes. These are not the traditional dishes that come with Bulgogi (called banchan) but they are delicious nonetheless.
Kimchi (not homemade, yet, but we like Bing Gre Kimchee Pride brand)
Korean Bulgogi Lettuce Wraps
Thinly sliced and quick to cook, Korean bulgogi is served in lettuce wraps with toppings to create a fun and flavorful meal.
Ingredients
1­-1.5 lbs. of boneless English-­style short ribs, ribeye or sirloin (or thinly sliced ribeye steak purchased from a Korean market).
¼ of a medium yellow onion, halved and sliced into medium moon shaped slivers
2 scallions, sliced into 2 inch pieces
1­2 tablespoons neutral oil (like grapeseed or peanut) for pan frying
For the marinade:
⅓ cup of soy sauce
2 tablespoons white sugar
1 tablespoon mirin (or increase sugar by 1 tablespoon)
1 tablespoon toasted sesame oil
¼ Asian pear, coarsely grated (about ¼ cup) *not necessary if using tender rib eye
4 garlic cloves, minced or grated
2 teaspoons ginger. minced or grated (about 1 inch piece)
For the lettuce wraps:
1 head butter lettuce (or romaine), cleaned and leaves separated
2 cups cooked rice
1 scallion, finely sliced
2 tablespoons toasted sesame seeds
1 cup Red Cabbage Salad with Spicy Miso­-Ginger Dressing (optional)
Instructions
If slicing your own meat, placing it in the freezer for 20­30 minutes makes slicing easier. Trim
the meat of excess fat and slice it as thinly as you can cutting against the grain. If using pre­-sliced meat, just separate the pieces and dry them.
Whisk all the marinade ingredients together in a large bowl. When the sugar has dissolved, add the beef, scallion and onion slices to the bowl and toss very well (I find using my hands is the best way to ensure every piece gets coated). Cover and refrigerate for at least 1 hour or up to overnight.
Take meat out of the refrigerator 30 minutes before you plan to cook it to take the chill off. Heat a large heavy-bottomed skillet on medium high heat and add a tablespoon of oil. Working in batches, place a few slices of beef into the pan and quickly maneuver them so they are laying flat and in a single layer. Cook on one side for 1­2 minutes and then flip and cook the other side, 1­2 minutes longer. It's not really traditional but I like each piece to get brown and crisp at the edges.
Once beef is cooked, you can serve it right away with a bowl of hot rice or make lettuce wraps.
For the lettuce wraps, spoon a little rice into each lettuce leaf. Top with a slice or two of Bulgogi, and garnish with sesame seeds, sliced scallions and a bit of Red Cabbage Salad with Spicy Miso­Ginger Dressing, if using.
Emily Clifton
I love to cook and learn about food. I was born and raised in New York City and I was exposed to a lot of different food cultures as a kid though I was weirdly picky. I hated mashed potatoes but I loved kim chee. Hated fish, loved escargot. I said I was weird, don't judge me.My mom is a great cook but I definitely don't have any "passed down from grandma" types of recipes. Both my grandmothers were horrible cooks. I mean really, truly bad. I give my mom a lot of credit for knowing that string beans are not actually supposed to be gray.In real life I'm a film/TV editor which just might be the most fun job in the world. Occasionally it can be the most annoying job in the world which is why I really appreciate it when I get to take a break and do my other favorite things which is cook, take photographs and write.