It's fun to assemble your own food. And when it calls for eating with your hands, join in the fun! Wouldn't you like to try grilled beef and spiciness rolled into a bite?
By Eva Lambooij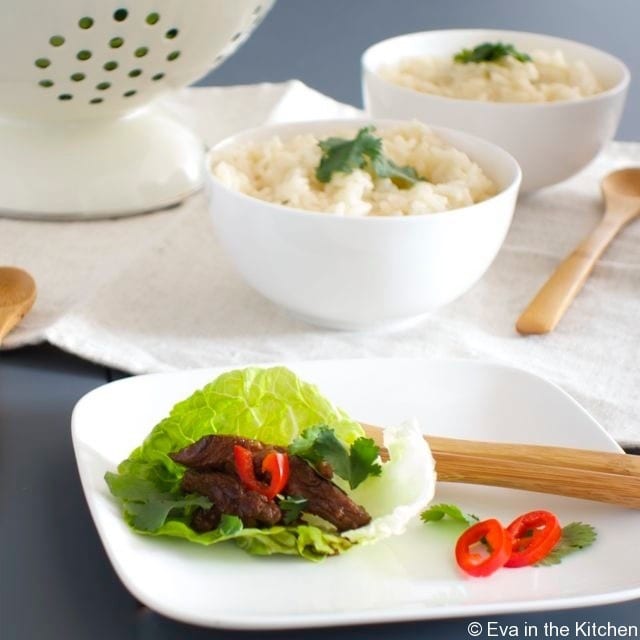 I was surprised to find out that French people are not into spicy food. At least, not in a way Dutch people are into hot and fiery bites (bites is, by the way, not a word to use in writing in France as it means something completely different. The preference for spicy food is probably an inheritance from the colonial period, when the Dutch ruled Indonesia. Frankly, not our finest hour, but it gave us a Dutch-Indonesian food tradition which has enriched the way we eat. And spiced things up at the same time!
So it was a surprise to learn that what the French call pimenté, is quite mild to my tastebuds. Even the Créole food from the French isles like Guadeloupe and Reunion tastes pretty mild. This means I have to extra careful while making something spicy like this Korean bulgogi, it won't be the first time my French guests' heads get that tomato-look… So whenever I'm not sure if they're used to fiery food, I bring it down a few notches. And since everyone can decide just how spicy they want their food to be, cause they add the chili pepper themselves, this is the perfect meal for those who aren't used to eat spicy dishes.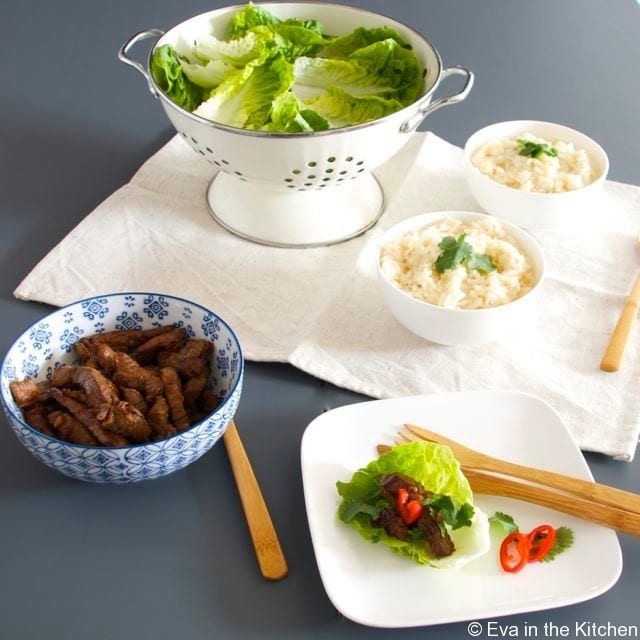 This bulgogi recipe was originally published in the Dutch version of Delicious magazine in 2013, I've slightly altered it, but since it was already quite perfect, the changes are minimal.
Bon appétit!


Korean Bulgogi Lettuce Wraps
Ingredients
250 gr (8 oz) of beef, like entrecôte or steak, thinly sliced
1 shallot, finely chopped
1 clove of garlic, finely chopped
60 ml (2.7 fl ounces) of soy sauce
1 tsp of sesame oil
1 tsp of grated fresh ginger
1 tbsp of brown sugar
2 little gem (small lettuce)
1 red chili pepper, sliced
Coriander and rice (to serve with)
Instructions
Mix the garlic, shallot, soy sauce, oil, ginger and sugar together in a big bowl
Add the beef and marinate for at least one hour in your fridge
Heat a grill pan (or barbecue) and grill the beef in just 30 seconds, or until rare/medium rare
Serve in the little gem leaves with rice, garnish with coriander and chili pepper