SPONSORED STORY – BROUGHT TO YOU BY CASTELLO ALPS SELECTION
The Castello Weissbier alpine cheese is the perfect match for this kielbasa pizza. Creamy, strechy and tangy, it melts beautifully and creates a rich and smooth base for the pizza.
By Sarah Spiegelman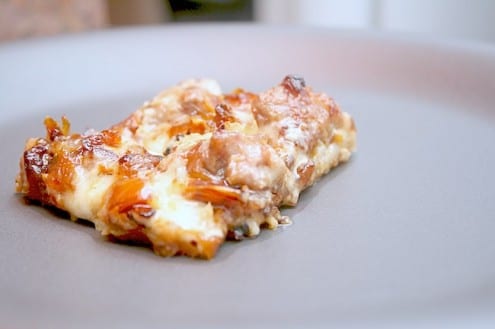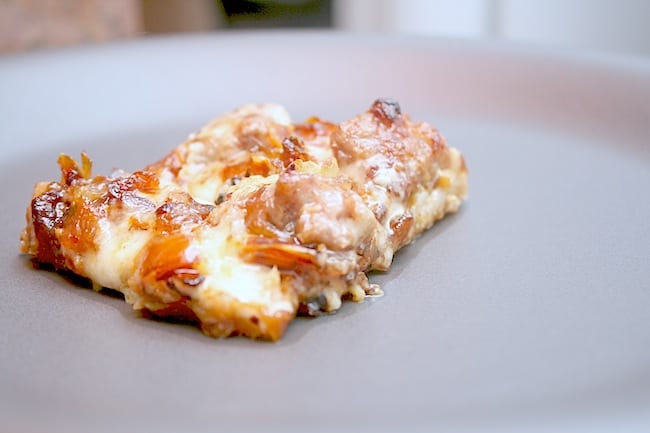 This is the way cheese is meant to taste. Creamy, stretchy, and tangy. It melts beautifully and creates a rich, smooth base for this loaded 'za. Countered by garlicky, salty kielbasa, sweet peppers and onions, and that kick of sauerkraut. The sauerkraut really mellows as it cooks – don't be afraid of its pungent aroma before it goes in the oven. It is like a cabbage-pickle hybrid. And who doesn't like pickles with their meat and cheese plates?
Win a Castello Alps Selection cheese tasting for you and your friends – enter below!
Win a Castello Alps Selection Cheese Tasting
Kielbasa and Weissbier Alpine Cheese Pizza
Creamy, strechy and tangy, Castello Alps Selection Weissbier cheese melts beautifully and creates a rich and smooth base for any pizza.
Ingredients
1 lb. pizza dough
4 links kielbasa, removed from casing and crumbled
1 large onion, diced
2 bell peppers, diced (any color except green)
⅓ cup sauerkraut
2 tbsp. flour
2 tbsp. butter
1 whole milk
1 cup Castello Weissbier cheese, grated
1 tbsp. olive oil
salt and pepper, to taste
Instructions
Put the oil into a large pan over medium heat. When it starts to ripple, add the onion and peppers. Decrease the heat to very low and let the onions and peppers slowly caramelize. This will take awhile – probably about 45 minutes. You don't want any brown here, just sweet, translucent, jammy veggies. When everything is soft and sweet, drain the excess oil.
Now, add the kielbasa.
Cook until the kielbasa is totally browned and cooked. Drain excess oil and set aside.
With the butter, flour, milk, and cheese, make a classic cheese sauce like in steps 2-4 of this Mac and Cheese recipe. Leave out the nutmeg and mustard. Once it is seasoned to your looking, take it off of the heat. Thais can be made ahead of time then applied to the dough while cold.
Preheat your oven to 475 F and spread the pizza dough out on an oiled pizza stone or cookie sheet.
Top the pizza with the sauce, the sausage and pepper mixture and the sauerkraut.
Bake for 20 minutes, or until the dough is totally crisp, the sauerkraut is a little charred, and the cheese is bubbly. No peeking while it bakes! The key to great pizza is a super hot oven and you don't want to let any of that heat escape.
Serve.