Khasta Kachori is definitely one of the most popular Indian street foods. It's everything Indian food is famous for – spicy, flaky, has a tang to it and is extremely addictive.
By Prerna Singh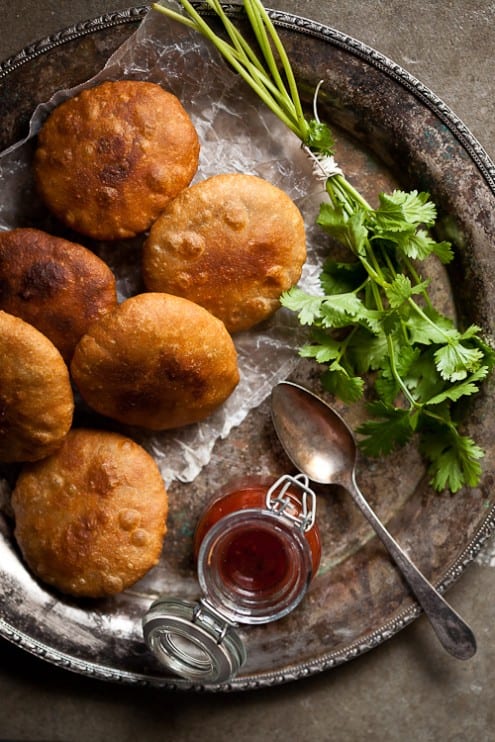 Print
Khasta Kachori
Call it a Indian version of savory empanada or a deep fried heavenly delight Khasta Kachori is definitely one of the most popular Indian street foods. Its all what Indian food is famous for, its spicy, its flaky, has a tang to it and is extremely addicting. So remember I warned you before you took a bite into these!
Author:

Prerna Singh

Prep Time:

30 mins

Cook Time:

30 mins

Total Time:

1 hour

Yield:

8

-

1

0

1

x
For the dough:

2 1/2 cups

Durum wheat flour (or mix whole wheat and all purpose flour in 1:

1

ratio)

1/3 cup

oil/or melted ghee

1 tablespoon

salt
Water as needed
Oil for deep frying
For the filling:

2 cups

boiled potatoes (roughly mashed)

1 cup

frozen medley of green peas and carrots (thawed) You can also use fresh if you want. It will just ask for longer cooking time.

3/4 cup

onions (chopped)

1 1/2 cups

green chili pepper (minced)

1/2 cup

cilantro (chopped)

3/4 teaspoon

turmeric

1 teaspoon

cumin seeds

1 1/2 teaspoon

coriander powder

1 1/2 teaspoon

dried mango powder

1 1/2 tablespoon

cooking oil
Salt to taste
I used

one

of the most common and traditionally used filling here but you can use just about anything. Minced meat, any vegetable, cooked lentils or beans(with minimal water used to cook it) or even fruits of your choice.
Instructions
For the dough:
Mix salt into the flour. Add oil into the flour and mix it all very well together. To mix the oil well into the flour, take flour in small portions in your hand and rub it between your palms. To make sure that the oil is mixed well, hold the flour in your fist, press tightly and open the fist, the flour should still hold itself. The process of adding oil/ghee into the flour helps making the pastry flaky.
Now add water into the flour, salt and oil mixture mixing it with hands carefully putting it all together into a dough. Trick to kneading perfect dough – always add water in small portions. Dough for pastry should be a little tougher. As a test, when you press your finger into it, you must have to apply a little pressure and it should not stick to your hand when you pull your finger out.
Work the dough for about 5 minutes and bring it together into a smooth ball. Wrap with a plastic wrap or damp cheese cloth. Set aside for 30 minutes.
For the filling:
Heat oil in a pan. Add cumin seeds. As they sputter add onion.
Saute for a couple minutes and then add all the dry spices, turmeric, coriander powder, mango powder along with minced chilli.
Stir it all together quickly and then add peas and carrots. Mix everything together. If using fresh peas and carrots then turn the heat to medium, sprinkle some water and cover and cook until the carrots are tender.
Add potatoes. Add salt to taste. Mix everything together scraping the sides and the bottom. Mix corinder powder into the mixture. Let it cool down.
Making of Khasta Kachori:
Divide the dough into balls about 1 1/2 tablespoons of dough in each ball.
Set some oil aside to oil your hands before rolling the balls. Now roll the balls into 3-4 inch circles. You can either use the tips of your fingers and start by pinching and flattening around the edges leaving the center thicker than the edges or you can just use a lightly oiled rolling pin.
Fill the center of the flattened dough with the filling. Lift up all the edges and join them all together at one place. Press it down and flatten it between your palms making sure you do not leave any air pockets or cavity.
Follw the same steps for all the dough balls. Cover the ones ready to be fried with a damp cheese cloth so that it does not dry out before you finish filling and start frying.
When all the kachoris are filled. Deep dry them.
There are three important things to be kept in mind when making a flaky Khasta Kachori or samosa for that matter.
There should be just the right amount of oil mixed to the flour
Dough should not be loose or sticky &
The oil should neither be very cold or very hot.
I gave you the tips on the top two factors above. Now the last factor which probably is most important is how to check if the oil is hot enough and still not cold. To do that I start my heating the oil on medium heat then to check the right temperature I take a small ball of dough, almost the size of a small pea and drop it in the oil. If the dough first sinks to the bottom and then after a 3-5 seconds sizzles its way to the top then the oil is ready. If its just sinks to the bottom and doesn't come up, its too cold heat up a little longer. If it sizzle right away then it is too hot, turn the heat down and let it cool down a little.
You can either hot kachoris with tomato ketchup, some chutney or traditionally as we do in India by breaking it into two parts and drizzling some tangy tamarind chutney, hot cilantro chutney, a dollop of spiced yogurt and some fresh salad of pickled onions or radish. Enjoy with some hot spiced tea!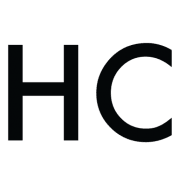 Prerna Singh
Prerna is a food writer and photographer who contributes to sites like Menuism and WFAEeats (NPR Charlotte). With a goal of making Indian cuisine approachable, she created Indian Simmer, a blog nominated for 2011 Best Food Blogs by Saveur Magazine.