Khao Soi with Soba Noodles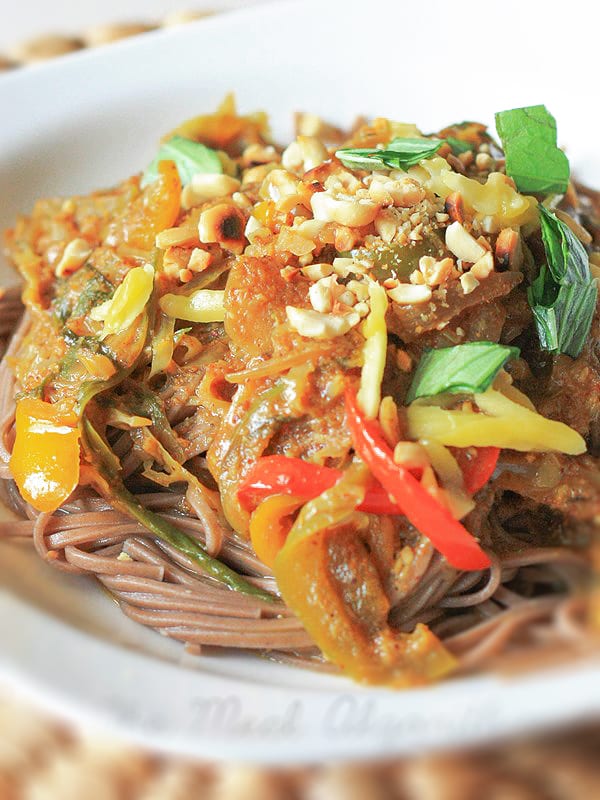 The tons of vegetables in the curry and the use of coconut milk makes this both vegan and super healthy.
By Preethi Vemu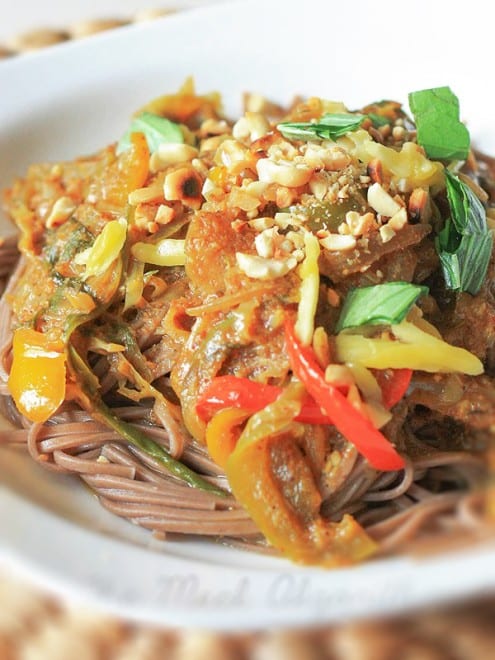 Since the curry is simple, and the noodles can be anything from glass noodles to Soba to express instant noodles, this is a perfect weeknight dinner idea.
Khao Soi with Soba Noodles
The tons of vegetables in the curry and the use of coconut milk makes this both vegan and super healthy.
Author:
Preethi Vemu, adapted from The Kitchen
Ingredients
Thai curry powder – 2 Tbsp , or as required by taste, recipe below
Onions – 1 + 1 , medium
Garlic – 5-6 cloves
Ginger – an inch piece
Sugar – 1 Tbsp
Coconut milk – 400 ml
Dessicated coconut – 2 Tbsp
Peanuts – a handful, roasted
Thai Basil – a few leaves, for garnish
Lemon juice – as required for garnish
Vegetables – 1.5 C, a mix of bell peppers, cabbage or anything else you might think of, diced
Salt – to taste
Soba noodles – 2 bunches, cooked as per instructions on the pack
Cooking oil – 1 Tbsp. I used peanut oil.
Thai Curry Powder
Bay leaf - 2
Coriander seeds – 3 Tbsp
Cumin seeds – 2 Tbsp
Ginger powder – 2 Tbsp
Black peppercorns – 1 Tsp
Red chillies – 2-3
Clove – 2
Turmeric powder – 1 Tbsp
Instructions
Grind one half of the onions, garlic and ginger together and keep aside.
Heat the oil in a pan, and saute the onions till it turns baby pink in colour. Add the onion, garlic and ginger paste to this and saute more.
After 5-6 min, add the diced vegetables to this and saute more. Add the curry powder, coconut milk and the dessicated coconut to this and stir. Let the curry boil on a medium flame for 5-6 min. Mix sugar and salt.
Serve hot with the roasted peanuts, basil and lemon juice as garnish on the noodles.
Thai Curry Powder
Dry roast all the ingredients except turmeric and ginger powders. Remove from heat and mix the powders.
Store in a cool dry container and use for curries as required.
Preethi Vemu
Preethi loves tea, animals, food and her Kindle. When she is not busy being a geek, she dreams about seeing her name in print media some day . An avid reader and an amateur food photographer, Preethi lives in Hyderabad, India with her husband who is subjected to all her culinary experiments.