The French ouefs mollets are similar to American soft-boiled eggs, get a super simple recipe for this quick breakfast here.
By Carly DeFilippo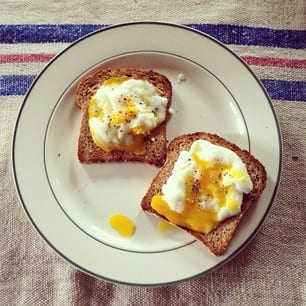 When I lived in Paris, the first meal that I ordered in a restaurant was oeufs à la coque. The description of ingredients sounded like an omelet, but that it was not. Instead, I received a salad and two piping hot, completely uncooked eggs. Uncooked to the point that I wasn't even sure they were edible. But, out of embarrassment, I ate every last bite. (The added irony? The French word for omelet is omelette. Whoops.)
I never quite got used to eating runny egg whites, but later in my time abroad discovered oeufs mollet—essentially a creamier version of American soft-boiled eggs. The whites are cooked, but still moist, and the yoke is just touched by heat, so that you still have to crack it open to release the golden liquid I like to think of as "egg butter."
Of course, I experimented with all different ways to achieve the same effect at home, and found that the best results came from water that was heated to a piping hot boil, then removed from the heat. Out of laziness or sheer genius, I decided my electric kettle (a staple in French kitchens) was the perfect place to achieve this effect, as it did an even better job than a stove-top pot of retaining heat after having stopped boiling.
Hence, my invention of "kettle eggs." To this day, it's still my favorite breakfast.
Kettle Eggs
The French ouefs mollets are similar to American soft-boiled eggs, get a super simple recipe for this quick breakfast here.
Ingredients
Two eggs
Toasted bread
Water (enough to fill a large kettle ¾ of the way)
Instructions
Fill a large electric or stove top kettle ¾ of the way.
Bring to a full, piping-hot boil.
Turn off the heat.
Gently place two eggs into the kettle and close the top.
Time six minutes, swiftly remove eggs and promptly rinse with cold water until cool enough to handle.
Crack eggs open (carefully) and scoop the insides out onto the toasted bread of your choice.
Sprinkle with salt and pepper to taste.