Karaage is a Japanese-style fried chicken. They are best served immediately simply with wedges of lemon, as it adds a wonderful balance to the fried wings. You could also serve with a small bowl of Japanese mayonnaise and a bottle of Shichimi Togarashi to sprinkle for some added heat.
By Sara McCleary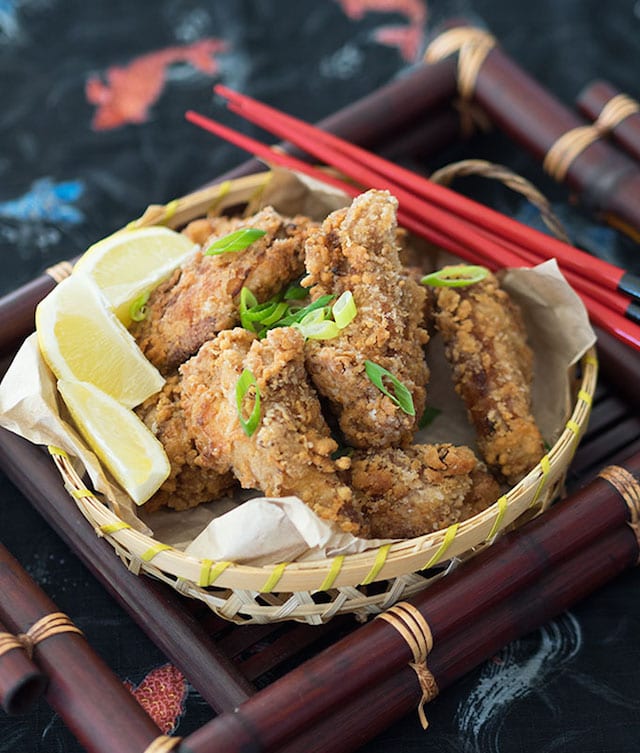 A little secret sharing first. This wasn't meant to be a chicken wing recipe, it was meant to be an Aussie sausage roll recipe to celebrate Australia Day, which is fast approaching.
A very important fact about pineapple was discovered over the weekend. It is a brilliant tenderiser for meat. So much so, that it turned the filling of my macadamia and pineapple sausage rolls into a non textural funky paste. A slightly grainy paste with no texture whatsoever except the occasional chunk of macadamia nut here and there. Quite a bizarre result, very funky to eat, and one I wasn't going to palm off on you.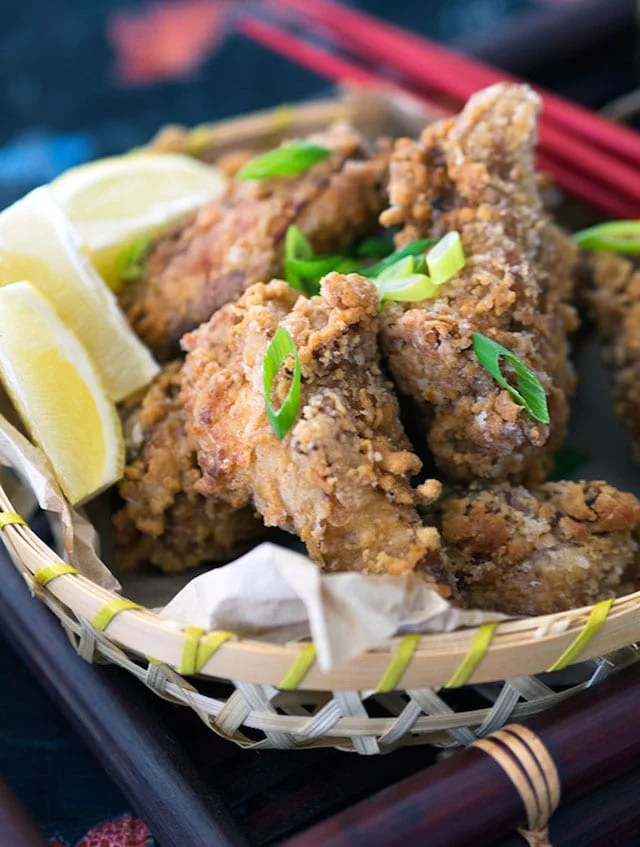 Luckily I had this recipe up my sleeve to share. If you are a fan of karaage chicken, those little fried Japanese chicken nuggets of tasty goodness, and then you will love these. Exactly the same deep fried tastiness, but in wing form. As chicken wings are a finger food, they couldn't' be anything else could they? You will be finger licking your way to food utopia with this recipe.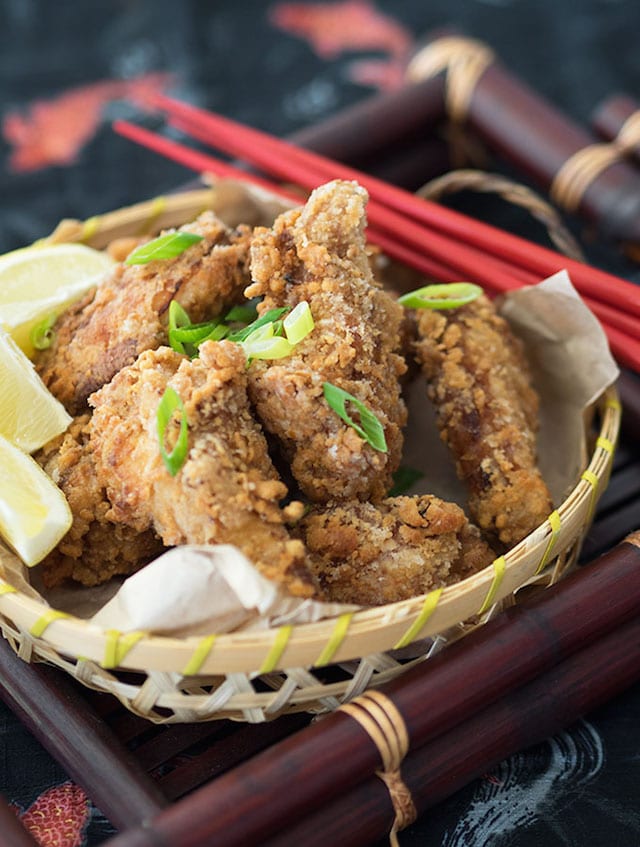 Print
Karaage – Japanese Fried Chicken
Author:

Sara McCleary

Category:

Appetizer
1

kg chicken wings

60

ml soy sauce

60

ml mirin

1 tablespoon

sake

2 teaspoons

freshly grated ginger and the juice

2

garlic cloves (crushed)
katakuriko or potato starch to coat (you can substitute cornflour)
oil for deep frying
lemon wedges to serve
Instructions
Remove wing tips from wings (the pointy end section). Then cut the remaining wing in half at the joint. You will end up with a piece resembling a small chicken drumstick and the flatter mid wing section.
In a large bowl place soy sauce, mirin, sake, ginger & juice and garlic, mix well. Place chicken wings in the bowl and toss well.
Cover bowl with plastic wrap and place in the fridge, leave to marinate for a couple of hours.
In a wok, pour in oil until around 7cm deep. Heat wok over a medium heat to 170°C (340 deg°F) and pre heat your oven to 120°C (250 deg°F). Line a baking tray with baking paper and set aside.
In a large bowl place katakuriko or potato starch. Working with 3 or 4 pieces at a time toss wings in the starch mix until they are coated well. Shake off any excess flour and place in the wok to fry.
Fry for around 8 minutes and then turn the chicken over and fry on the reverse side until cooked.
Remove the wings from the oil, shake off any excess and drain on some kitchen towel. Then place the chicken on the baking tray and place in the oven to keep warm.
Repeat with the remaining chicken wing pieces.
Serve wings with wedges of lemon.
Sara McCleary
Food is a passion, not only eating but developing recipes with uniqueness and wow factor. Travel and photography fall a close second to food. A gifted recipe developer and food photographer. My blog, Belly Rumbles, was created to share my love of these things with willing readers. The ones that can put up with my rambling babble.