Kaow Soi Gai: The Thai Recipe Everyone Should Make
Expand your Thai cooking knowledge beyond pad thai and learn how to make Chiang Mai's famed kaow soi gai.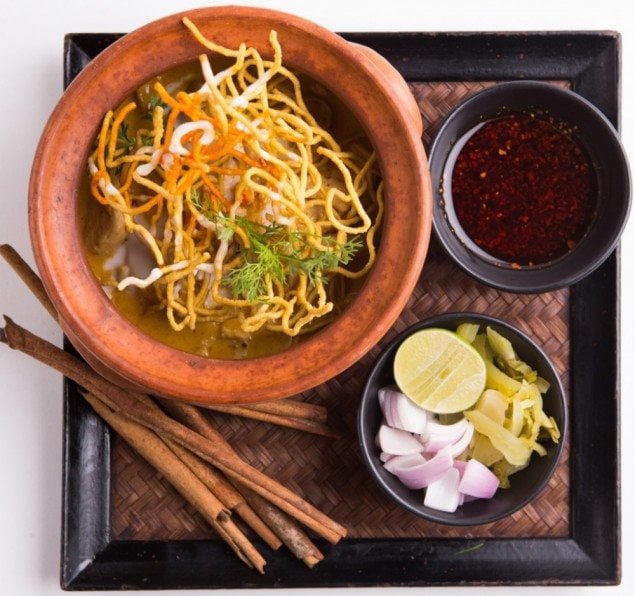 A truly authentic recipe from Chiang Mai, Thailand is Khao Soi Gai. Sweet, sour, hot and spicy are some characteristics of Thai cuisine. Before you jump in the kitchen and whip up yet another Pad Thai, Green Chicken Curry or Tom Yum Soup, consider the lesser known dish, Khao Soi Gai from Chiang Mai.
To give you a better idea of this culturally immersive dish, it's a Northern Thai Coconut Curry Noodle Soup with flavours every foodie will love. For a truly authentic version, I've turned to the professionals and asked my friends at Four Seasons Chiang Mai for their amazing rendition.
Check out the video for an easy how-to version of the recipe AND don't forget to read through all the wonderful tips from the Four Seasons Chef on how to make this recipe to impress even your most discerning Thai friends.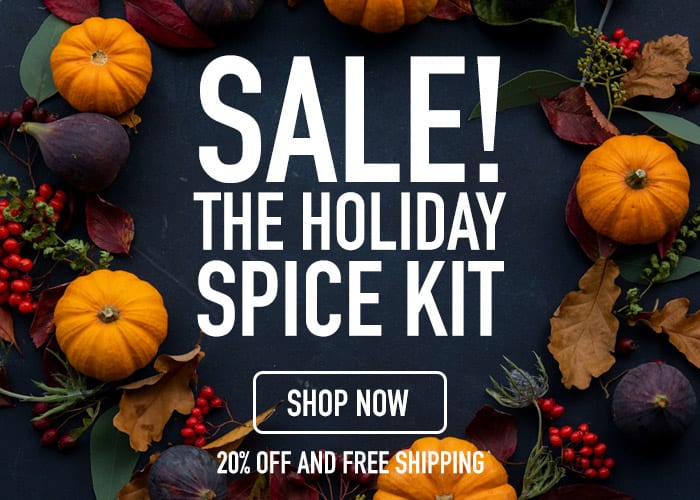 Chef Tips from Chef Stephane Calvet On Making The BEST Kaow Soi Gai
-Prepare the red curry paste which is made of shallot, garlic, chili and etc (recipe provided below) in advance and set aside.
-Then when we cook Kaow Soi, after heating a wok, add coconut milk with red curry paste then add in the Hung Lay curry powder. *The Hung Lay curry powder is originally from Burma but you can easily buy it from Asian grocery store. If you can't find it, the option is to use "Garam Masala" – Indian spices from North India.
-"Red Curry Paste" is the key! Before you use the pestle and mortar to blend ingredients together, you may grill Shallot, Garlic and Chili until cooked and peel off burned skin. This will bring out a deliciously fragrance.
-Make sure you use the thick and creamy coconut milk – no skim here!
-Add all seasoning (Fish sauce and Palm sugar) at the end of cooking.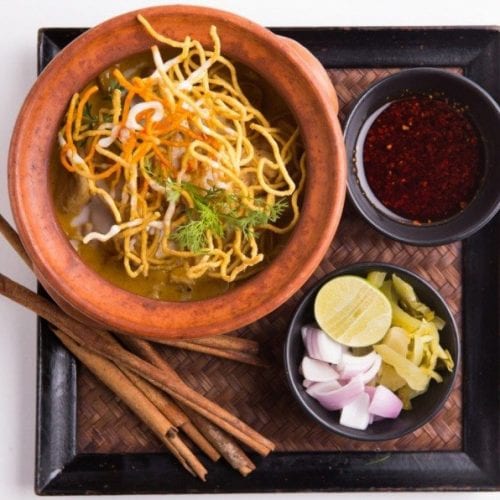 Ingredients
Chicken 100 gr sliced Nua

Egg Noodle 2 pcs. fresh or dried Bamee

Red Curry Paste 1 tbsp. Narm Prig Gaeng Daeng

Hung Lay Curry Powder 1/4 tsp. Phong Hung Lay

Yellow Curry Powder 1 tsp. Phong Garee

Coconut Milk 1 cup ½ cup Gathi

Chicken Stock 1 cup Narm Soup Gai

Fish Sauce 1 tbsp. Narm Pla

Palm Sugar or Brown Sugar 1 tsp. Narm Tan Thai

Coriander 2 pcs. Pak Chee Larb
Garnish
Spring Onion 1/2 tbsp. Sliced Hom Soi

Condiment Ingredients

Lime Half pc. Ma Naow

Shallot 1 tbsp. Hom Daeng

Chilli Oil Prig Kaow Soi
Red Curry Paste
Shallot 1 tbsp. Chopped Hom Daeng

Garlic 1 tbsp. Kra Thiem

Dried Jalapeno Chilli 10 pcs. Prik Chee Fa Daeng Haeng

Galangal 1 tbsp. Sliced Kha

Lemongrass 1 tbsp. Chopped Ta Krai

Coriander Root 1 tsp. Chopped Raak Pak Chee

Kaffir Lime Skin 1 tsp. Ma Grood

Shrimp Paste 1 tsp. Gapi

Salt 1 tsp. Glua
Instructions
Heat the wok with the vegetable oil, then deep fried the egg noodle. Set aside.

Blanch the egg noodle in boiling water and place in a soup bowl with Thai coriander.

Heat a wok and add half ladle of coconut milk and stir until coconut milk boils.

Add red curry paste, mix it with coconut milk, add hung lay curry powder, Mix well.

Add chicken slice and keep stirring until chicken turns a bit white color. Then add rest of coconut milk and stir.

Bring to a boil again. Add Chicken stock, Thai Fish Sauce and Palm Sugar paste. Then reduce the heat of gas.

Keep cooking for 3-4 minute

Pour the curry soup on top of the egg noodles.

Garnish on top with crisp noodle and sliced spring onion.

Optional – if need more flavors, add in condiment for a stronger taste
Red Curry Paste
Combine all the ingredients except the Oil in a blender and process until smooth.

Heat a small skillet on medium-high heat and add the Oil. Slowly fry the Curry Paste for 5 minutes until it is fragrant. Remove and store in a jar for further use
Michelle Tchea
Michelle Tchea is a 4-time bestselling author. Her books include, Building a Perfect Meal, My Little SoHo Kitchen, Signature Dishes (Australia's Best) and Chefs Collective. Her work can be found in other leading luxury travel and food magazines including Travel+Leisure Asia, SMILE, NUVO Magazine and The Telegraph