Kadhai Mattar Paneer – Cottage Cheese an Peas in Gravy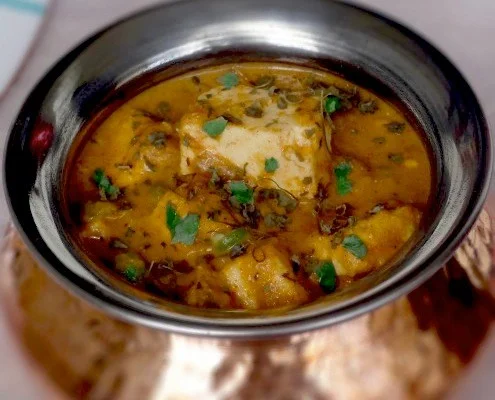 Luscious cubes of cottage cheese in a lovely cashew gravy garnished with dried fenugreek leaves promises to be a runaway hit.
By Priya Sreeram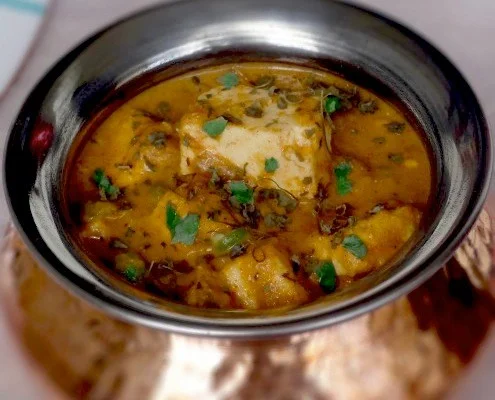 My daughter's love for paneer (cottage cheese) in any form is well known, and this dish was dot on to warm her heart & our hearth. The recipe courtesy kavita @ Edible Entertainment was tweaked to suit our palate.
Serve it hot with rotis/phulkas/parathas (Indian Flat Bread), tortillas or rice.
Luscious cubes of cottage cheese in a lovely cashew gravy garnished with dried fenugreek leaves will promise to be a runaway hit .
Ingredients
Cottage Cheese / Paneer - 400 grams
Onion - 3 - large - thinly sliced
Green Peas / Mattar - fistful
Tomato - 3 - small - finely chopped
Bell Pepper (Green) - ½ - finely chopped
Cashew Nuts - a fistful
Garlic - 3 pods- large
Green Chili - 1 to 2 - to taste - finely chopped
Coriander Powder - 2 teaspoons (used store bought else dry roast coriander seeds & grind them into a fine powder)
Red Chili Powder - 3-4 tsp - to taste
Garam Masala Powder - 2 tsp - to taste - store bought
Dried Fenugreek Leaves / Kasoori Methi - 1 tbsp
Salt - as per taste
Cooking Oil - 2 tsp
Water - as required
For the Marinade
Yogurt / Curd - 2 to 3 tablespoon
Red Chilli Powder - 1½ tsp - to taste
Salt - a little
Instructions
Start with marinating the cottage cheese.Cut them into cubes, and mix with the yogurt/curd, little salt , red chili powder and let it rest in the fridge for about 90 minutes.
Boil the peas in microwave or on the stove, strain water & keep aside.
Making the base for the gravy is the next step. Heat 1 tsp oil in a pan. Add the green chillis, garlic,half of the sliced onions, tomatoes & cashew nuts and stir till they start changing color. Take off flame, let it cool and transfer the mix to a blender. Add garam masala, coriander powder and blend until you get a smooth paste. Add little water if required.
Again, heat 1 tsp oil, add the remaining cut onions & satué for 30 seconds & add the capsicum. Add the pureed blend to the onion-capsicum in the pan and give it all a nice mix. Let it cook on medium-high flame for at least 5 minutes or till the raw smell evaporates. You can add around ¼ to ½ cup of water to it & let it boil.
Meanwhile - take half cup of warm water. Add the dried fenugreek leaves & let it rest for a few minutes.
Take the marinade from the fridge and tip it to the gravy cooking it on medium flame. It has to cook for around 2-3 minutes.
Add the boiled peas, dried fenugreek to it . Mix well and once it simmers take it off flame.
Serve it hot with rotis/phulkas/parathas (Indian Flat Bread) ; tortillas or rice.
Priya Sreeram
Priya is an enthusiastic foodie who loves to experiment with different types of cuisine. She chronicles her heart and hearth adventures on the blog Bon Appetit, which has recipes ranging from simple to exotic.