The COVID-19 put a spoke in everyone's wheel, including the 2020 Summer Olympics. But fear not, 365+ days later, the Games have kicked off in Tokyo–making it the second time Japan hosts the event. To celebrate the special occasion, sipping on a Japanese spirited cocktails while watching Sunisa Lee perfectly execute a somersault – seem only fitting.
Ani Ramen, iichiko Shochu and TYKU Sake have kindly shared their Japanese spirited cocktail recipes (also inspired by the Games) to help us celebrate.
Cucumber Cooler
Created by: TYKU 
Ingredients:
1.5 oz TYKU Cucumber Sake
1.5 oz Lemonade
Mint garnish
Method:
Fill rocks glass with ice, pour TYKU Cucumber sake over ice and top with lemonade. Garnish with a mint sprig.
TYKU is crafted in the heart of Nara, Japan, which is often referred to as 'the birthplace of sake.' One of my favorite Sake cocktails to make with this delicious spirit is the Cucumber Cooler. It's simple yet flavorful, and perfect to whip up in large batches for a summer games viewing party." – Lindy Wyss, Brand Representative for TYKU Sake
Yuzu Spritz
Created by: iichiko 
Ingredients:
2 oz iichiko Saiten
0.75 oz Lime Juice
0.75 oz Simple Syrup
0.25 oz Yuzu Juice
Topped with Club Soda
Mint Sprigs
Method:
Mix all ingredients except Club Soda into cocktail shaker with Ice. Shake, then strain into Rocks glass with Ice. Top with Club Soda and garnish with Mint.
The Yuzu Spritz is the perfect drink to mix while watching this year's games. Shochu, the main spirit in the cocktail, is the native spirit of Japan, and iichiko is one of the leaders in the making of this Japanese delicacy. Paired with yuzu, this cocktail will transport you right to the heart of Tokyo. Plus it's incredibly refreshing for these hot days!" – Natasha Velez, Brand Representative for iichiko.
The Suika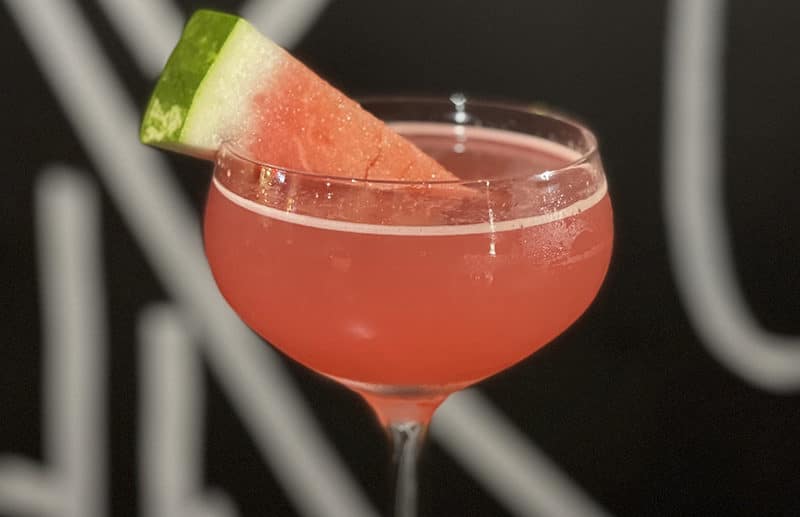 Created by: Ani Ramen
Ingredients:
2 oz. iichiko 25 Silhouette Shochu
2 oz. Watermelon Puree
1/2 oz. Lime Juice
1/2 oz. Simple Syrup
1/4 oz. Elderflower Liqueur
Method:
Combine iichiko, watermelon puree, elderflower liqueur, lime juice, simple syrup and ice in a shaker. Shake vigorously and double strain into a coupe glass. Garnish with a watermelon wedge.
The sweetness of the watermelon is a welcome sip of summer with a gentle kick of shochu, perfect when watching the games." — Nick Jansen, Beverage Director of Ani Ramen in Jersey City and New Brunswick