What's beats sipping a cocktail in the sun and soaking up glorious city views? Nothing much. These new rooftop bars all specialize in great views, great drinks, and summer vibes. Below you'll find a summary of what each rooftop bar has to offer. Also check out what each bar's mixologist has to say about their must-try cocktail. 
SkyBar, AC Hotel Orlando Downtown
SkyBar is AC Hotel Orlando Downtown's chic summer rooftop bar. It offers a terrace with endless views of "The City Beautiful." Here, handcrafted classics like AC's signature gin & tonic complements the one-of-a-kind menu. The signature libation has Hendricks Gin and white orb. The latter when popped gently releases plumes of elderflower herbals. For the foodies, AC Kitchen also serves a variety of Spanish-style tapas. These include Tortilla Española, meatball cazuela and crispy potatoes. 
"The cocktail is an homage to the unmatched views of Orlando…and serves to mimic the feeling of being in the clouds. We create the cocktail with Hendricks Gin and with some mixology magic. The Cloud pairs well with any of our inspired tapas menu selections. My personal favorite is the La Quercia Prosciutto Toast or our AC Burgers." – Mixologist, Robert Mason, Director of Beverage & Food
Sommitá Rooftop Bar, Grand Universe Lucca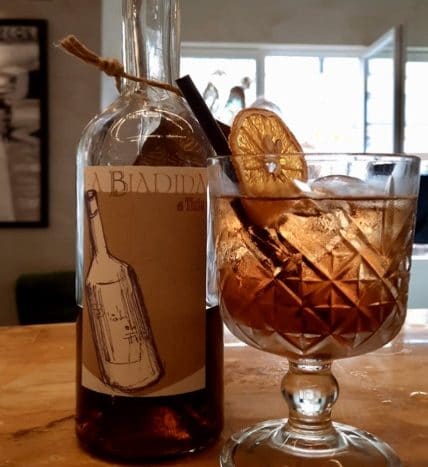 The Sommitá rooftop bar offers a unique place to gaze and admire Lucca. Debuting amidst a pandemic, the Sommitá rooftop bar is an exciting addition to the culinary scene. It takes pride in the walled city's history and also features a musically inspired cocktail list and digestivos. While, the Fuori di Tista cocktail is a fan favorite it also brims with historical significance. 
"One of the most famous and well-known drinks in Italy is the Spritz. This is our way of making our own. La Biadina has a taste of cinchona as well as rhubarb with a sweet finish reminiscent of dried fruit. The Spritz's base is the Biadina. Additionally, it has prosecco, a splash of soda, caramelized dehydrated orange and alcoholic frangelico. When it's paired with Lucca's cream and buccellato cake, the enhanced notes of almond and hazelnut comes out. It finds balance in the cream's delicacy and the sparkling wine's bubbles." Head Mixologist, Alessandro Sainati
Lumin SkyBar, 
AC Hotel Columbus Downtown
Lumin SkyBar, atop the recently-opened AC Hotel Columbus Downtown boasts panoramic city views. The bar offers Spanish-inspired small plates, along with craft cocktails…Notably, Lumin serves as a starting point for guests to experience city's bustling art, culture, and culinary scenes.
"Summer's evening stands out with bright colors and a paring of watermelon–infused with tequila and strawberry. Inspired by the song 'Watermelon Sugar High', it complements mixed green salads or tortilla chips with Pico de Gallo." Mixologist, Ethan Anderson, bartender.
901, Hyatt Centric Las Olas
Hyatt Centric Las Olas in downtown Fort Lauderdale just debuted 901.  A guest room turned private speakeasy, 901 is not your average hotel bar. Opened in February 2021, the secret space has earned a reputation as the area's hottest new bar. 
"The ambiance at 901 throws guests back to the 1920s. We developed the cocktails to complement that aesthetic. The bar's popular cocktail is called Center of Attention. It has Herradura tequila, Cristalino, Grapefruit Juice, Lime Juice, Guava, and Simple Syrup. It's also served with a flaming garnish that equally inspired the cocktail's spunky name. Definitely, Chef Greg McGowan's Mini Warm Connecticut Style Lobster Rolls is a must for the cocktail." Mixologist, Kayla Czarnomski, 901 Bartender
Hyatt Centric Beale Street Memphis, 
Beck & Call 
Beck & Call is a rooftop whiskey bar where the cocktails are only rivaled by the city views. Located in Hyatt Centric Beale Street Memphis, this hotspot is Memphis' only rooftop bar. It also offers premium views of the Mississippi River and pays homage to the city's rich music culture. 
"The refreshing Mango Ginger Spritz stands out as a well-balanced summer drink. It uses an amazing new aperitivo from martini & rossi called Fiero, house-made mango and ginger syrup. A go-to for the Spritz is Beck & Call's cheese plate. Although it goes well with other appetizers or finger foods, it's best with cheese and cured meats like the prosciutto." Mixologist, Jeff Sawyer, Bartender at Beck & Call