Get your hands on some jackfruit and be sure to save the seeds so you can make this hearty jackfruit seed curry.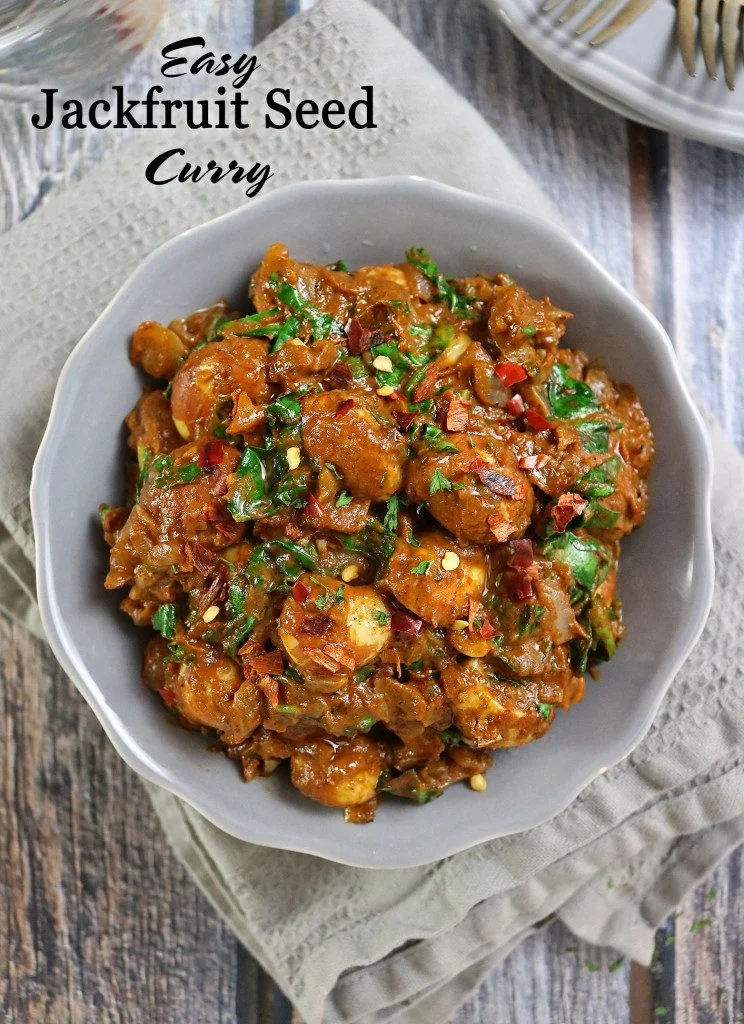 If you happen to get your hands on a jackfruit, please don't throw the seeds away. Instead, wash, boil and peel them and then use them in this hearty and filling Easy Jackfruit Seed Curry.
While jackfruit might not be a popular or easily available fruit here in America, it was plentiful in Sri Lanka, where I grew up.
If you haven't ever come face to face with a jackfruit – it can be a bit intimidating. It's HUGE. A tad bit spiky. And, some people say the ripened ones have a rather odd odor. Now, I might have olfactory issues, but, I tend to think their aroma is kinda intoxicating! When I was younger, I seemed to eat jackfruit all the time. There was young (unripened) jackfruit curry, jackfruit chips and even jackfruit ice cream! My mom would even make a mean roasted jackfruit seed dry curry.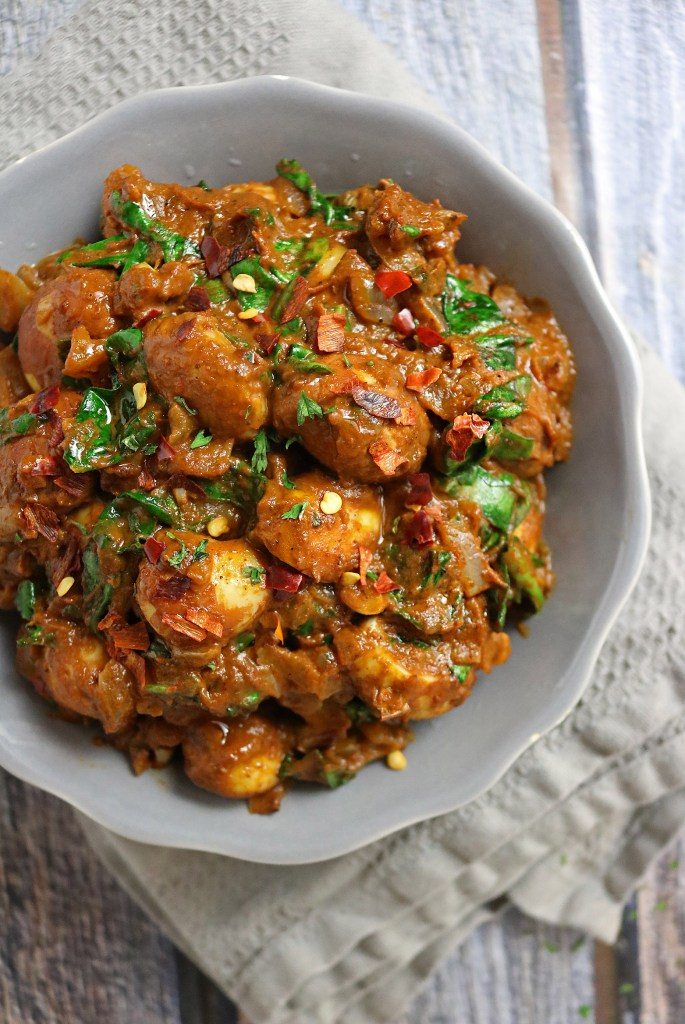 But, after I moved away from Sri Lanka to countries where jackfruit was less popular, I kinda forgot about it. Outta sight outta mind – right?!
Well, recently I happened on a some cut up chunks of ripe jackfruit at a little South Asia store I frequent and brought some home so my daughter could get her first taste of it.
See Also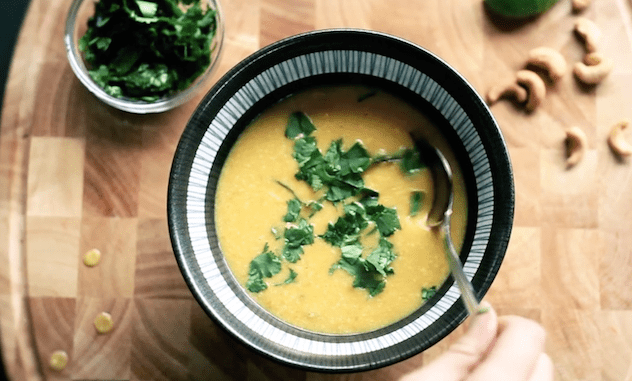 We cut the sweet pods out and enjoyed some of them plain and some of them in this Mango and Jackfruit Shake I shared on Facebook. When all we had left were the jackfruit seeds, I figured I'd attempt to make them into a jackfruit seed curry. Now, I boiled and peeled the outer shell of the seeds like I remembered my mom doing. Then I simply added in a plethora of spices along with garlic, onions, ginger, tomato paste, coconut milk and spinach and crossed my fingers and hoped it would be edible. When it was done, my daughter and I dug in, and I gotta say, while this jackfruit seed curry doesn't taste like my mom's, it sure was delicious and hearty! We enjoyed this curry over a couple of days with rice and pita bread. Am hoping if you happen to pick up a jackfruit, you save those seeds and hopefully give this Easy Jackfruit Seed Curry a try…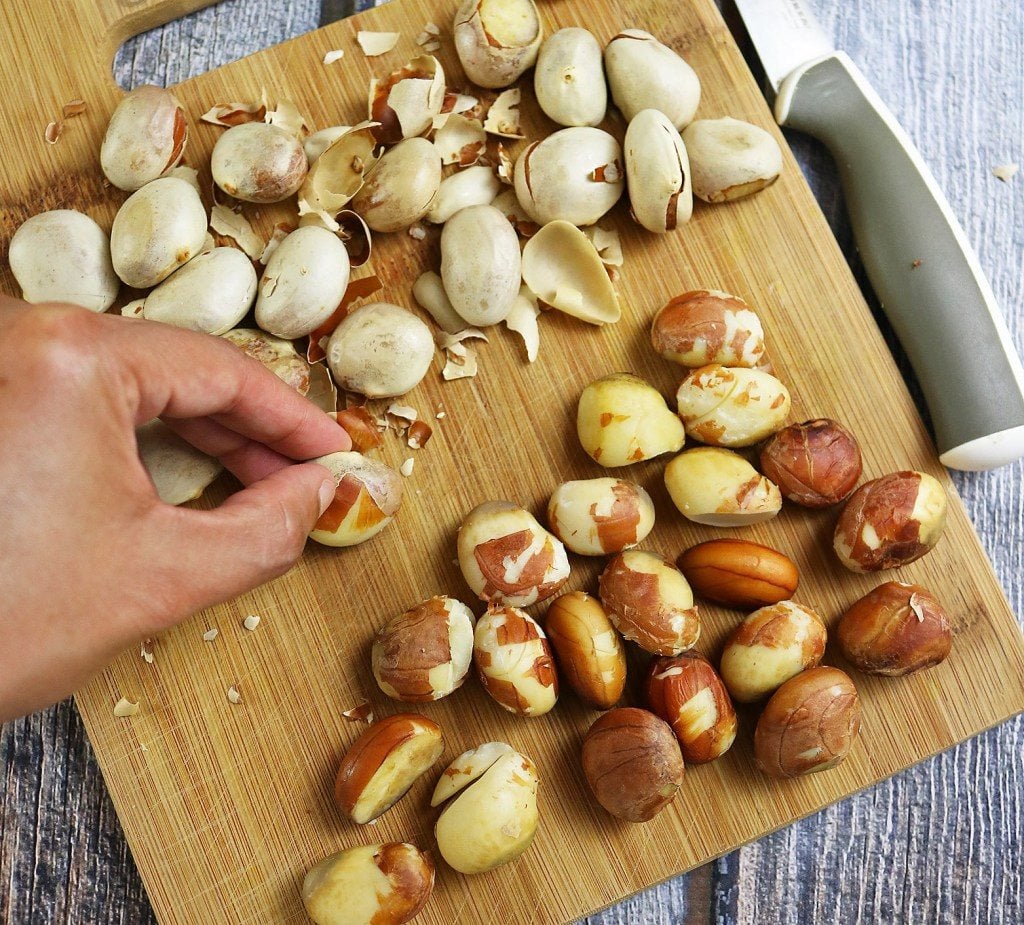 Print

Jackfruit Seed Curry
---
Author:

Shashi Charles

Total Time:

55 minutes

Yield:

6

servings

1

x
Description
Get your hands on some jackfruit and be sure to save the seeds so you can make this hearty jackfruit seed curry.
---
olive oil

1

onion chopped

2

cloves garlic diced

1 tsp

fresh grated ginger

3/4 cup

water

2 tbsp

tomato paste

3 tbsp

coconut milk

1 tbsp

garam masala

1 1/2 cups

jackfruit seeds

1 cup

fresh spinach
salt and pepper to taste
---
Instructions
Place the jackfruit seeds in a pan, add enough water into the pan to cover the jackfruit seeds and boil them for 25 minutes.
Let them cool, when cool enough to handle, slowly peel off the outer white covering.
Then, add some olive oil to a pan and add the onion to it. Let onion saute for about 10 minutes.
Add in the garlic, ginger, peeled jackfruit seeds, water, tomato paste, and garam masala and mix well and let simmer for about 10 minutes.
Then add in the coconut milk and spinach, when spinach is wilted, season with salt and pepper and enjoy with rice, naan, chapati or pita bread.
Prep Time:

10 minutes

Cook Time:

45 minutes

Category:

Side
Shashi Charles
I am a healthy food lover - and tricking my loved ones into eating their veggies disguised as treats is my specialty! I am also a graphic designer by day and blogger by night and a mom 24/7!