Chris Cockren explores Gotham West Market's creative new eatery, Ivan Ramen Slurp Shop.
By Chris Cockren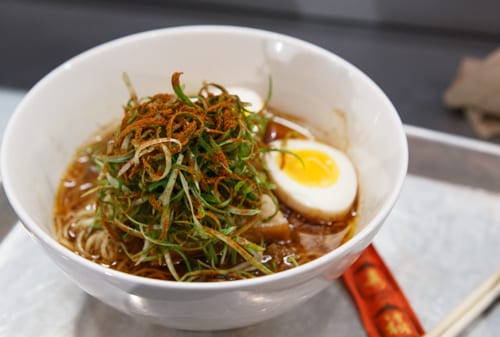 Ramen is to Japan like pizza is to New York. Iconic food. New Yorkers are highly critical of their pizza, just as the Japanese are to their ramen. Would you expect a pizzeria opened up by a nice born and bred Japanese fellow to succeed here in New York? Probably not. So when Ivan Orkin, a self-described "Jewish kid from Long Island", decided to open up shop in Japan, his dream of ramen stardom seemed destined to fail. But it ended up anything but. Chef Orkin's ramen quickly gained a cult following in Japan, and his first outpost back here in the states was one of the most highly anticipated restaurant openings of the year. How did it stack up? Let's just say I've been there 4 times within the span of 3 weeks. I'm in love. It's all I can think about. I'm officially hashtag obsessed.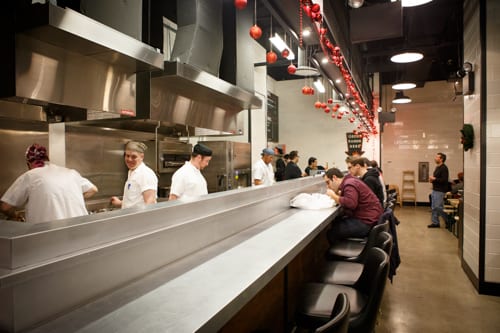 Ivan Ramen Slurp Shop is located within the brand-new Gotham West Market in Hell's Kitchen. A gourmet food court of sorts, the Gotham West Market opened back in December and contains eight food purveyors serving up a myriad of different foods. To avoid the lines, go during an off-peak eating time. On two subsequent trips during typical lunch and dinner hours, it was packed. My buddy Steve and I chatted up one of the ramen chefs working the line during one visit and he shared some fun tidbits of info. Only one of the chefs at Ivan Ramen Slurp Shop actually apprenticed with Ivan Orkin in Japan. All the rest of the cooks really never actually cooked ramen before coming to the Slurp Shop. They all come from fine dining kitchens from across NYC. He said he wanted to come to Ivan Ramen because back in the day, he tried to get an apprenticeship with Ivan Orkin in Japan but was unsuccessful. He jumped at the chance to work for Chef Orkin when the Slurp Shop opened.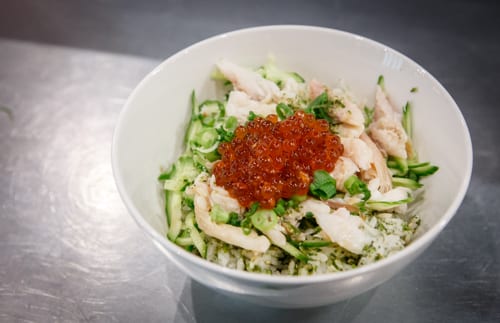 One of the most exciting bowls on the menu is not actually ramen. It's this Smoked Whitefish Donburi ($12), with salmon roe, sweet soy dash, cucumber, and scallion. When mixed all together, it's a beautiful symphony of flavors and textures. Warm rice, a subtely smoked flaky whitefish, bursts of salty salmon roe, and fresh cucumber and scallion make for an unforgettable dish. My Japanese friend Steve is absolutely in love with this dish. He's pretty critical when it comes to Japanese food and was highly skeptical of Ivan Ramen when I told him about it (a Jewish guy doing ramen, really?), but this Smoked Whitefish Donburi made him a huge fan. My favorite bowl on the menu is probably this vegetarian Chili Eggplant Mazemen ($13), but I always add in Egg ($2) and Pork Chashu ($3). It is simply amazing. The soy sauce and vegetable broth is studded with slow-cooked eggplant and tomato, and topped with scallions dusted with powdered chipotle peppers. Definitely a far cry from "traditional ramen", but frankly, I don't care. The thin noodles are made by Sun Noodle, the premiere noodle company in the area, using Orkin's recipe featuring rye flour (an ode to his Jewish heritage). As soon as the noodles hit the water to cook, a timer for precisely 40 seconds starts. The resulting rye noodles are fresh and have a nice bouncy, elastic chew. The pork chashu (pork belly) is meaty and rich. It's probably the most enjoyable pork belly I've had in a bowl of ramen so far (as compared to Ippudo, Chuko, Momofuku, and Bassanova). On a recent visit, Chef Orkin was actually working the line inspecting the pork chashu. I overheard him tell his cooks that the extra fatty pieces were unacceptable and there needs to be a good amount of meat on each.
And hey, good news:
Ivan Orkin has a Lower East Side restaurant in the works and will hopefully open soon. Besides offering ramen similar to the ones at the Slurp Shop, his LES menu will also offer a lot of different small plates meant for sharing. I, for one, cannot wait.
Ivan Ramen
600 11th Ave
(between 44th St & 45th St)
New York, NY 10036
(Hell's Kitchen, Midtown West)
212-582-7942