Get cozy with these Italian meatballs and spaghetti squash served with an extra-creamy tomato sauce.
I am a major pasta enthusiast and there is nothing in this world that can replace it or mimic it (I'm looking at you, cauliflower gnocchi and zoodles). I love that we're becoming more veggie-centric and creative when it comes to veggies, but let's not forget that pasta is the real deal and we should absolutely eat it whenever we want. Boom.
But, when I'm in the mood for a light dinner that showcases my favorite veggies, I'm all about the spaghetti squash (and the cauliflower gnocchi and zoodles). If you haven't tried spaghetti squash before, you're in for a fun surprise. When cooked and fluffed with a fork, the squash looks almost identical to real spaghetti. (and can be baked or microwaved, if you're in a hurry). I like to keep the squash strands in their shells (like little boats!) and stuff it with all sorts of good stuff, like spinach and artichoke filling or these Italian meatballs with homemade tomato sauce.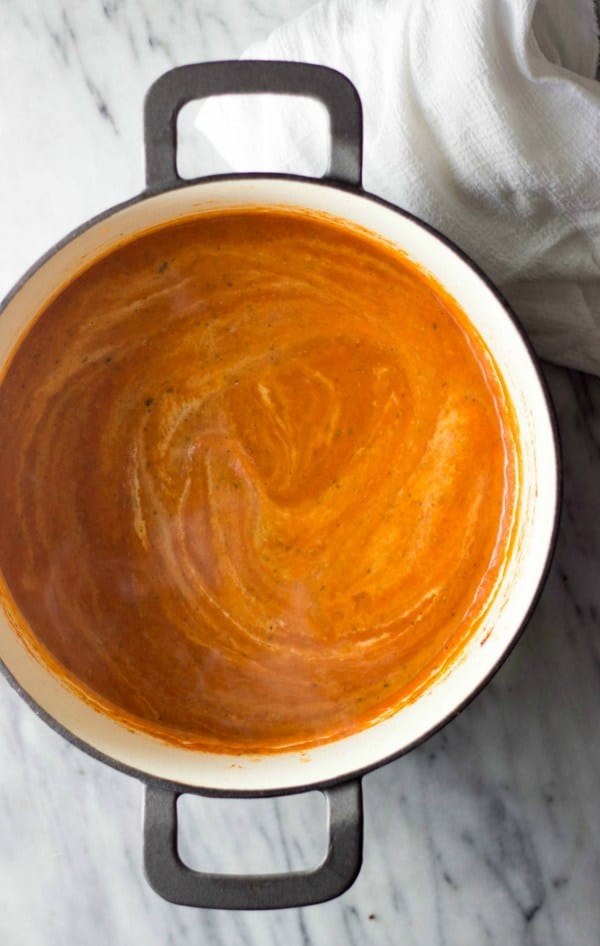 The meatballs are loaded with lean beef, Italian sausage, Dijon, Italian seasonings, Panko and eggs and roasted until crispy on the outside and juicy and tender on the inside. I cannot keep track of how many times I've said those words in regards to so many of my recipes, lol. I guess there is a theme – most things are delicious when crispy on the outside and juicy and tender on the inside! There, I said it again.
And this tomato sauce, you guys, is freakin' delicious. If you do a quick Google search for tomato sauce, you'll find at least 15,412 versions. And each of them will argue that there version is the best. But I'm here to tell you that their version likely doesn't have cream cheese in it, so how can they even argue? THIS VERSION HAS CREAM CHEESE IN IT. I don't know what possessed me to try adding it to my tomato sauce, but I am certainly glad I did. You only need a dollop of it to swirl in at the end, and voila, your grandma no longer has the best tomato sauce (jk, grandma). But honestly, it's pure creaminess and you should totally try it. The rest of the sauce recipe is pretty straight forward – slow saute onion in olive oil, add some garlic and Italian herbs (fresh and dried), San Marzano tomatoes (no exceptions), salt and freshly cracked black pepper and a bit of sugar. Simmered, then pureed until perfectly smooth.
Don't forget the cream cheese.
And freshly grated Parmesan on top.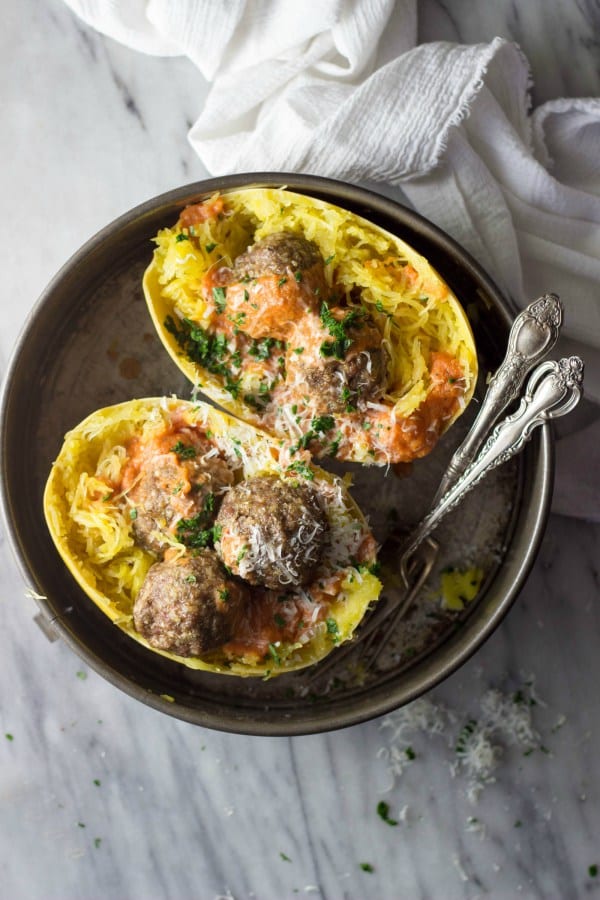 Click HERE for the meatball recipe.
Print

Italian Meatballs and Spaghetti Squash
---
Author:

Julie Andrews

Total Time:

1 hour 5 minutes

Yield:

8

servings

1

x
Spaghetti Squash:
Creamy Tomato Sauce:
1 Tbsp

. olive oil

½

medium yellow or white onion (peeled and diced)

2

–

3

cloves garlic (peeled and minced)

1 Tbsp

. Italian seasoning

½ Tbsp

. dried oregano leaves

1

32 oz. can whole San Marzano tomatoes

1/4 cup

fresh basil leaves

1 tsp

. coarse salt

½ tsp

. freshly ground black pepper

1/4 tsp

. crushed red pepper flakes

1 ½ tsp

. granulated sugar

2 oz

. about

¼ cup

cream cheese
Italian Meatballs:
Click the link above for the recipe.
Garnishes:
1/4 cup

freshly grated Parmesan cheese

1/4 cup

flat-leaf Italian parsley (chopped)
---
Instructions
To make spaghetti squash:
Slice spaghetti squashes in half and scoop out the seeds. Place face-down in a baking dish. Pour ½ cup water into the dish. Microwave on high 10-12 minutes, or until fork-tender or bake at 400 degrees for 45-60 minutes, or until fork-tender. Let slightly cool, then use a fork to loosen strands of squash. For serving, leave squash strands in the shell or remove and place in bowls.
To make tomato sauce:
Heat oil in a Dutch oven or high-sided pan to medium-low heat. Add onion and sauté 6-7 minutes or until soft. Stir in garlic, Italian seasoning and oregano. Add tomatoes and fresh basil and bring to a simmer. Crush the tomatoes with a wooden spoon, then let simmer 10-15 minutes. Stir in salt and black pepper. Use an immersion blender to puree the sauce until very smooth, or transfer mixture to a blender and puree until very smooth. Stir in sugar and cream cheese until cream cheese is melted. Taste and adjust seasoning, if necessary.
To make meatballs:
Preheat oven to 375 degrees. Fit a baking sheet with a wire rack and coat with cooking spray. Place all ingredients into a large bowl and mix with your hands until ingredients are thoroughly combined. Form into 2-inch meatballs and place on the prepared rack. Bake 17-20 minutes or until meatballs are set and internal temperature reaches 155 degrees.
Notes
*The spaghetti squash can be cooked in the oven @ 400 degrees for about an hour, or until fork tender.
Prep Time:

20 minutes

Cook Time:

45 minutes

Category:

Main
Julie Andrews
I'm Julie - The Gourmet RD - A recipe developer, food photographer, food writer/blogger, chef and registered dietitian. I make healthy food sexy and craveable! Simple, wholesome, delicious recipes from my kitchen to yours.