PARTNER POST — The holiday season is here and it is time to add some Italian flair to your menu with authentic ingredients from Colavita and Perugina's rich Italian chocolate.
Make a heartwarming holiday meal of braised short rib sauce over pasta and a sweet finish of chocolate and hazelnut Baci filled and baked apples.
By Jayme and Jessica Kauffman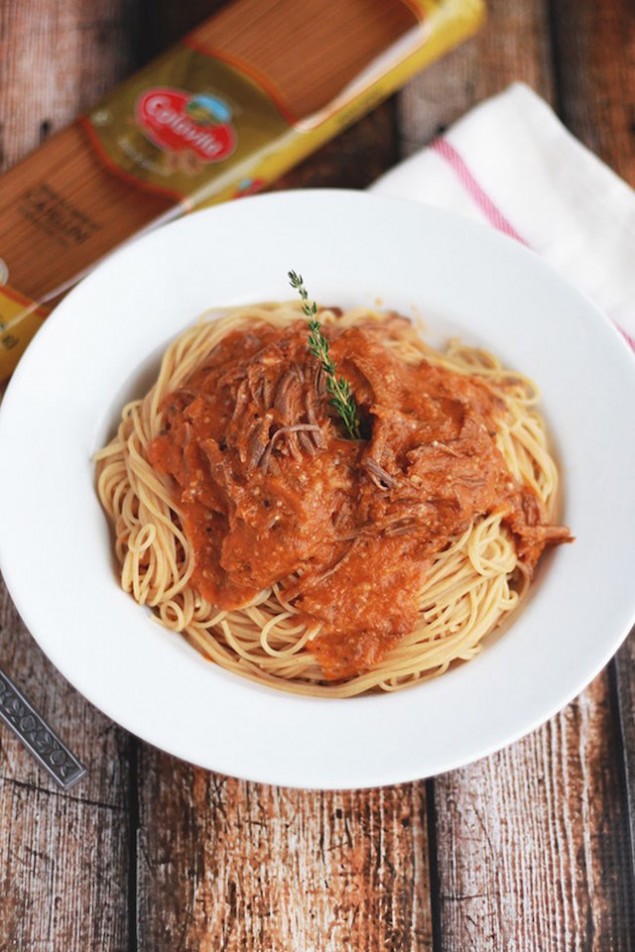 With the holidays fast approaching you're probably in a scramble to figure out what to make for your friends and family. Don't worry, we've got you covered! Italian food is always a crowd pleaser and these two recipes will be no exception. What's even better is that you can enter to win the ingredients used to make these dishes and bring them to life in your very own kitchen! If you're interested in entering, there is a link at the end of the post. Now on to the food!
This Short Rib Ragu with Colavita's Whole Wheat Capellini is the perfect comforting meal on a colder day. A simple tomato sauce with tender short ribs and al dente pasta makes for a winning combination. The short ribs take a boring pasta dish up a notch, making this a great option for a special get together or holiday.
The nutty whole wheat spaghetti complements the meaty short ribs and tangy tomato sauce. And the best part? It couldn't be easier to throw together!
Italian Holiday Table: Braised Short Rib Pasta
Make a heartwarming holiday meal of braised short rib sauce over pasta and a sweet finish of chocolate and hazelnut Baci filled and baked apples.
Author:
Jayme and Jessica
Cuisine:
Italian Inspired
Ingredients
1 Medium Onion, diced
2 Carrots, diced
2 Celery Stalks, diced
1 TBSP Colavita Extra Virgin Olive Oil
6 Short Ribs
(1) 28oz can Colavita Crushed Tomatoes
1 C. Red Wine (we prefer Merlot)
4 C. Vegetable Stock
1 TBSP Tomato Paste
1 Bay Leaf
2 Garlic Cloves
¾ lb Colavita Capellini
½ C. Parmesan Cheese
Salt and Pepper to taste
2 tsp Colavita Roasted Garlic Extra Virign Olive Oil
Instructions
Preheat oven to 375 degrees fahrenheit.
Season short ribs with salt and pepper to taste; set aside.
Heat a dutch oven on medium high heat browning each side of the short ribs (not fully cooking through, just browning each side), then remove from pan and set aside.
In the same pan add in the olive oil, onion, carrots, and celery. Saute until tender, about 5-7 mins.
Add in the tomato paste and wine and let the wine reduce for a minute.
Then add in the water, vegetable stock, bay leaf, garlic cloves, and add the short ribs back into the pan.
Cover and cook in the oven for about 3 hours or until the short ribs are tender.
Remove short ribs from sauce and shred the meat from the bone; set aside.
Ladle 4 cups of the sauce into a blender, skimming fat off the top before blending. Meanwhile, cook the capellini according to package directions.
Blend the sauce until smooth and pour into a saucepan.
Add the short rib meat, capellini, and parmesan cheese to the sauce and toss to combine. Then drizzle the garlic olive oil over the top to finish (add more or less to taste). Serve immediately.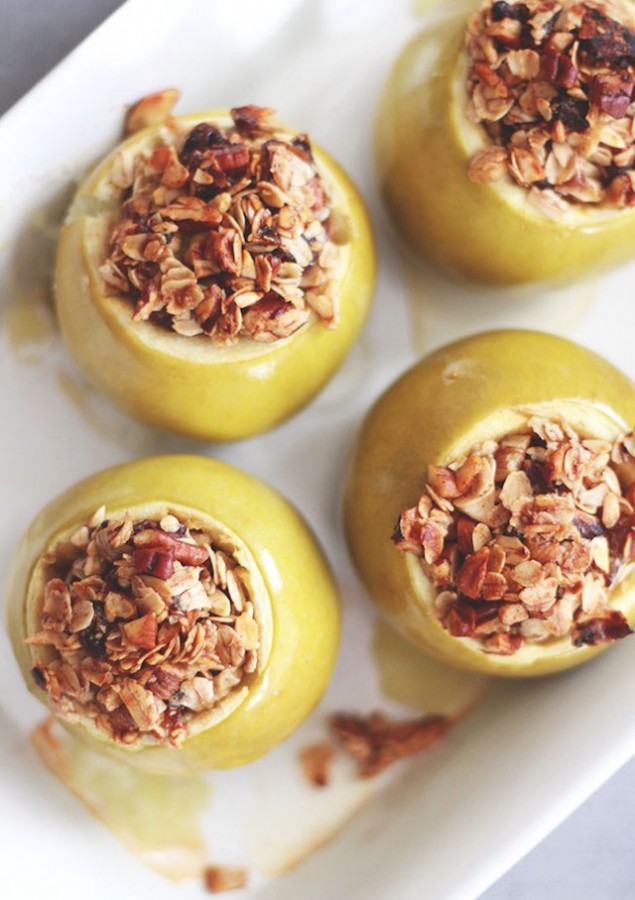 But lucky for you…there's dessert too!! Can you say homemade Baci baked apples!?
See Also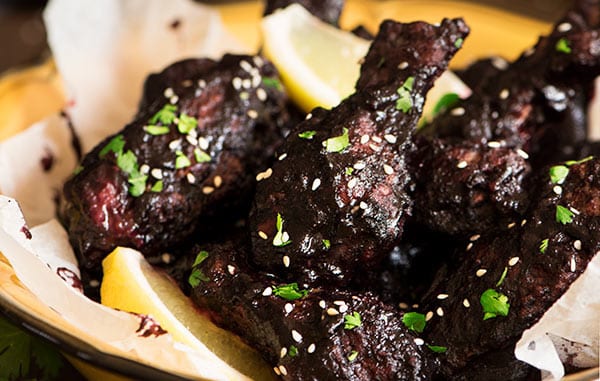 What's Baci you ask?! It's a delicious little candy made from an Italian company called Perugina. All Perugina products are made in Italy and then imported and distributed in the U.S. so you know it's the real deal. These little bites of heaven are a blend of chocolate and hazelnut cream which are topped with a whole hazelnut. Available in dark, milk, or white chocolate, you could go crazy with these guys! We decided to use the dark chocolate variety since it complements the apples really well.
We're sure you've probably had a baked apple in your life, but you haven't had our Baci baked apples. These take a basic baked apple and kick it up a notch! The contrast between the tart apple with the sweet chocolate and nutty goodness from the hazelnut is everything you could want in a dessert.
Italian Holiday Table: Baci Baked Apples
Author:
Jayme and Jessica
Ingredients
3 Medjool Dates, chopped
2 Tbsp Mixed Nuts, finely chopped (a mix of walnuts, pecans, and almonds work well)
¼ cup of Oats
1 tsp Cinnamon
1 Tbsp Coconut Oil, melted
1 Tbsp Maple Syrup
4 Perugina Dark Chocolate Baci
4 Granny Smith Apples
Instructions
Preheat oven to 350 degrees fahrenheit.
Wash and dry apples and then remove the core and a little flesh of the middle of the apple to make room for the Baci and filling, making sure not to go through the bottom of the apple.
Place a Baci at the bottom of each apple and set aside.
In a small bowl mix together the dates, nuts, oats, cinnamon, coconut oil, and maple syrup until well combined.
Fill each apple with 2 tablespoons of the the date and oat mixture. (It's okay if it's over flowing a little)
Cover the apples with foil and bake in the oven for 30 minutes.
After 30 minutes remove the foil and place back in the oven for 15-20 minutes or until a knife pierces easily into the apple. Cooking time will vary based on the size of the apple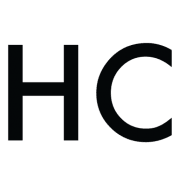 Jayme and Jessica Kauffman
Twin sisters Jayme and Jessica can pretty much always be found in the kitchen. Cooking has always been a family affair for the girls, and they learned at a young age from their Grandmother the ins and outs of the kitchen. They cook everything from savory to sweet, so check it out at www.pairingknifeblog.com!