Make your own pumpkin puree and then create a delicious black been burger served with a creamy cilantro-yogurt sauce.
By Alexandra Shytsman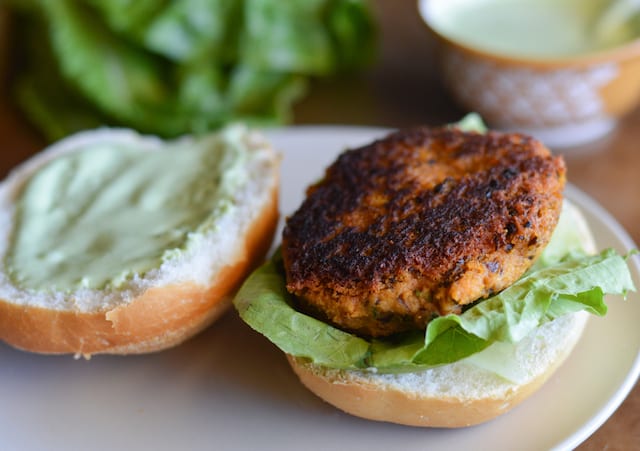 Every year around this time, the internet is flooded with a slew of pumpkin recipes. Sadly, a majority of said recipes calls for canned pumpkin instead of fresh. Although it's okay to use canned products from time to time (as long as they're organic and low sodium whenever possible), what makes these recipes seasonal if one can use canned pumpkin all year round?
For this recipe, I used the Long Island Cheese Pumpkin, which has no relation to the beloved dairy product other than its cheese wheel-like appearance. Making homemade (all natural and chemical-free!) pumpkin puree turned out to be incredibly easy. The most difficult part was cutting the pumpkin in half – the rest of the process was a no-brainer. One medium pumpkin yielded about 2 quarts of puree, which is more than enough to satisfy all your pumpkin cravings for the season. The puree also turned out surprisingly delicious: nutty, sweet and a little savory.
HOW TO ROAST A PUMPKIN AND MAKE PUMPKIN PUREE
-Preheat oven to 400F. Line a rimmed baking sheet with parchment paper.
-Using a sharp knife, cut pumpkin in half lengthwise (this will take some elbow grease). Using a spoon, scoop out seeds and strings; discard.
-Place pumpkin halves cut-site down on prepared baking sheet and roast until skin is golden brown and flesh gives easily when pressed, 45-60 minutes, depending on the size of your pumpkin.
-Let roasted pumpkin stand at room temperature.
-When cool enough to handle, scoop flesh into a food processor and discard pumpkin skin. Puree pumpkin until smooth (this may have to be done in 2 batches). When puree is completely cooled, transfer to an airtight container. Puree will keep in the fridge for up to 1 week, or in the freezer for about 4 months.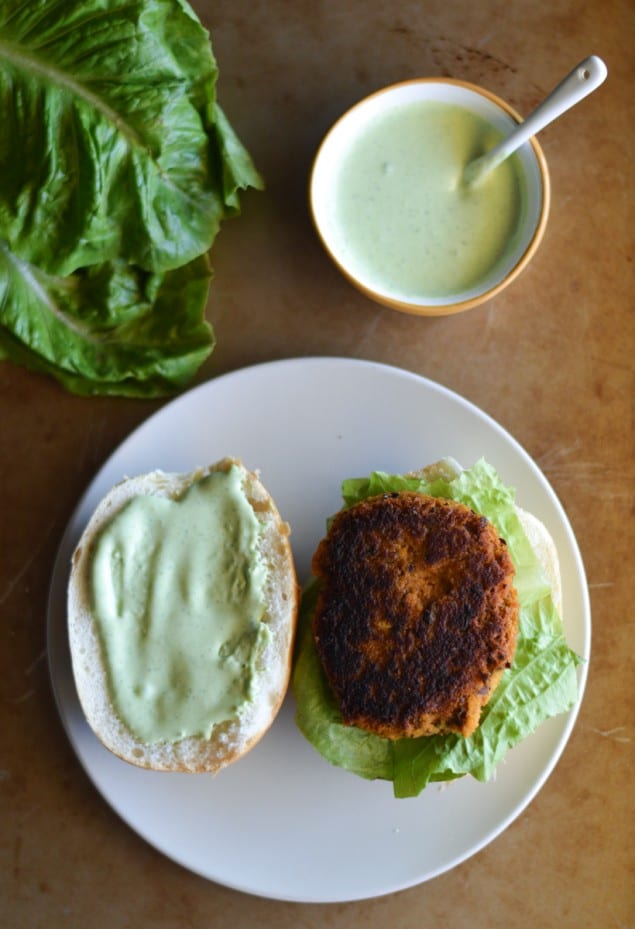 Black Bean-Pumpkin Burgers with Cilantro Yogurt Sauce
These pumpkin burgers are satisfying yet light. Pumpkin's inherent sweetness pairs really well with smoky chipotle and bright cilantro. Not a fan of cilantro? Try using parsley or basil instead. This recipe would also make great sliders – just purchase mini buns and make smaller patties.
Author:
Alexandra Shytsman
Cuisine:
Vegetarian, American
Ingredients
For the burgers:
2 cups cooked black beans (low sodium, if using canned), drained and rinsed
1½ cups pumpkin puree
1¼ cups whole wheat bread crumbs
2 tablespoons chipotle sauce (I use La Morena brand)
1 medium garlic clove, roughly chopped
1 egg, beaten
Handful of cilantro leaves
A few dashes of hot sauce
½ teaspoon ground cumin
¼ teaspoon sea salt
¼ teaspoon freshly ground black pepper
About 3 tablespoons organic canola oil, for frying
For the sauce and assembly:
5 ounces full fat plain Greek yogurt
1 tablespoon mayonnaise
1 teaspoon lime juice
⅓ cup packed cilantro leaves
Pinch of salt
Romaine leaves
Sandwich rolls, halved
Instructions
To make burgers: In a food processor, combine all ingredients except canola oil. Pulse to combine – do not puree, as mixture should remain a bit chunky.
Heat a large nonstick skillet over medium heat and add enough canola oil to coat the bottom. Using your hands, form mixture into burger-sized patties. Working in batches, cook patties until browned and crisp on the bottom, about 5 minutes, flip, and cook for another 5 minutes. Transfer to a paper towel-lined platter while cooking remaining patties.
To make sauce and assemble: In a blender, combine yogurt, mayonnaise, lime juice, cilantro and salt. Puree until smooth. Taste and season with more salt or lime juice, if needed.
To assemble, place romaine leaves on bottom sandwich roll halves and top with pumpkin burgers. Spread yogurt sauce on top sandwich roll halves, close and serve immediately.
Alexandra Shytsman
Alexandra Shytsman is a New York-based recipe developer, food writer, and photographer, and author of The New Baguette, a blog about plant-based cooking for beginners.